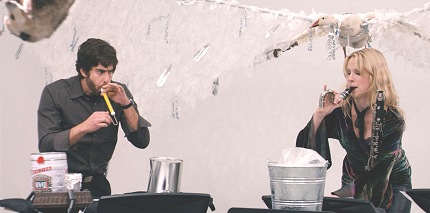 One of the totally unexpected perks that has come along with producing my podcast is all of the press releases that started showing up in my inbox, and even CDs in the mail once in a while.  Well, last night was another first for me: an invitation to screen a new film before its release.  I like films and like to follow what some of my favorite directors and screenwriters are up to, but I am far from an aficionado—so I won't pretend to be one here.
If you hadn't heard, there is a new film coming out this month about a hairy composer who writes "difficult" music (read: breaking glasses, ripping paper, dropping chains in buckets), and who is seduced by a tall, sexy, smart, blonde…wait for it…Chelsea art gallery owner.  What?!  Does that really happen?  Really?!  The composer is played by Adam Goldberg, and the gallery owner by Marley Shelton. But here's the really great part: the music and score is by David Lang!
I have no idea how the general public will feel about this film; I think I'm too close the subject to be objective about it.  However, if you are a composer or artist, if you are an art collector or like to commission new music, if you curate a gallery or produce concerts–you will relate to the characters and their situations and struggles.  When you see the funny parts you'll laugh because you've been there, when you see the artists and composers struggling you'll sympathize because you've been there.  Again, I'm not going to say that this is a great film or a bad film–but, if you are part of this community at all, it's worth seeing.  The movie addresses the questions we all ask ourselves about success: Is it okay if only six people show up to the concert?  Is it okay to be overtly emotional in our music?  Is it okay to steal your brother's girlfriend?  All of your questions will be answered in this movie.

(Untitled) opens on October 23 in New York, Los Angeles and San Francisco.  It's not clear if there are plans for it to open in other markets, so keep your fingers crossed if you don't live near one of those cities. In the meantime, check out the trailer, the website, and join me in congratulating David Lang on his first film score!
Update on openings…
November 6: Austin, Chicago, Dallas, Miami, Minneapolis, Portland, San Francisco, Santa Cruz, Seattle, Washington DC.  November 13: Boston, Philadelphia, Houston, Providence.  Enjoy!