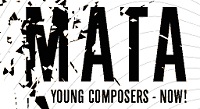 Word has reached us that NYC's long-running MATA new-music festival is looking for an new Artistic Director, and maybe it could just be you:
The position requires a broad knowledge of contemporary musical practices and communities (local, national, and international), strong organizational and interpersonal skills, and a clear, inclusive artistic vision. Key to the AD position is the ability to maintain high visibility in the music community as both a participant and audience member. Attention will be paid most closely to applicants who are currently active in the New York music community as a composer and/or performer. Along with the ED, the AD serves on MATA's Board, ex officio, thereby gaining access to invaluable opportunities to develop relationships potentially important to his/her own career. There is an annual salary of $10,000 for this part-time position.
The full info is in this PDF:

MATA Artistic Director Information.PDF
You've got until Jan. 4, 2010 to get off your tush and apply. If you're a composer/performer who's always saying "what these festivals really need to have is  XXX and YYY", well here's your chance!