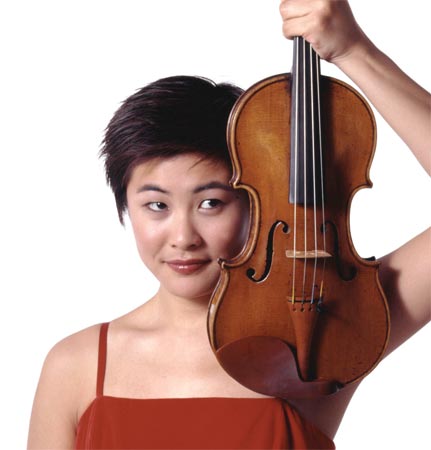 Violinist Jennifer Koh has, since even before this past Spring showed its face, been pretty much living out of a suitcase or two. Crisscrossing this country and a couple other continents, She's been playing everything from Antonio Vivaldi to John Zorn. Just last week she was beautifully acquitting herself at Miller Theatre, in a performance of Kaija Saariaho's Graal Theatre. December is about all the break she's getting, too, before it starts all over again.
In the middle of all this came her newest CD on Cedille, Rhapsodic Musings, a collection of solo violin music almost all composed within the last ten years: Esa-Pekka Salonen's Lachen Verlernt (2002), Elliott Carter's Four Lauds (1984-2000), Augusta Read Thomas' Pulsar (2003), and John Zorn's Goetia (2002). It's an intensely involving and personal listen, definitely not simple showy fare, and the recording is close and crystalline. Here's a short video of Jennifer talking about the genesis of the CD:
I recently had the chance to ask Jennifer a few questions via e-mail, and her answers follow:
S21: You've got quite a wide repertoire at your command, but when it's come to recordings you haven't gone with much in the way of the grand war-horses. The Szymanowski 1st is about as close as you've come, the rest delving back into lesser-known gems by Menotti, Martinu, Bartok… And then most recently lots of contemporary (and usually living) American and European composers. The pieces you choose — Higdon, Ruggles, Harrison, Salonen, Carter, Zorn — while often incredibly beautiful aren't the stuff of easy crowd-pleasers. I get a bit of this feeling of you truly being taken deeply by something in each of these works, and bringing them to people almost like an excited kid shares their latest amazing discovery to their friends or parents. Am I getting warm here? …

JK: I just want to play music that I believe in!  This is true for music that is known or unknown, new or old.  When I play a piece, it means I will have lived with it in a very intimate and intense way for a long time and ultimately, I want to spend my life with music that I love and find meaningful.  If I discover a piece of music that I think is incredible but is not very well known, I do become fervently dedicated to it because I think it SHOULD be known to everyone and I want to share it with as many people as possible!  In the end, I don't think I'm that different from the next person.  I'm just another member of society and I hope that if I find a piece of music to be compelling and interesting, then it will speak to other people as well.
S21:  These past few CDs you've gone from violin and orchestra, to violin and piano, to just solo violin. I know this can't go much further (unless you toss the violin and just clap and sing!), but was that increasing intimacy and focus at all intentional? Does it feel any different when you make a CD where you know you're responsible for every moment of sound on there?
JK: Everything about "Rhapsodic Musings" was intense and personal for me from the initial inspiration point for the program to the recording process to the actual compositions on this CD.  The idea for this CD came from a collective time of  shock and loss and I wanted to focus the CD into a personal  journey out of that collective experience.  During this same period of time, I saw the violin that one of my mentors, Felix Galimir played while he was alive.  Felix was a huge influence on me in so many ways especially because of the passionate relationship he had with the music that he worked on with the composers of his time which included Schoenberg, Berg and Webern.   When I played on Felix's violin in the shop, I felt he was back with me because I heard him in that violin.  Violinists have very intense and intimate relationships with their instruments and it is almost impossible to separate the identity between violin and violinist because each lives in the other. I feel like my violin  is a part of me and I chose a solo violin program for "Rhapsodic Musings" because I wanted to express that personal relationship between violin and violinist.
Listening to solo violin in concert or recording means that every sound and gesture is intensified because of the nature of the focus on the one instrument.  I was inspired by each composer's ability to expand upon the violin's preconceived capacities.  The pieces on this CD really capture what the violin can do in everything from counterpoint, pitch, harmony and dynamic range to color.  Judith Sherman (my producer) and I wanted to capture that broader dynamic color palette but it also meant during the recording sessions, the microphones picked up every little sound like the strings sticking to my fingers when I lifted them to play another note!
After all of this, my next CD won't be 4'33"!   I just finished recording Jennifer Higdon's Singing Rooms with Bob Spano and Atlanta Symphony and Atlanta Symphony Chorus.  The piece uses huge forces with solo violin combined with full chorus and orchestra so I'm moving from small to big!
S21: I see that somewhere in the middle of all that intense study and practice with the violin, you actually received a Bachelor's Degree in English Literature! Do you feel some of that literary implulse in how you come to some of the work that most attracts you, and/or in how you approach and project a piece, or your own interpretation?
JK: I have always been drawn to literature and writing and I've always felt a strong connection between that art form and music.  Both have always created an organic relationship in me – literature can inspire musical programming ideas and music can create an impetus in me to read certain authors.  It's all part of a larger cycle of where I find points of inspiration.
In college I would do exercises in analyzing one work through several different schools of literary criticism and sometimes I think that approach is similar to what I do as a performer.  As long as one's "thesis" towards a work is logical and supported, one can make a valid "argument" or interpretation for a piece of music.  Ultimately, I do not believe that there is only one valid interpretation of a great work of music or literature.  The nature of great art means that there are a myriad of interpretations and those interpretations are always evolving.  From my experience as a writer, I feel an incredible empathy towards composers and I have great respect for their work and the courage it takes to create an individual work of art from a blank sheet of paper.
S21: Given your strong commitment to living composers, I expect there are some new pieces/commissions in the works? Care to dish on names and potential dates?
JK: I am very excited about a number of projects but I'll try to limit myself to the ones that are "official"!  I launched "Bach and Beyond" this season to celebrate Bach's 325th birthday in 2010.  I wanted to create a project exploring the significance of the Six Solo Sonatas and Partitas of Bach and I felt this was only possible by creating three programs in which Bach would begin and end each program.  I hope each program will strengthen the tie between Bach to our present time by traveling through solo violin works from the past to the very newest works of today which will be commissioned specially for this project.   But I did not want to create a single line towards the present and instead wanted to create a circular program that begins and ends with Bach because I wanted to also show how new compositions and voices of our present day change the way we perceive and listen (and play) Bach and music of the past.  Contemporary music creates a thread to music of the past and my idea of celebrating Bach is to understand the monumental influence his music has had 300 years later but to also understand that the composers of today influence how we perceive his music now.  The first program (for 09/10 and 10/11) consists of works ranging from Bach, Ysaye, Carter, Salonen and Saariaho with a new video commission for the Salonen by Tal Rosner.  The second program (11/12 and 12/13) will feature two commissioned works for solo violin written by Phil Kline and Anna Clyne in addition to Bach and Berio.  The third program will consist of music by Bach, Bartok, and a newly commissioned solo violin work by John Harbison.
Another confirmed project that I am very much looking forward to is a new work by Mark Grey for solo violin, chorus and chamber orchestra being written for me and the Los Angeles Master Chorale.  It will premiere in March 2011. My mother is originally from North Korea and was seven years old when the Korean War broke out.  My grandfather learned of the invasion (of N. Korea into S. Korea) literally the night before it happened.  This began three years of walking south for my grandparents and my mother and my aunts and uncles.  During the course of the war, my mother's family walked down the entire length of the Korean peninsula.  As a child born and raised in the American Midwest, I was  far removed from any Korean community and the pull to assimilate was strong enough for me to disassociate from my Korean heritage and my family's history.  It was when my mother fell ill in 2007 (she is fully recovered now) that I was overwhelmed with a sense of urgency to uncover my mother's experiences, my family's experiences and Korean literature, history and cultural history.
I first met Mark through his "Navajo Oratorio" and spoke with Mark about doing a project together because I was impressed by his abilities as a composer to work within the parameters of classical music (orchestra and chorus), be true to his voice and yet be able to give voice to another culture through his music. I wanted to have a work of art that could be a reference point for my own experience.  As a child, I always looked to music and literature to understand and distill my life and yet, I could not find translated Korean literature or even Korean-American literature.  I instead looked to Holocaust-Survivor writings and even second-generation Holocaust survivor writings as a way to understand some of the qualities that existed in my parents as war survivors.   And now, with Mark, he is writing the music which I felt I needed as a child and still need as an adult.  The philosophy behind the birth of this piece was about exploring the effects of war on generations removed from the actual conflict and confronting that which we all face citizens of this world – valuing and learning the experiences, cultures and heritages of our fellow human beings and acting accordingly.
S21: How's hotel and airport life treating you? (I can always tell a great player by their schedule, and yours seems to have been particularly non-stop these past few months, with lots of hither-yon-and-back!) How do you keep your energy up and your musical focus clear through all this endless travel? Routines? Tricks? Major pet peeve?

JK: When I'm on the road, I think that it is the music itself that keeps my energy up.  And it's always inspiring to meet people and musicians that I connect to.   In terms of keeping musical focus clear, I think musicians have a great responsibility to the composers we play (dead or alive!) so all of my energy goes towards working so that the performance can be only about the music-making and there is no separation between listening and playing and responding.  In concert, one always hopes to reach that magical place where the composer, the musicians, and the audience all become one entity in the music.  That's what I work for as a performing musician and I live for those moments as an audience member.  Finding that focus to reach those moments  in concert can be a long process.  Playing concerts is probably the most tangible part of being a musician but I think that the longer journey to grow as a musician is the less tangible but more important part.  Each concert is a chance to share my belief in the music with other people but it is also part of a longer learning process.  And I'm actually most content when I am burrowed in the work process because it is a total immersion in discovering and exploring and understanding a composer and his/her music.  It is oftentimes a painful process but I actually enjoy being in that vulnerable place – I might feel completely ignorant and incapable of climbing that musical mountain but I am living in a space that opens me to seeing every possible path that can be taken.
I do find that taking time off from traveling and performing is important to me because I get to do the things I love — reading, spending time with friends, poring through scores and discovering new works and composers, going to concerts, opera and theatre.  I find inspiration from all these things and I also have the space to think creatively about programs and projects.
If I do have a pet peeve, it is delayed flights. The actual traveling part of being on the road is not my favorite activity – Spending hours in airports and airplanes is not my idea of fun and it takes time away from all the parts of life that I do like!