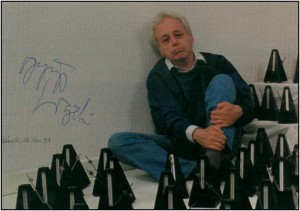 I like to plan ahead.  But does that just mean I'm too old to decide where I'm going at the last minute, like the Generation Y and Z impulsives we hear so much about at arts participation conferences?  You know, the ones who don't know where they're going until somebody they're following tweets their destination on the night of?
Mid-life insecurities and fuddy-duddiness aside, I know where I'll be this coming Saturday evening: in the San Francisco Conservatory of Music's sweet new Concert Hall, taking in new short works by ten local composers, all presided over grandly by Gyorgy Ligeti's Chamber Concerto for 13 instruments.  sfSound is the presenter, and they've cast a wide commissioning net to figures from our many micro-scenes.  Including, as my colleague Christian Carey reported earlier this month, Greg Saunier from avant-prog adventurers Deerhoof; plus Heather Frasch, a Ph.D. candidate at UC Berkeley, Canner MEFE of underground harsh noise fame, Mills College Contemporary Music Co-Director Maggi Payne, and composer/improviser/performance artist Theresa Wong.
All of the composers were commissioned to make new works especially for this concert, entitled Small Packages. Some works are inspired by, and others are meant to contrast with, the regal Ligeti Chamber Concerto. The eight core sfSound performers, plus seven other veterans of the series, will spread their expertise around from the Ligeti work to each of the new pieces.
The San Francisco Conservatory of Music Concert Hall can be found at 50 Oak Street in San Francisco's Civic Center neighborhood, convenient to the eponymous BART station.  Admission is $15.00, although those of us who are "underemployed" can take advantage of an $8.00 price.  If you don't want to take your chances at the door, you can order tickets online from Brown Paper Tickets.