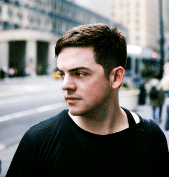 One of my two favorite young conductors, Brad Lubman (the other is Alan Pearson) is leading the large ensemble Signal in the American premier of The Corridor by Sir Harrison Birtwistle, one of the most prominent figures in European contemporary music, at Merkin on May 27.  A 40-minute scena, The Corridor is scored for two voices, soprano and tenor, and an ensemble of flute, clarinet, violin, viola, cello, and a harp functioning as an Orphic lyre.
The highlight of the evening, however, is apparently the world premiere of Stabat Mater by the seemingly inevitable Nico Muhly.
Which leads to this week's rude question: is Nico Muhly a) the dreams and prayers of a grateful music world or b) not so much?  Discuss.