"For me it's very hard to see people who adore Mozart and then don't appreciate what Keith Jarrett does. You know what I mean? For me music is really just music, and what separates? When you talk about Gershwin and Rhapsody in Blue where do you put that? Is it jazz or is it classical? But it really doesn't matter this Third Stream or First Stream concept. Who cares if it's Third Stream or First Stream? It really doesn't matter as long as you go and enjoy the experience. "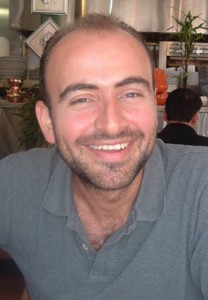 Syrian clarinetist and New York-based composer Kinan Azmeh clearly has a mind of his own. And he's off and running when we meet for mint tea at San Francisco's Cafe Zitouna–we're Nagib's first guests–on a bright Sunday morning in July. He's here for a concert of his latest album–his fifth–Complex Stories, Simple Sounds , with his Sri Lankan pianist friend Dinuk Wijeratne, who's missed his flight from Nova Scotia, scant hours away from their date at The Legion of Honor's Florence Gould Theatre. But Azmeh, who speaks rapidly in his distinctive mellifluous voice, is ready for anything, suggesting with a warm laugh, that he has enough pieces should he have to go it alone. But then he's used to playing in different contexts and configurations. He's in the Syrian jazz group Hewar (Dialogue); a chamber group in his hometown, Damascus; the Gilgamesh Project with Kevork Mourad's done on the spot paintings; the NYC-based City Band, which is giving an NYC concert 1 September 1, and Neolexica, which he co-founded with Wijeratne when they were students at Juilliard. He has also played with many orchestras, including Daniel Barenboim's Arab-Israeli West -Eastern Divan Orchestra, debuted a clarinet concerto written for him by his friend Zaid Jabri, with the Syrian National Symphony Orchestra, at the opening of the Damascus Opera House. Azmeh also writes film scores, like his incredibly moving one for Rigodon, and he plays the clarinet solos in his Boston-based friend Kareem Roustom's score for Israeli Julia Bacha's new set in the West Bank doc Budrus.
But is Azmeh's openness to these varied musical experiences a generational thing? "You know I think what it is is–I'm talking about myself- is growing up in different places. But geography moves around you because San Francisco and New York are very open to lots of different cultures anyway, and I don't think that one can be fascinated by one kind of music without appreciating other stuff. "
And then we get into the subject of improvisation, which Azmeh's very vocal about, though he approaches it somewhat circuitously.
"The age of specialization is not only in music, it's in everything, and it's not disppearing, but giving way to other things. For example, the family doctor in the'30's was the main thing, and then nobody goes to the family doctor in the '80's. The family doctor doesn't know anything. But now it's coming more in the people who have a more rounded knowledge of things, especially like music itself which is changing to include lots of other elements. Contemporary classical music, for example, is including lots of improvisation, and you have all these electronic kinds of concerts, and they're not very classical."
Azmeh's extraordinarily pure and supple tone is not exactly classical either–it can wail and shriek–but it's always expressive, and he adjusts it to the music at hand, be it his solo, " Prayer" ( for Edward Said ), his group improvisations, or works from the standard rep. But he resists the tried and true.
"When I have a cadenza in the Mozart Clarinet Concerto I want to do whatever I want, meaning I should be able to go out of the genre as well because my ears are exposed to far more complex and diverse things than what Mozart's ears were exposed to. But what's the point of me playing this concerto the same way, I mean there are at least 200 records of it played by many clarinetists, so what is the point of me trying to do the same thing that all these people tried to do? The only reason for me to record the piece is because I think I have something new to add to it. We're not talking about ego, we're talking about contribution."
The idea of contribution is a natural thing to talk about when Azmeh and Wijeratne (who made it from Nova Scotia on time) and I sit down on another day in the cozy lobby of Hotel Union Square, where Azmeh's staying, almost a year to the day since they were last here, the tall clarinetist in shorts and windbreaker, the diminutive pianist in jeans and zip up sweater. My tape recorder, is inadvertently in locked "off" position–I'm such a klutz–so I promise to take notes, the soundcheck for their concert within the hour at San Francsico's Yerba Buena Center for the Arts Forum a few blocks away. "We'll just answer 'yes' or 'no' ", they joke.
"Some people think that all we do comes from what's written out," Wijeratne observes, stressing the fact that they play "miniatures " and that his piece, "The Learning Curve", which opens their CD , is "just 4 measure fragments", which they build into a substantial and very evocative 10 minute piece. He's also keen to differentiate their work from standard jazz practice — "we break up the head with solos" — which sometimes means that jazz choruses can be indulgent and therefore unbalance the whole thing. But there's nothing indulgent about Wijeratne's approach, and he says that he's concerned with rigor and form, as in Bach. "Ultimately I'm obsessed with the point between the written and the improvised, I have an obsession with details and form. You reject a lot of things when you compose. You can't put everything into a piece." And I mention that my favorite form at the moment is the Spanish language telenovelas–soaps like Donde Esta Elisa?– where there's always a cut -off before the next secret's revealed, which keeps the audience, breathless, on the edge of their seats, as the next part of the puzzle falls into place.
But this July's evening performance was hardly a puzzle. Why? Because the same audience, which had listened intently to clarinetist Ben Goldberg and pianist Myra Melford's opening set, were clearly awakened here. By the lighting–much darker–the performers — Azmeh's so "into it" he's magnetic, as is Wijeratne–and this extraordinary music made by the mind and heart. Which goes deep and into, down. Who cares about the borders between this music, and that, when life and love — Azmeh's playing in particular sounded, like all the possible ways one loves, and dies, is what they're expressing here. One doesn't expect much from composer/perfomers in their twenties, especially in this deeply narcissistic country, but getting something this solid from composing performers in their early thirties is something of a miracle. And the emotional — let's not forget that music is emotion — shading here was worlds away from what the duo projected last year. Wijertane's attacks firmer, and more alive, and Azmeh's rhythms sprung, relaxed, with lots of not on the page rubato. Which reminds me that the Spanish word for script is "guion " or guide, meaning, of course, that nothing's ever set in stone.