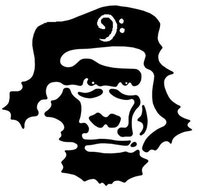 'If the mountain won't come to Muhammad, Muhammad must go to the mountain'.
To rephrase less eloquently, if people won't go to concert halls bring the concert hall to them. Here in a snowy UK The Guerilla Orchestra plan to do just that.
On Friday December the 10th at 6pm orchestras will spontaneously appear in London, Birmingham, Leeds, Manchester, Cardiff and Liverpool, perform Lalo Schifrin's Mission Impossible, pack up and leave. The venues will be shopping centres, squares, high streets, parks, wherever.
The aim isn't just to confront ordinary folk with something mysterious and unfamiliar (an orchestra) but to protest against wide ranging cuts in music education in the UK (the new Conservative/Liberal Democrat coalition government have targeted virtually every public expense in attempt to reduce our somewhat paunchy deficit).
Guerilla-in-chief Heather Bird, an orchestral musician and teacher, studied at the Royal Northern College of Music. She's concerned about how future generations will be able to afford a music degree without the government subsidies she benefited from. If the planned cuts go ahead university tuition fees are expected to rise from around £3000 ($4700) to between £6000-9000 ($9450-$14,200) per year and many local arts organisations and music outreach projects will lose their funding.
"What the axing of all funding to higher education arts institutes says is that art is not important. What we do is not valid. That music plays no valuable part in this society. Of course this is ludicrous. There is no incentive for kids to practice, put in the hard work and dedication if they have no possibility of paying tens of thousands of pounds to go to somewhere like the RNCM.

I went to the RNCM and there's no way I would have been able to go if I'd had to pay such fees. I had free double bass lessons as a kid and would not have been able to play or attend the heavily subsidised Cumbria Youth Orchestra courses if I'd have had to pay for them. So I would not have been doing what I love today, or teaching kids to do the same."
The government's proposals have sparked a wave of protests up and down the country and the issue is driving a wedge between the two parties in the coalition government. The junior partner in the coalition The Liberal Democrats made a pre-election pledge to phase out all tuition fees within six years and many people voted for them partly on that basis (especially students and those involved in education). Since coming to power the party leadership have backtracked creating a rift between the leadership, its backbenchers and other members.
Wondering what musicians could do to demonstrate their opposition to the cuts Heather had something of a brainwave.
"I watched that video on YouTube of  Dutch radio orchestra musicians doing the same thing in a railway station playing Mambo from West Side Story. I thought it was an inspired idea. Then on Thursday [25th November], I thought it would be great to have something similar but simultaneously all over the country…

…I thought I'd start a Facebook group to see if there would be any interest. Thought of the name and came up with a logo. Within one day we had nearly 600 members. Now we're close to 900 and it's increasing by the hour."
At time of writing the group now has 1157 members and counting. If you'd like to get involved visit the Facebook group here or email Heather directly.
"If you think you could play Mission Impossible, and make it sound great, we want you! From non-musicians, I am very much doing this by the seat of my pants so any help with PR, advice, thoughts, would be very very gratefully received!"
Heather is also planning a "phase two" and suggests this could be an ongoing project rather than a one-off demonstration. And why not? It's about time classical musicians brought their wares into public spaces whether it's to protest about government policy or simply to allow the public to experience the music in a more familiar, if unexpected context.
P.S. If you enjoyed the Mambo clip then have a look at Chorus Niagara performing Handel's Hallelujah Chorus in a Canadian mall. Also check out European ensemble Spira Mirabilis who are "a group of young musicians are reshaping and remaking the modern classical music concert with a remarkable spirit that crosses world-class performance standards with a rebellious, almost anarchistic, streak." (quote from The Guardian).