Houston, TX – There's no question that Houston's proponents of contemporary music are enthusiastically embracing creative marketing concepts and alternative venues for performances in an effort to expand and educate a new century of audiences. In an un-zoned city like Houston, I find that musicians and audiences will happily cross so-called genre and cultural boundaries especially if there's promise of a good time (Texas barbecue can help too, but that'll be another entry…). Much to my delight, I am seeing familiar faces when I'm out at performances of new music be it in a gallery in the Third Ward, a club in Montrose, or the Hobby Center's Zilka Hall. Although I've only been living in Houston for short time, I feel a sense of connection to what is a pretty broad cross section of the city's creative community.
One of the familiar faces I see around town is Houston composer George Heathco, who hipped me to what will be an exciting concert of contemporary pieces for the violin and viola, including three (!) world premieres, performed by the duo of violinist Nicholas Leh Baker and violist Faith Magdalene Jones who call themselves Duo Scordatura. The concert takes place Saturday, January 29th at 6pm at First Presbyterian Church, located at 5300 Main Street. Tickets for concert are $10 for general audiences and $5 for students, children, and seniors.
The concert, titled COMMISSIONED, includes four works commissioned by Duo Scordatura, including works by Alexandra T. Bryant, Luke Dahn, George Heathco, and Dr. Daniel Kramlich. Part of the creative marketing for COMMISSIONED includes the Commissioned Project Interview Series featuring the duo and commissioned composers discussing the collaborative process that takes place between composers and the performing musicians.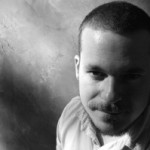 Heathco describes his programmed piece Turbine (2010) as "a bitch to play, but…a very entertaining work (or so I hope)." Also on the program are pieces by Jack Benson and Jodran Kuspa.
All of the composers on the bill either currently or have at one point called Houston their home and, according to Nicholas Leh Baker in his video interview, will all be present at the performance. Duo Scordatura is committed to presenting works "in a wide range of venues across the Houston landscape." I look forward to hearing them next Saturday at First Presbyterian Church, and in the future wherever their mission takes them.