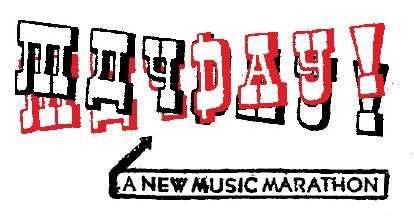 There is another fantastic all-day new music marathon happening and tomorrow it's Seattle's turn for the good-times.  Sunday, May 1st, from noon-10pm is the Second Annual May Day! May Day! marathon at Town Hall in Seattle.
This 10-hour performer- and composer-driven celebration of contemporary music is produced by artistic director Paul Taub (of Seattle Chamber Players fame) and is curated by eclectic composer and pianist Wayne Horvitz, pianist Cristina Valdes, and Jarrad Powell (composer and artistic director of Gamelan Pacifica).
This years marathon features 25 sets by local ensembles and soloists, including:
Seattle Modern Orchestra,  Michael Lim,  Melia Watras,  Christopher DeLaurenti,  Stuart Dempster,  Tom Baker, Briggan Krauss/Wayne Horvitz,  JazzEd,  Scrape, Maria Mannisto/Robin Holcomb, Beth Fleenor,  Zachary Watkins, Christian Asplund,  Tekla Cunningham & Harumi Flesher,  Stephen Fandrich, Seattle Percussion Collective.
Be there!