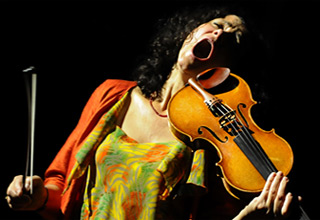 Iva Bittova
The 3rd annual Vital Vox Vocal Festival, this year being held at Roulette in Downtown Brooklyn (Sat, Nov 5th and Sun, Nov 6th, 8 PM), is not just about singers, but those that are equally skillful at creating music. On November 5th and 6th, there is a sensational lineup of artists that are gifted at both of those as well as skirting genre lines between new classical, indie, jazz and world music.
Who's there and what to expect to hear:
Night 1: Voice + Keys
JUDITH BERKSON: Singer/songwriter/composer/pianist Judith Berkson has a very obvious blend of influences that run from classical to jazz to liturgical music. In this performance, she plans to give the world a preview of her forthcoming full-scale opera. Berkson explains:
"The opera is yet untitled but it's about Salomon Sulzer who was Vienna's chief cantor for much of the 19th century. It takes place mostly in 1826 when Sulzer arrived in Vienna at the newly built Stadttempel and started to do experimental services as part of the reform movement by adding choir and organ – conventions of the European church. He also asked Franz Schubert to write a piece for the temple's dedication and Schubert wrote Psalm 92 for Sulzer and a choir. So the opera is about this crossing of influence and ideas. The opera is being written for drum core, organs, voices and a children's choir but for the solo performance I'll be on vocals, organ, piano, drums, sequencer and drum machine. This is the first time I'm using an elaborate setup of instruments and sequencing in a show. It's been a brutal amount of work but I am really really excited."
DAFNA NAPHTALI: Combining the experimental electronics of artists like Milton Babbitt with the raw, guttural vocal stylings of Bjork, Dafna Naphtali seems to set a new, unprecedented direction in vocal music, and her set definitely should not to be missed.
GELSEY BELL: Although she does have a much more conventional singer/songwriter catalog, Gelsey Bell, along with composer/performer Paul Pinto, will be premiering a song-cycle titled Scaling, and this is scored for "a borrowed piano, a house plant, and a change of shoes". Color me intrigued!
Night 2: Voice + Strings
IVA BITTOVA: Czech violinist/violist/vocalist Iva Bittova has been making incredible sounds as a string player and vocalist utilizing the folk music of her homeland. The pinnacle of her live appearances has been her improvisational work, and she told me that we can expect more of this at the festival:
"Improvisation would be there as a new sound, also some songs, which I played just few times and always inspiration of every other performance coming stronger. It is quite long process and requires time to grow."
TOBY TWINING MUSIC: Composer Toby Twining and his ensemble Toby Twining Music have graced the stage of festivals such as Bang On a Can Marathon and River To River,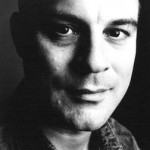 and their spacious choral-style vocals have enthralled audiences worldwide. Toby spoke about the new selections the group will be performing:
"About 12 years ago, Margaret Leng Tan commissioned me to write settings of poems and prose from Hesse's Wandering, his sort of travel journal after WWI that included his watercolors. The work was originally for piano, narrator and tenor. Margaret and I put the project on the back burner eventually, in part because I couldn't get enough pitches out of the piano.

I've begun to rework Wandering as bilingual, soprano duets for my ensemble (SSATBB, Vc) and can now do what I want with the harmony, which, in [Harry] Partch's terms, is 13 limit otonal and utonal, but also modulates in ways that were unavailable to pre-digital musicians. The music is strikingly different from the earlier versions. We'll premiere Magic of Colors and Walk at Night, which feature Eileen Clark as soloist for the German and Eric Brenner for the English, Malina Rauschenfels playing cello and singing alto simultaneously, Avery Griffin and me on some inverted throat singing (fundamental moves while 'monic ties over), and other timbral/rhythmic vocal effects that I can't resist.

There's a solo sonic poem/rap piece called O&E@theBeach, and a piece for solo cello called Schoenberg Dreaming—how I imagine he heard music in his sleep while evolving toward pantonality, moving around the frequency spectrum by interlocking interval cells comprised of pure intervals."
SOCORPO: Performing arts duo SoCorpo (Sasha Bogdanowitsch & Sabrina Lastman) are not only both composers that sing, but incorporate movement as well, and are making their second appearance at the Vital Vox Festival (Sabrina has also appeared as a solo artist at the 2010 festival).
It promises to be an entertaining pair of evenings. Hope to see you there!
2011 Vital Vox Vocal Festival
Saturday, Nov 5 and Sunday Nov 6, 8 PM
Roulette
509 Atlantic Ave (At the Corner of 3rd Ave)
Brooklyn, NY 11217
(917) 267-0363
info@vitalvoxfest.com
VitalVoxFest.com
Official website