Please welcome Jonathan Lakeland, a conductor and pianist making his first contribution to Sequenza 21, a review of pianist Ang Li's Weill Hall program. Plenty of 19th century rep, but two premieres as well.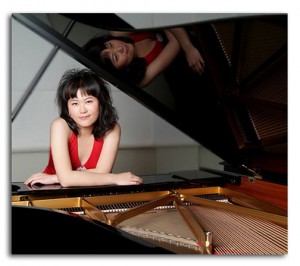 The collaboration between performer and composer is one of the great joys of music. Pianist Ang Li's recent Carnegie Hall recital (12/18 at Weill Hall) was, if nothing else, a celebration of this beautiful relationship. Ms. Li programmed music that celebrated the 200th birth-year of Franz Liszt, while also performing new works by two terrific young composers: Jérôme Blais and Jared Miller.
Ms. Li began her program with Liszt's piano transcription of "Liebestod", the final aria from Wagner's Tristan und Isolde, which opens with three hypnotizing ambiguous chords. The performance was riveting. One could hear the entire orchestra in the reduction, illustrating not only the brilliance of Ms. Li's musical ability, but also the genius of the birthday boy himself.
Following this was Liszt's "Les jeux d'eaux à la Villa d'Este" from Annés de Pèlerinage, a piece was inspired by the Gospel of John (4:14), "but whoever drinks the water I shall give will never thirst; the water I shall give will become in him a spring of water welling up to eternal life." As Liszt's writing transitions from depicting the beauty of the divine water towards depicting the greatness of eternal life, Ms. Li was able to achieve a rounded and sonorous bass, an area of the piano that some other pianists abuse and manhandle.
After a brief pause came a set of three Schubert songs transcribed for the piano by Liszt: "Wohin"; "Der Müller und der Bach"; and "Gretchen am Spinnrade". One of the questions a performer must answer when preparing these famous transcriptions is whether the melody should be played as if it is being sung, or if it should be played as if it is on an instrument, or imitating a series of instruments. The cardinal mistake a pianist can make is to have made no decision, for this rejects the compositional foundation of these pieces. Ms. Li clearly decided to "be a singer." The result was a lyrical and present melody reflecting the character of a Chopin nocturne, while also respecting the programmatic writing of Schubert's songs.
The first half ended with Liszt's Ballade no. 2 in b minor. In keeping with the recital's programmatic theme, Ms. Li mentions in her program notes that this piece is supposed to depict, the myth of Hero and Leander. One could surmise it to say it was a myth that was Wagnerian and tragic in character. In her performance of this piece, I felt Ms. Li emphasized depiction too much, and tried to force-feed me the images behind each musical moment. She did not let subtlety play a role here, and I felt that her choices got in the way of Liszt's writing. This surprised me, but she quickly redeemed herself.
Following intermission was a second half full of youth and vitality. Mr. Blais, whose piece, "Es ist genug!" received its U.S. premiere at the recital this evening, explained to the audience that he is an atheist, and was asked to write a piece for a concert of contemporary piano music celebrating Christmas. Clearly, he was faced with a slight problem. How does an atheist compose something referencing the sacred? He decided that as a musician, the closest he could get was to write a piece worshipping Johann Sebastian Bach.
Mr. Blais' composition combined fragments of Bach's keyboard works separated by moments of improvisation. He combined this structure with the use of the sostenuto pedal to highlight the overtone series, and its embedded harmonic influence. The result was a vacuum of ringing overtones broken by momentary bursts of counterpoint, and slightly incomplete but familiar cadences. Ms. Li committed to the vision of the composer, and delivered a tasteful and confident performance.
Between Mr. Blais' and Ms. Miller's works was a set of three Debussy preludes: Brouillards, Minstrels, and Feux d'artifice. Ms. Li's musical vision seemed slightly skewed. Perhaps it was hearing this set between two extraordinarily organic performances, but they seemed to lack the evening's prevalent interpretive power.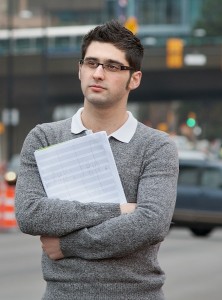 The world premiere of, "Souvenirs d'Europe", by Jared Miller, was next to be heard, and Ms. Li had him speak before her performance as well. Mr. Miller is pursuing his Master's degree in composition at Juilliard. He told the audience that he had been commissioned for this work immediately upon returning from backpacking through Europe. Naturally he was inspired by Liszt's, Annés de Pèlerinage, as this set of pieces was written as Liszt's reflection of his travels through Europe. Miller's piece is in three movements: Fontaines, Origines, and İLa Rambla!. As Mr. Miller writes, "Fontaines evokes the Cascade Donjon Waterfall in Nice, France." What was immediately noticeable was his intimate knowledge of the piano's versatility. The result is an admirable accomplishment of programmatic writing- we can hear the water sloshing, and gravity's tempo as it pulls the water along its course.
"Origines" is "inspired by the significance of the Notre Dame Cathedral in Paris," says Miller. He evokes, "the sounds of ancient chorales, chants, bells, and [the] organ echoing through time and space." Ms. Li channeled these images and instruments very well. Miller's piano writing mimicked each instrument quite well.
İLa Rambla!, "evokes Barcelona's main tourist drag"…"one hears pulsating Latin music escape a nightclub, smells tapas being cooked at a cerveceria, and tastes the most potent sangria in the world." Mr. Miller's communication of folk life and song rivals that of the masters Bartok, Britten, and Dvorak. His music is both hypnotic and efficient, leaving every musical detail with an interconnected meaning. At only twenty-two years old, his music brims with potential. Not even waiting until the piece had fully ended, the audience sounded their cheers, applause, and bravos for Miller and Li.
Ms. Li ended the program with Granados' Allegro de Concierto. This exciting piece was a perfect choice to follow Miller's rousing İLa Rambla!. Ms. Li played it with brilliant enthusiasm.