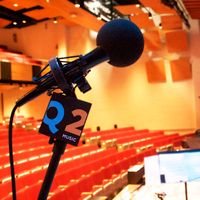 Sometimes, classical music gets a bad rap. To be perfectly honest, there is a chunk of the population that finds it to be synonymous with any number of derogatory terms: boring, annoying, or pompous.  Some classical music lovers and advocates will counter this popular belief with arguments that only go to further the opinion of the other side: "Some people want to listen to mindless music", "Some people simply don't have patience", etc. These ridiculous arguments only go to further the stereotype that classical music lovers are all pompous windbags who believe themselves to be uniquely educated and informed.
How, then, do we get people to forget their misconception, and believe that EVERYONE can enjoy or even love classical music, regardless of education, socioeconomic standing, or profession?
It all comes down to how classical music is presented; and now, for a limited time,  you could join one organization that does it right.

Q2 Music, part of the 105.9 WQXR family, is an online, listener supported music station that devotes itself to presenting the works of living contemporary classical composers. This station presents hot off the press music in an exciting and inventive way.  Q2 Music is one of many organizations dedicating itself to connect with the modern mindset of its audience. Audiences today can be pessimistic about even recently composed music of the classical genre. Because of organizations like Q2 Music, audiences are being shown the relevance of classical music, not through preaching, but through action. The presentation of pieces on Q2 is exciting, knowledgeable, and passionate. It embraces both the avid listener, and the listener who has decided to lend his ear to this music for the first time.
And guess what – Q2 Music is looking for new presenters, and you could be one of them.
WANTED
"People who are open-minded, hungry and passionate about turning people on to new music."
If this is you, then the next stop on your web browser should be :
http://www.wqxr.org/#!/articles/q2-music/2012/jul/16/become-q2-music-host/
To find out how to submit yourself for this application. All you need are three pieces of classical music written by a living composer that you want to introduce to the world (one required piece being: Gavin Bryars's Jesus' Blood Never Failed Me Yet: Piece Three), a microphone, and three minutes of material, and you could be one of the next hosts on Q2 Music.
So, whether you are a musician or a lover of music, head on over to the Q2 Music page, and lend your voice to the cause.