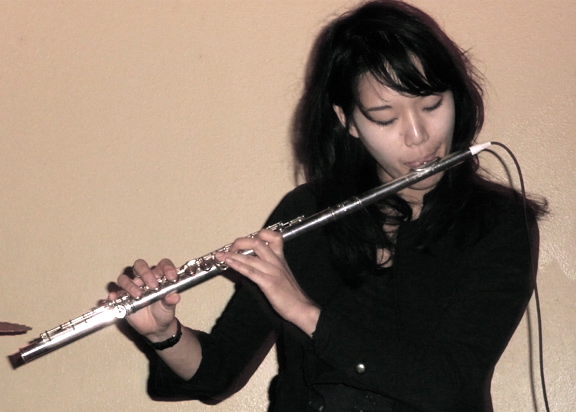 (Houston, TX) This Sunday, Houston-based flutist, composer, and improviser Michelle Yom presents FALKOR, an interactive music and dance composition featuring Yom on flute and four dancers, Kriten Frankiewicz, Erin Reck, Leslie Scates, and Sophia Torres. FALKOR utilizes video motion tracking and a wireless system triggering audio samples based on the colors of the costumes worn by the dancers as well as their movements. FALKOR takes place at Studio 101 as part of the ongoing electronic music series Brave New Waves.
Fantasy film fans (not to mention fans of 1980s pop music) will no doubt recognize the name Falkor (i.e. Falkor the Luck Dragon) from the film Neverending Story, which tells the story of a young boy who, through reading a magical book, enters into another world called Fantasia, a world sustained by human imagination. Yom uses the names of different characters and creatures from the film, each of whom represent some facet of humanity, as "venture points" to explore "the relationships between emotions, noise, sound, silence, and nothingness."
Says Yom, "Falkor is luck and joy, Swamps of Sadness is sadness, Engywook is intellect, and Morla is cynicism. I use these characters as general ground to inspire the improvised music and dance. It seems linear, but I hope to show other sides of seemingly one-sided notions of emotion. For example, we treat sadness as a negative feeling, but it actually springs from hope in the first place, and when destroyed, begins something new."
As a frequent participant in concerts of freely improvised music presented by the Houston organization Nameless Sound, improvisation is a crucial component to Yom's compositional vision. Each of the four dancers in FALKOR are experienced improvisers as well. The wireless system triggering audio in response to their movement and costume colors will scramble the audience's perception of what has been composed and what is being improvised, as well as time itself.
"I've been exploring silence," explains Yom. "Different types of silence with factors like physical movement and the inevitably strong role it plays in our perception of time in a concert. I'd like to push the length of silence in a musical piece without losing the audience."
Sunday, January 27, Brave New Waves presents Michelle Yom's FALKOR at Studio 101 at Spring Street Studios, 1824 Spring Street, Houston, Texas, Houston, Texas 77007. Doors open at 7:45 p.m. the performance begins at 8:05 p.m. $10 cover.
Tune in to KTRU Saturday at 6:00 p.m. CT for an interview with Michelle Yom.