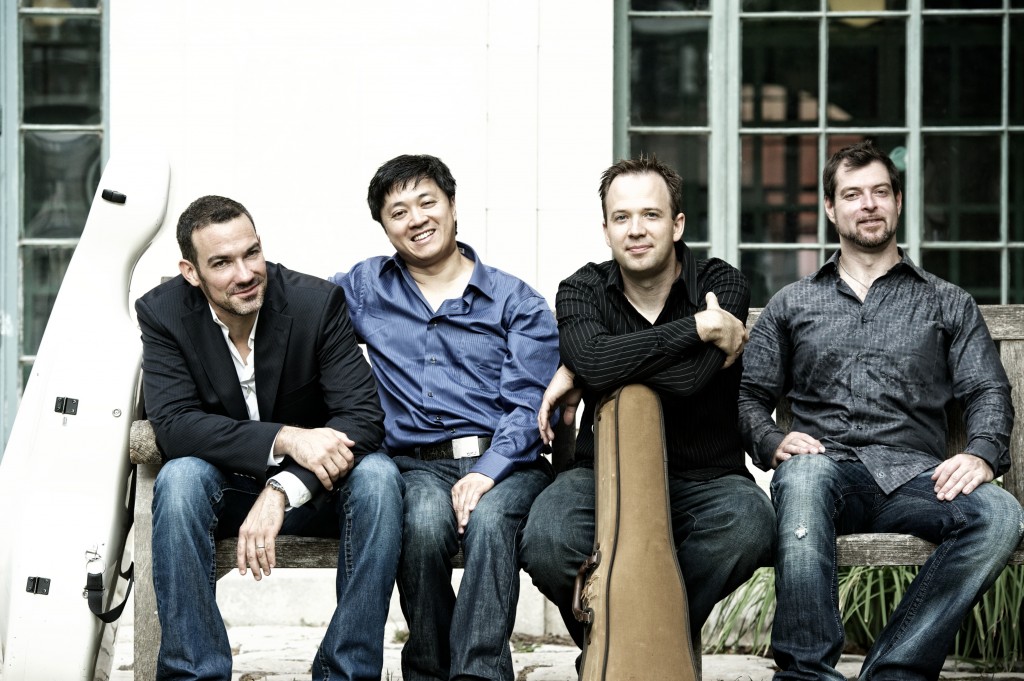 (The Miró Quartet)
(Houston, TX) As a way of acknowledging the impact composers such as Terry Riley, Meredith Monk, Steve Reich, and Philip Glass made on him in his formative years, composer John Zorn has described himself as a "child of minimalism" and said that the influence of the minimalist school "is somewhere in almost everything I do."
Cellist Joshua Gindele, a founding member of the Austin-based Miró Quartet, probably wouldn't describe himself as a child or even a grandchild of minimalism, since Glass's repertoire, as well as the repertoire of several of the composers we've come to associate with the "M" word, has since found a home among the standards that any self-respecting classical chamber ensemble plays. Along with performing traditional string quartet music, including works by Beethoven, Brahms, and Schubert, the Miró Quartet has commissioned and performed several new works by composers, including Brent Michael Davids, Chan Ka Nin, Leonardo Balada, and Gunter Schuller. On Tuesday, September 17, 7:30 PM at Rice University's Shepherd School of Music, the Quartet performs a program of works by Schubert and Beethoven as well as Philip Glass's String Quartet No. 5.
Although Glass is still finding ways to surprise listeners and reboot the very musical language he began articulating back in 1966 with 
his first string quartet and soon after with the Philip Glass Ensemble, more than a few of his "classic" or "vintage" works have become popular additions to classical music concert programming, including the aforementioned String Quartet No. 5. I spoke with Gindele to find out what it's like for a young, up-and-coming string quartet to take on a piece of "serious" minimalism and present it within the context of traditional, classical fare.
Do you recall the first time you heard Philip Glass's music?
I would suspect it was when I was in school. I don't remember hearing anything of his prior to being at Oberlin College. Oberlin is a fairly forward thinking place there was an enormous amount of new music happening there. I was exposed to John Adams, Terry Riley…I do remember when I explored his string quartets for the first time. The Miró Quartet was playing a festival in North Carolina, and the director of the festival came and asked us if we would be willing to perform one of Philip Glass's string quartets. I knew his music, but I didn't know his string quartets particularly well. We had done some minimalist inspired works, but nothing by any of the major minimalist composers. One of the festival director's donors was a huge Philip Glass fan asked if we would do it. So we listened to all five of the string quartets, and the fifth was the one that really spoke to us. The tone of the fifth seemed appropriate with the kind of programming we were doing at the festival.
What are some challenges that you four encountered once you had the music in front of you and began rehearsing it?
The language was new to us. We had done some pieces by younger composers that were inspired by that school, but this was our first foray into real serious minimalism.
One of the practical things that challenged us was just finding place to turn pages. I think Glass conceived the quartet in orchestral terms. The texture is generally fairly thick. Often, the instrumentalists are playing more than one line at a time or double stops or chords, things like that. And in order for him to find time for voices to drop out of that texture, he had to be incredibly creative with how he did it. But most of the time, I don't think he really thought much about what the performers would need to do to get through the work. And that's fine with us. We'd rather a composer write a piece that they feel is compelling and let us worry about the details of where to get page turns in (laughs) and how to get through the work.
The second thing we noticed is that we had to be very exact with how Glass wanted time to change. One of the things we worked very hard on was understanding the relationships between sections. Instead of just looking at his metronome markings and looking at the Italian words on the page, we decided that we would assign character words to sections, and that was how we defined what those tempos looked like for us. Obviously, they were all informed by what he had written, both with the metronome markings and the language there.
And just the fact that you sit there and play 22, 23, 24 minutes without stopping is…all of his music is sort of exhausting in that way! In the orchestral world, everyone complains about Bruckner symphonies, but in Bruckner symphonies, because he changed texture so frequently, there's a lot of time when you're not playing. In something like String Quartet No. 5, even though it's a lot shorter, there's really no moment when you are not playing. (laughs) And because you're playing patterns that repeat themselves, with sort of minute changes here and there, there's a lot of fatigue, especially in the big, loud, orchestral sounding sections. We're trying to mimic that feeling of grandness, and that can be quite exhausting for the group.
How are audiences responding to this piece as you tour and play it? I imagine some audiences love Glass alongside Beethoven, while others might say, "I never liked Glass and I still don't like him!"
I don't know if it's our conception of the piece or the piece itself, but I would say 99 percent of the audiences fall in love with it. We're a quartet that commissions one or two new works every year. We're committed to the idea that we have to continue this art and keep people writing music. But we're playing a Beethoven cycle this month. We just recorded a lot of the late Schubert quartets. We pride ourselves on our mastery of the core repertoire. Often we'll play the Glass with a middle Beethoven or a late Schubert quartet or a Brahms quartet and what people remember from the concert is the Philip Glass quartet. They're actually quite moved by it, and I think it catches them off guard because they're expecting not to like it. That's a generalization of course. They come thinking it'll be some obtuse, intellectual work with not a lot of variety to it, and it's the exact opposite of that. It's a very emotional, very lyrical, very warm and inviting work. And there's a lot of stuff going on. Things change rapidly. There's a lot to take in and listen to.
We've been playing String Quartet No. 5 for a long time now. It's a piece we know pretty intimately and have performed it for a lot of audiences, in the U.S. and Europe and Asia as well. And the response is pretty much across the board positive.
The piece really has held up. It's a part of the string repertoire now.
It's holding up to middle and late Beethoven. As much as I revere those works —because I'm a string quartet player and have been for almost 20 years — I have to say that on the concert stage this piece really holds up to almost anything. The operas too! Glass's output has been really, really interesting and beautiful.
Houston Friends of Chamber Music present the Miró Quartet, Tuesday, September 17, 7:30 p.m. at Stude Concert Hall, Shepherd School of Music, Rice University performing works by Schubert, Philip Glass, and Beethoven.