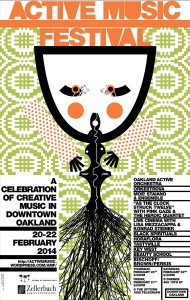 The San Francisco Bay Area has long been a friendly and nurturing environment for musicians "without a home" – operating between and outside of genres.  For those shut out of the concert halls and jazz clubs, it's been a haven where non-traditional musicians build non-traditional alliances, and run non-traditional music venues and concert series where they can take risks and create uncompromising work.  Over decades of community-building and creative ferment, this lack of formal boundaries has defined the sound and feel of the scene, interweaving free improvisation with elements of noise, minimalism, rock, jazz, drone, chamber music, electronica, and other more slippery sounds which resist categorization.
The scene's relentless DIY approach has led to the establishment of numerous artist-run concert series and festivals, of which the Outsound New Music Summit, the Tom's Place house concert series in Berkeley, the SIMM Series at the Musicians' Union Hall, the Wednesday and Sunday series at the Berkeley Arts Festival Space, and the San Francisco Electronic Music Festival are just a few examples.  This month they'll be joined by a brand-new one, the Active Music Festival, covering February 20-22 in downtown Oakland.
The Active Music Festival grew out of the Active Music Series, the brainchild of local saxophonist, composer, and improviser Aram Shelton.  "The [Active Music Series] started at the Ivy Room [in Albany, CA] back in 2008," he says. "At that time there were a few different monthlies happening on Monday nights. I was offered one of them, and wanted to do something along the lines at a series in Chicago at a place called the Hungry Brain. Jazz and improvised music, with a focus on local musicians."  The Ivy Room series lasted through 2011, and in the meantime, Shelton had been offered the curation of a series in Oakland at the Uptown Nightclub in 2009.  This incarnation of the Active Music Series would feature its own house band.
"I had been talking to a few musicians about a large group, including Lisa Mezzacappa, Weasel Walter, Damon Smith, and Darren Johnston," Shelton reveals. "We decided to try to start a large group of improvisers that also had ideas for compositions. We dubbed it the Oakland Active Orchestra, got quite a number of other folks involved, and settled on a monthly residency. Each month one member of the large group would bring in a small group as an opener."  In its second year, the orchestral concerts became a quarterly event, and Shelton opened up the monthly concerts to other groups and musicians with sympatico sounds and approaches.  The Oakland Active Orchestra took off on its own trajectory, going on to perform special sets with Jon Raskin, Marco Eneidi, Lisle Ellis, Frank Gratkowski, and living legend Henry Grimes.  More recently, the band played sets at 2012 Soundwave Festival and the 2013 Switchboard Music Festival.
The partnership between the Active Music Series and the Uptown led it to become one of only two venues hosting the Active Music Festival.  "The owners of the Uptown do have a strong interest in creative and avant-garde music," says Shelton. "This is a big reason why we're allowed to have the series there."  The second venue, Duende, is a new Oakland restaurant and music venue which has  quickly become a new home for the very type of music featured on the Active Music Series.
To develop the inaugural Active Music Festival, Shelton recruited local colleagues Jacob Felix Heule and Crystal Pascucci to form a curatorial and administrative team.  "Jacob adds a good sounding board for aesthetic in terms of musical choices, as we're trying to bring together some disparate elements in the music scene in Oakland, as we're just as likely to bring in noise musicians as we are creative jazz musicians," he explains. "Crystal has an ear towards new music and contemporary classical ensembles that we're trying to get involved in the series as well."  The team spent 2013 laying the groundwork for the festival and its aesthetic, aligned with its overarching mission of uniting creative musicians with creative listeners hungry for new sounds.
"I think that what sets the [festival] apart," Shelton declares, "that it's trying to get people to rub shoulders in a way that they don't on other series or in different venues. There's a lot of interesting music being made right now in Oakland, and having a place where many different kinds of musicians can be welcome to present their music alongside very different music than their own is a unique thing."
Leveraging the success of the Oakland Active Orchestra, the festival will feature two more large ensembles – OrkestROVA and the Moe! Staiano Ensemble, plus the dense and noisy textures of Beauty School and Black Spirituals.  A full and detailed menu of the festival's free jazz, noise, electronic, film music, and acoustic improvisation artists can be found on the festival's web site.
The Active Music Festival will be held on February 20, 21, and 22 at the Uptown Nightclub (1928 Telegraph Avenue) and Duende (468 19th Street) in beautiful downtown Oakland, California.  All tickets are $10.00, and it is recommended that you purchase tickets to Duende events in advance, as space is limited.