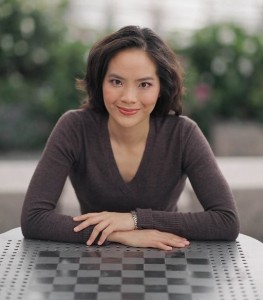 This week marks the premiere of a new concerto by Vivian Fung for the harp. Starting in Alabama this Thursday and later this spring in Germany, NY, DC, and in the fall, California, harpist Bridget Kibbey unveils the piece for harp, percussion, and strings. "It was tricky," says Fung. "When we were deciding on the instrumentation, we originally thought it was going to be for the entire orchestra – but the harp is like a guitar, or other instruments that have balance issues, if you are not careful [with the orchestration]. So even with the percussion, I have to choose instruments that could compliment that sound very well, but not drown out the sound of the harp."
Fung also prepares the harp in one section of the work, placing card stock in the strings. "It kind of mutes the strings (in the low register) so it almost turns it into a percussive sound, almost a bass guitar sort of sound – you know, the thump."
Listen to an interview with Vivian Fung about this new concerto here as an mp3 file including how the commission came about, whether to name or subtitle the new work, inspirations, and writing for harp.
The New York premiere takes place Sunday and Monday, April 6 & 7 at le poisson rouge.
Bonus – more behind the scenes for composers – shop talk with Vivian and John Clare: mp3 file Hear the answers to how Ms. Fung started as a composer, dream genres, and the importance of recordings/publication for a composer.