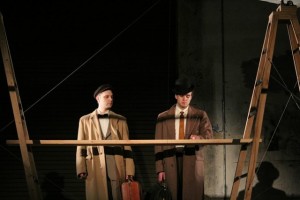 In June I sat on a panel organized by Opera Cabal, in their visit to the Kitchen to produce Georg Haas' Atthis, with two other critics, John Rockwell and Zachary Woolfe. While the audience was sparse, they were generally attentive and the talk, which began with the question of whether or not we missed City Opera, was varied and interesting.
I was surprised, though, by how much we ended up talking about the Metropolitan Opera, and how Rockwell and Woolfe's critical thinking is so involved in the context of not only what the Met produces, but the general standpoint that the long-standing repertoire is the thing that matters. The Met demands that much attention in terms of both time and money, and the professional critics (I'm making a value-free distinction between those who are paid for every review they write and those who are paid for some of the reviews we write) pay that much more attention to the Met and that house's peers: it's their job.
This is certainly no criticism of Rockwell and Woolfe, especially the former, who has done so much to advocate for contemporary opera. It actually made my contributions more valuable, because while I certainly see plenty of things at the Met (almost a dozen performances this past season), what happens outside that house matters to me more. Nothing against good productions of operas of lasting value (though the grand opera tradition, as seen on stage, includes too many mediocre works), but as a composer I'm most concerned with the state of the form now, what other composers and companies are doing with it.
When I answered the opening question, I was even more surprised to realize that I didn't miss City Opera. The loss of the company is still painful, but what involved me the most with them was what George Steel was doing to produce modern and contemporary work, and this past season, starting with City Opera's swan song of Anna Nicole, I saw enough new work (on a necessarily smaller scale), and missed so much more new work, that it was clear to me in retrospect that contemporary opera is in decent enough shape. Smaller companies like Gotham Chamber Opera, Beth Morrison Projects, HERE Arts Center and Experiments in Opera are making new work, and they are free of the burden of having to maintain a redundant version of the repertoire that the Met has a lock on.
What does it take to produce an opera? Experiments in Opera has an infinitesimal fraction of the Met's budget, easily less than 1,000,000th, so the composers who formed the organization—Aaron Siegel, Jason Cady and Matthew Welch—work together to produce each other's pieces. I saw their season finale, Siegel's Brother Brother, in the beginning of May at the Abrons Arts Center, and while the opera didn't come off as a successful music drama, it has two important things going for it: it tries to expand the repertory and it made it to the stage—that itself is a success.
Siegel is trying to move narrative structure beyond linear story telling, something the world of contemporary opera desperately needs (as I said at the panel, I'm amazed that in a world with comic books, Pulp Fiction and long form dramatic TV, there is almost never any variation to the Verdian model). He is trying to convey a drama about the Wright brothers by telling the story of an additional pair of brothers, abstracted as Red and Blue. An interesting idea, but unsuccessfully executed.
Siegel wrote the libretto, and could probably have used some critical distance: the words don't amount to much meaning. They don't do much to provide human flesh to the Wright brothers (sung by countertenor Patrick Fennig and tenor Marc Day), and the fragmented, abstract dialogue for Red (Julian A. Rozell, Jr.), and Blue (Danyon Davis) make them poetic figures and put them out of the context of the drama. Red and Blue are also speaking parts, and although they are accompanied by music, they seem to belong to an entirely different piece.
Siegel fills in a lot of the narrative with a chorus, but this also works against his drama, because this is music the Wright brothers could sing, and by singing bring us closer to their experience and dramatic realization. They pop up, Day sings heroically at one point, everything goes up in flames. It doesn't work. Siegel also doesn't completely get beyond the challenge of his own minimalist idiom—the repetitive music relies predominantly on vibraphone (the accompanying ensembles were Mantra Percussion and the Cadillac Moon Ensemble, conducted by David Bloom), and as lovely as it often is, there is too little changes in quality and harmony to indicate that some kind of narrative transformation has occurred: the music doesn't convey the dramatic idea.
Production- and performance-wise, the event proved that there is no lack of capable singers, musicians and directors (Mallory Catlett). The actors were miked, probably because the instruments were miked, but in the tidy acoustic of Abrons this should never have happened, and the vibes overpowered the actors and the singers too many times. Perhaps tight budgets mean insufficient tech rehearsals.
But the problems with Brother Brother are those of commission, people trying to do something new. No money means nothing much to lose, and an unsatisfying but honest attempt at something different is more welcome than another acceptable and predictable production of Strauss.