In 2011, pianist Raffaella Gazzana and violinist Natascia Gazzana, better known as Duo Gazzana, made a quiet, if colorful, splash with Five Pieces, their first record for ECM's New Series imprint. Navigating a recital comprised of works by Takemitsu, Hindemith, Janáček, and Silvestrov, the Gazzana sisters, in close collaboration with producer Manfred Eicher, demonstrated an acute sense of programming, technique, and integrity. Despite the title of their debut (named for the Silvestrov composition of the same name), which contained only four pieces, Silvestrov's Hommage à J.S.B. (2009) comprises the heart of this truly pentagonal sequel. The Ukrainian composer offers three short movements: two Andantinos and one Andante, each the band of a deeper and more nuanced spectrum. The end effect is one of suspension. Although originally written for Gidon Kremer, the Hommage is uniquely informed here by the Gazzanas' attention to detail. "The music of Silvestrov is not difficult in terms of notes," Raffaella tells me in a recent interview, "but it's so particular. In a way, you have to isolate yourself from the noise of life. He's a composer who belongs to another time, bringing these beautiful melodies, as if from the past." Indeed, as Wolfgang Schreiber observes in his album notes, the Gazzanas share in the spirit of the music they have selected, which like them finds newness in the old. Their unwavering commitment to urtexts only serves to emphasize what is unwritten in them, thus coaxing out hidden messages and spirits.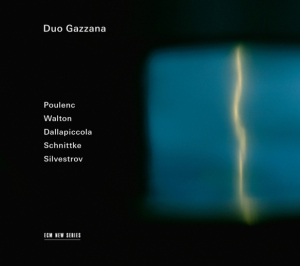 Radiating outward from the Silvestrovian center are two richer, denser works: Poulenc's Sonate pour violon et piano (1942/43, rev. 1949) and William Walton's Toccata for violin and piano (1922/23). Dedicated to the memory of Federico García Lorca, the Poulenc sonata is, in Raffaella's estimation, a product of its time, as is clear in the first in third movements, designated "Allegro con fuoco" and "Presto tragico," respectively. These are extroverted, almost flailing. Stravinsky looms large in the final, especially, but there are also—unwitting, perhaps—nods to the late Romantics and Ravel as the piece nears its enigmatic coda. "After expressing the suffering of the war," Raffaella observes, "Poulenc wanted to finish with this dreamy catharsis. This was his character, shy but also enjoying life. He was, I think, a very elegant man, and in this sonata you can hear that." Poulenc purists take note: the Gazzanas' interpretation corrects mistakes left in the original French edition prepared by Max Eschig, which elides key signatures in the last page. After careful study of the facsimile, they believe to have arrived at the definitive version.
Although more obscure, Walton's Toccata was the subject of Raffaella's dissertation and is no less possessed of elegance. Nataschia's opening proclamation stirs the piano's waters with relish and fortitude, giving way to a virtuosic and starkly exuberant foray, pocked by haunting, probing depressions. Although written in the composer's 20s, it smacks of maturity and daring-do. Raffaella: "I am always impressed by the piece's improvisational elements. At the time he was working on it, Walton was planning a jazz suite for two pianos and orchestra. Although it never panned out, you can hear this influence throughout the Toccata. The beginning contains no tempo or bar divisions. You just have to go with it."
Two further works draw the album's outer circle. First is Schnittke's Suite in the Old Style. Originally composed for two 1965 films (Adventures of a Dentist and Sport, Sport, Sport) by director Elem Klimov, Schnittke arranged these five selections for violin and piano in 1972. Its moods are crisp and compelling. Especially moving are the Minuet and the spirited Fugue. Only the final movement, marked "Pantomime," has the surreal touches one might expect of the composer. Still, it is playful and fragile, ending with a mystery.
Tartiniana seconda (1956), by the 20th-century Italian composer Luigi Dallapiccola, concludes. Referencing Tartini, this divertimento spreads a beautiful carpet across its four Baroque-inspired movements. "This piece enjoys great popularity in Europe," Raffaella explains, "especially in Italy. It makes exclusive use of canons, pastorale, and variations: all forms that belong to the past." At times ponderous and lyrical, at others swirling with ornament and invention, it culminates with a set of emphatic statements from both musicians. Of all the pieces on the album, it is the most architectural. This is no coincidence: "It helps to have the score in hand when listening, because it's as much for the ears as it is for the eyes. In the opening Pastorale, for instance the piano plays the violin's lines exactly, but staggered and in reverse, while in the second Variation, it plays the exact reverse, bar for bar." The Tartiniana also gives contrast to the freer forms of Walton, lending finality and flourish to this exquisite sophomore program.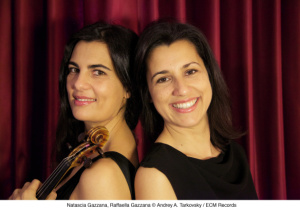 Coinciding with the release of this disc was the Duo Gazzana's North American concert premiere when, on May 2, they performed as part of 2014's Look & Listen Festival in New York City. For this performance, they chose the Silvestrov and Poulenc pieces from the new album, and enchanted the audience with their grace, sensitivity, and mutual resonance. Hearing this music live brought home a vital point in relation to the album's core philosophy. Because the nature of past and future is immaterial, the only true reality of this music can be the here and now of performance and listening. On this point, Raffaella has the final word: "Chamber music has ever been one of the most beautiful expressions of liberation, one that tests the ability of performers to listen to one another in dialogue. These peculiarities attract us and in our interpretations we try to emphasize them. All the study we put into these pieces is just the grammar. But grammar must be spoken to come to life. Nowadays, it's easy to speak without caring what other people think. Chamber music ensures we never fall into that trap. Sure, there are good performers, but it's obvious when they're performing only for themselves. Chamber music is, quite simply, enjoyable. It's so beautiful to share it with such a caring musical partner, and with the listener in turn. When you do something out of love, you transmit this love to others. And people can hear this."