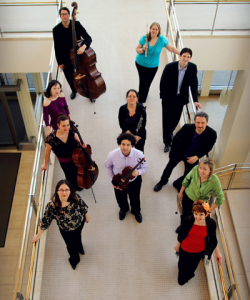 (image source ensemble: Périphérie)
A common theme in my reviews is that new music is what and where you make it. ensemble: Périphérie ascribes to the same philosophy. The group, founded in 2010 by composers Luke Dahn and Joseph Dangerfield, contains performers from all over the United States; they get together a few times a year for a week of intense rehearsals and a short tour. Make no mistake, though; while the rehearsal time may be brief, these musicians are skilled and the performances are high-quality.
The group started its Fall 2014 tour at the University of Minnesota Morris, where pianist Ann DuHamel is on the faculty. (Full disclosure: So am I.) The concert opened with Karim Al-Zand's work Hollows and Dells (2010) for viola and piano, played by violist Stephen Fine and DuHamel. The work, cast in three movements, is based on the composer's recollections of attending an English-style boarding school, and features paraphrases and arrangements of stacking songs, hymn tunes, and a reel that can only be described as a moto perpetuo. It is a fun and exciting work, and was performed with a high level of fun by Fine and DuHamel.
The second piece, Tomasz Skweres's Direkt (2006), is a setting of Psalm 14 for soprano, flute, and cello. One of the longer pieces on the program, it taxes the skills of all performers, with substantial use of extended techniques for the players. Soprano Michelle Crouch ably negotiated the intense vocal line, which required both control and power, and flutist Rebecca Ashe and cellist Kumhee Lee tackled their difficult parts with aplomb.
Co-founder and co-artistic director Dangerfield was represented by Broken Obelisk (2013). Originally for saxophone and piano, this version was played by clarinetist Yasmin Flores and DuHamel. The work was inspired by Barnett Newman's sculpture of the same name. This effective piece showcases the sound of the instruments beautifully, and uses modes and little bluesy licks to great effect.
If it's Minnesota, you'll find some Libby Larsen. Flores, Fine, and DuHamel presented two movements of Black Birds, Red Hills (1987). This work, which draws inspiration from Georgia O'Keeffe's paintings of New Mexico, provided a solid close to the first half of the program.
After intermission, co-founder and co-artistic director Dahn's Confessions of St. Augustine (2009, rev. 2014) was performed by Crouch, Flores and DuHamel. Originally for soprano and orchestra, this adaptation for soprano, piano and clarinet used two texts by the 4th-century theologian for a work that was by turns austere, intense, and expansive. Dahl did a fine job condensing the orchestral textures for the reduced forces; the interplay between the players signified a great familiarity with each other.
For any other group, a program this ambitious would have been sufficient for a full evening of exciting and interesting music. In this case, however, the organization also presented George Crumb's Vox Balaenae (1971), which counts as a venerable war-horse in new music circles. For this performance, flutist Ashe and cellist Lee were joined by Dangerfield on piano. The trio handled the extended techniques with grace and style, and gave the work a solid, powerful interpretation.
For a group that only rehearses and performs in short bursts, ensemble: Périphérie (which draws its name from a quote by Henri Dutilleux) shows a maturity and skill that should serve as an inspiration to other ensembles. The group played Carnegie Hall in October 2013 to outstanding reviews, and their devotion to quality performances of challenging music should resonate with other composers and performers. Here's hoping they come to your town sometime soon.