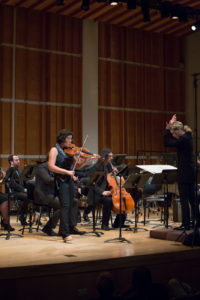 To celebrate this year's fiftieth anniversary season, Lincoln Center's Mostly Mozart charged International Contemporary Ensemble with performing fifty new pieces over the course of the festival. Numbers 45-49 were presented at Merkin Hall on Tuesday, August 23rd. The fiftieth, music by Tyshawn Sorey celebrating Joséphine Baker, was slated for the 24th.
Tuesday's program consisted entirely of concertos. In some cases, the composers used the term rather loosely, creating amorphously constructed entities rather than the formally distinct works one might expect in the genre. Nearly all were longer than their advertised times: starting at 7:30 PM, the first half alone was ninety minutes. At the concert's conclusion, we dashed out the door for our train at a few minutes before ten. This loquacity did not always show the works in their best possible lights: all of the composers created fascinating sound worlds, but some tightening of construction would have served several of them well. Karina Canellakis, a prominent young conductor and violinist with an impressive pedigree in both areas, assuredly led ICE. With elegant gestures, she assumed a calming presence amid the maelstroms of complexity being wrought onstage.
The entire program was reordered, but the audience was guided through the changes by brief remarks from the stage by flutist Claire Chase and each of the composers (all four were present — a rare treat). The best piece on the program was also presented first. Marcos Balter's Violin Concerto displayed formal clarity, abundant virtuosity, and a fascinating use of small percussion instruments (played by the ever nimble Nathan Davis). Violinist David Bowlin played one cascade after another of high harmonics and multi-stops with scintillating aplomb.
In Anthony Cheung's Assumed Roles, violist Maiya Papach was given a more challenging set-up in which to operate. An unorthodox ensemble grouping, which included several instruments that played in or near the viola's register and an electric guitar, meant that Cheung had to be judicious in his choice of demeanor for the soloist. He decided to have Papach vacillate between "roles," working with the ensemble, playing prominently in front of them, and sometimes disappearing beneath their billowing sheets of sound.
The premiere of Dai Fujikura's Cello Concerto featured a labyrinthine structure. Soloist Katinka Kleijn's supple tone was challenged by often piercing responses from the ensemble. Cast in a single expansive movement, it was sometimes difficult on first hearing to follow the thread, but several signposts — sections where the cello played open strings and prominent harmonics — helped one to be reoriented.
Wang Lu's Cloud Intimacy is designed to feature all the members of its ensemble in spotlight moments. It is also meant to be a commentary on technophilia. One heard the tapping of computer keys and ICE musicians got to ham it up with cell phones; the piece ends with a "selfie." The soloistic aspects of the concerto were less prominently dealt with than the depiction, or distraction, of "Tinder." However, guitarist Dan Lippel did get a chance to "rock out," which he did with abandon.
The evening culminated with the US premiere of Fujikura's Flute Concerto. Written for Chase, it contains many of her signature extended techniques: beat-boxing, multiphonic glisses, harmonics, and pitch bends. It also requires her to employ an array of instruments, from piccolo all the way down to the enormous (and voluptuous sounding) contrabass flute. Interestingly, rather than relying on its strident altissimo register, Fujikura features the underutilized lower register of the piccolo. Cast in five sections, the movement between instruments by Chase helped to delineate the piece's form. The Flute Concerto has two versions, the chamber one heard here, and another in which Chase is accompanied by full orchestra, already premiered and recorded for Sony/Minabel. The chamber version was plenty for the intimate environs of Merkin Hall and proved to be an ebullient showcase for Chase.