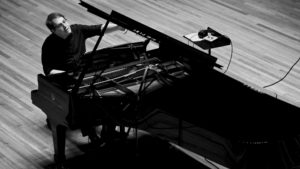 Bruce Brubaker
September 17, 2017
Sequenza 21
By Christian Carey
NEW YORK – Pianist Bruce Brubaker has long been known as one of the best interpreters of Downtown contemporary music around. His is a versatile catalogue of recordings, including excellent CDs of works by John Adams, John Cage, Alvin Curran, William Duckworth,  and Meredith Monk. However, despite an increasingly crowded field of pianists exploring the works around the composer's eightieth birthday, Brubaker's renditions of Philip Glass have few parallels; the 2015 InFiné recording Glass Piano is required listening.
Brubaker's latest project, a recording titled Codex, also on InFiné, is slated for November release. It explores two interests new to his recorded catalogue: one the comparatively recent piano repertoire of Terry Riley, and the other culled from one of the oldest manuscripts of keyboard compositions extant: The Faenza Codex. This early Fifteenth century document provides a tantalizing glimpse into the instrumental music of that era.
The juxtaposition of the highly ornamented and rhythmically diverse selections of material from the Codex with Riley's equally subtle Keyboard Study #2 (1964-'65), presented in two parts (which, Brubaker explained, was separate passes through the piece's circular complex of pitch notations – the rhythms are free –  to render two different results). Although ostinatos are the hallmark of Riley's style,  Brubaker managed to supply two different sets of repeating gestures, significantly varying the two iterations of Study #2.
The Codex examples were even more interesting in deployment. As it isn't precisely clear where the two staves line up all the time, one performance's dissonance on a weak beat can be another's consonance on a strong one. After playing the first half of the concert, the pianist remarked,"That last Codex piece was from 1420; it might be the oldest piece yet to have been played at Le Poisson Rouge!"
Brubaker's interpretation of the Codex pieces evolved too. At first he played with a delicate approach that imitated early keyboard instruments. However, by the last Codex offering, Brubaker found a more pianistic approach to be appropriate, allowing J'ay Grant Espoir significantly more melodic heft than previous pieces.
The new album's fare, and its juxtaposition, is fascinating. Two pieces of Glass's music were on offer as well, superlatively played and thoughtfully interpreted. Like Glass himself, Brubaker doesn't lend these pieces the motoric character that more rigid performers impart to them. Instead, there is a supple character, significant shadings of dynamics, and small tempo alterations that allow the works to breathe Romanticism in midst of their minimal processes. The standout was Mad Rush, an extended essay in which a reiterated minor third is the jumping off point for a host of variations in a plethora of harmonic directions. Wichita Vortex Sutra served as an equally compelling encore.
During shows at LPR, one often hears the clinking of glasses and whispered conversations — that's the nature of a club atmosphere and customers and wait staff alike are usually reasonably discreet. For Brubaker's set, you could have heard a pin drop, especially during Mad Rush. Kudos to attentive listening.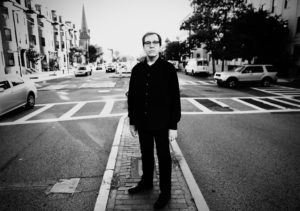 Set list
Codex Faenza: Constantia
Terry Riley: Keyboard Study 2
Codex Faenza: Indescort
Codex Faenza: Che pena questa (Landini)
Philip Glass: Mad Rush
Codex Faenza: Elas mon cuer
Terry Riley: Keyboard Study 2 (continuation)
Codex Faenza: J'ay grant espoir
Philip Glass: Wichita Vortex Sutra
——-
Encore – Philip Glass: Metamorphosis 3