Best Chamber Music 2018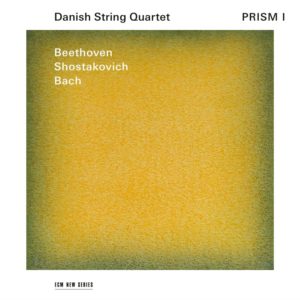 Danish String Quartet
Prism I
ECM Records
Prism I is the first of five CDs by the Danish String Quartet, each featuring a work by Bach, a work by Beethoven, and a complementary piece. The key of E-flat is the central focus of this recording. J.S. Bach's Fugue in E-flat major (transcribed from Book Two of the Well-Tempered Clavier) is a buoyant opener. Shostakovich's last string quartet, in E-flat minor, vividly contrasts with it. Shostakovich brings together pensive passages, a funeral march, and what appears to be a reprise of the "knock on the door" from the Eighth Quartet, meant to describe the danger of the secret police to the composer: all intimations of fragility and mortality.
The disc concludes with the first of Beethoven's late quartets, Op. 127 in, you guessed it, E-flat major. Writing for strings, it  is fascinating to note how these composers have responded to this key. E-flat can be tricky: the instruments only have thirds (G and D), not roots, of the tonic and dominant triads to play as open strings, which lends interesting chordal voicings to these pieces. From the muted angst of the Shostakovich quartet's opening to the nobility and grandeur embodied by Beethoven's finale, the Danish Quartet are expressive and authoritative throughout. Looking forward to what else will be refracted through the Prism series.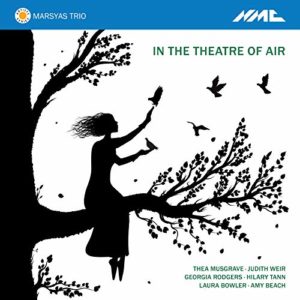 Marsyas Trio
In the Theatre of Air
NMC Recordings
A CD of flute, cello, piano trios by female composers (mostly British), In the Theatre of Air is thoroughly engaging.  The title work by Hilary Tann is filled with the calls of various birds, ranging widely from goldfinches and starlings to white owls and wild geese in a poetic manner that, while quite distinct from Messiaen's birdsong transcriptions, is eminently evocative. Laura Bowler's Salutem provides a forceful representation of multiple epochs of human civilization, affording the ensemble the chance to let loose: even scream with abandon.
Several Concertos by Judith Weir gives each member of the trio a virtuosic solo turn. York Minster by Georgia Rodgers plays with off-kilter ostinatos, creating a loping groove with incisive punctuations. An arrangement of Thea Musgrave's Canta, Canta is an all-too fleeting visit with this composer; a miniature finely sculpted with undulating, overlapping lines. Two charming short works by the Nineteenth century American composer Amy Beach round out the program.
In the Theatre of Air will likely provide a number of listeners with an excellent entrée into the music of these must-hear composers. The Marsyas Trio are formidable advocates for contemporary music.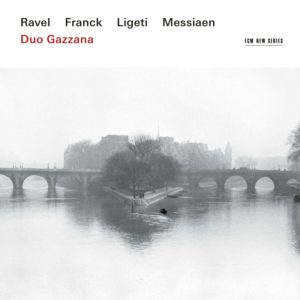 Duo Gazzana
Ravel, Franck, Ligeti, Messiaen
ECM Records
In their third recording for ECM, the violin-piano Duo Gazzana (Natascia and Raffaella) assay one of the great warhorses of the standard repertoire, the César Franck Sonata in A-major. Their rendition, full of life and long-breathed lines, rivals and bests many of the totemic recordings of the piece. The other works on the CD are under-programmed pieces by iconic composers, mostly early in their respective catalogues. Ravel's Sonata Posthume, composed in 1897 but not published until after his death, is a lovely example of his early incorporation of stylistic hallmarks of Impressionism.  Duo for Violin and Piano, filled with Bartokian ostinatos,  was written by Gyorgy Ligeti to be performed by another famous composer: Gyorgy Kurtag. This is its first recording — it certainly merits a second and a third. Theme and Variations by Olivier Messiaen was written in 1932, but its musical language sounds of a piece with his more mature works, like Quartet for the End of Time and Vingt Regards, both from roughly a decade later. From their very first recording until now, Duo Gazzana have programmed imaginatively: this disc is exceptional both in terms of imagination and execution.