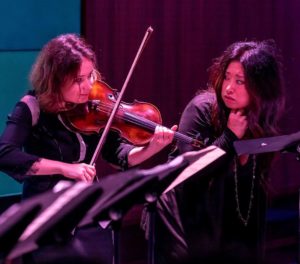 Few composers have embraced the Webernian aesthetic of brevity more closely than the Hungarian György Kurtág (b.1926). Starting with his earliest canonical work, the Op. 1 String Quartet (1959), he steadily built an international career entirely from bagatelles, usually written for small ensembles and gathered into collections linked by instrumentation and concept, and always unsurpassed in concentrated intensity. Kurtág's commitment to epigrammatic potency reached an apogee with Kafka Fragments (1985–87), 40 brief German texts from the novelist's diaries and posthumous writings adapted into an hour of music of such resolute focus that the composer limited its instrumentation to one soprano and one violinist.
Despite the challenges that it poses in sustaining such constricted severity—not to mention the demands it places on the musicians' technique and stamina—Kafka Fragments is among Kurtág's most frequently recorded compositions. So it was of great interest when, in the midst of a US tour that brought her to the Pacific Northwest to play Shostakovich with the Seattle Symphony, the acclaimed and iconoclastic Moldovan violinist Patricia Kopatchinskaya (PatKop as she is known among associates) devoted the evening of January 29, 2020 to this one composition, presented in the Symphony's recently inaugurated and pocket-sized Octave 9 space with Ah Young Hong, a soprano currently based at the Peabody Institute whose advocacy of new music is closely associated with composer Michael Hersch. Not surprisingly, the duo delivered a novel and thought-provoking take on the piece, fulfilling the wish expressed in Kopatchinskaya's pre-performance remarks of "an enriching and uncomfortable evening"—one whose resonances turned out to be unexpectedly timely.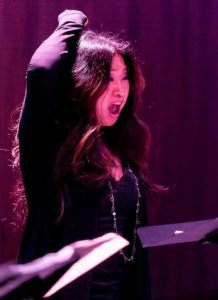 The interpretive affinity between the two women was evident from the get-go. Like many soloists of her generation, Kopatchinskaya eschews the habitual wide vibrato of the Kreisler/Heifetz school in favor of a more nuanced approach. Hong too is capable of deploying a "cooler" technique, allowing for the gradations needed to convey the mood swings in a song like Einmal brach ich mir das Bein (Once I broke my leg) or for backgrounding the voice in a song like Der wahre Weg (The True Path) where the violin is usually in the lead.
Particularly impressive were the vocal leaps in Wiederum, wiederum (Again, Again) that accompany the line "mountains, desert, wide country to wander through". Most sopranos try to smooth over these jumps, but Hong attacked them in a dazzling fashion, reminiscent of the wordless exhortation that begins ¿De dónde vienes, amor, mi niño? from Crumb's Ancient Voices of Children (1970) one of the Fragments' more palpable stylistic precedents.
Together, the performers delivered sufficient volume to overpower the persistent white noise emitted by the LED cooling fans in Octave 9's low ceilings, the space's most distracting acoustic issue. In this regard they were aided by its vaunted Constellation sound projection system, whose computer-backed array of ceiling microphones and loudspeakers is capable of simulating a variety of acoustic environments while accommodating ambulatory musicians (this being essential for a work like the Fragments, where the performer's stage positions are often specified).

Commenting on the choice of presets, Kopatchinskaya said "I thought about the sound of the burning Notre Dame cathedral (it seems it is not yet programmed in the system), but we now have perhaps something similar to a synagogue in Prague from the last century, at least in our imagination".
The most striking aspect of the evening's performance, though, was its emphasis on contrast. With the Fragments' instrumentation confined to a pair of treble instruments whose range and expressive characteristics largely overlap, the resulting sound world can easily seem unrooted. Accordingly, most of the work's interpreters have sought to achieve maximum unity of timbre, rhythm and articulation. But the Hong/PatKop traversal frequently exploited differences between the two parts, as evinced in the very first song, Die Guten gehn im glichen Schritt (The good march in the same step), where on the word gleichen (same) the voice begins to straggle behind the violin's steady pace:

Singers usually take this passage in strict tempo, producing exact syncopation at the divergence. But Hong allowed herself the slightest hint of rubato, suggesting a more neurotic relationship with Kopatchinskaya's indifferente beat.
And though it was not explicitly coordinated, the musicians' costuming likewise presented a thematic contrast. Hong wore a long, black, V-neck dress with a long-sleeved black coat and a long silvery necklace that emphasized the resulting oval framing. Combined with her expressive face and "Bohemian" hair, the visage suggested a voice emanating from darkness, in touch with invisible forces but not in particular control of them. At times, the prophesizing of Shakespearean witches came to mind. At others, as during the reprise of Verstecke (Hiding-Places) when Hong clutched her cheeks in a pantomime yell, it was the anxiety of Munch's Scream that seemed to be channeled.
At this latter juncture, Kopatchinskaya crept behind Hong while playing sul ponticello tremolos like a buzzing mosquito. Her role, suggested by her trademark suit resembling an undersized tuxedo with tails and shoulder cutouts, was more akin to a tramp. A hatless and shoeless Chaplin (for PatKop always plays barefoot) who carries a violin bow instead of a cane. Perhaps a bit of a stretch, but for this American observer at least, even Kopatchinskaya's expressions and occasional one-footed gestures of musical energy conjured up something of Chaplin's mischievous physiognomy and comic kicks. Heightened by dim, magenta-hued "darkroom" lighting, with translations projected behind the performers, the presentation affirmed Kopatchinskaya's vision of the Fragments as "full of musical literary moments that you could ponder for the rest of your life".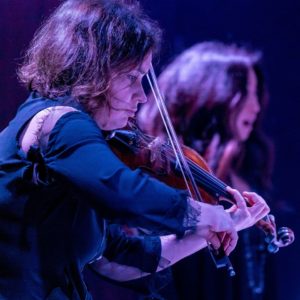 The Kafka Fragments were an inflection point in Kurtág's career, wherein the potentialities of chamber bagatelles and their sequencing into longer and longer assembled forms, are stretched to the verge of collapse. Kurtág's organization of the 40 songs into four parts, divisions that the performers marked by sitting silently for a minute of rest, helps to mitigate two issues that have always bedeviled the song cycle form: the constant starts and stops, and the challenge of consuming a lengthy totality made up of numerous short units that don't naturally combine into intermediate structures. One can still sense the composer's struggle with the oppositional demands of brevity and heft though, and soon after completing the Fragments Kurtág finally began to write longer continuous pieces, often greatly expanding his ensembles in the process. The Double Concerto (1989–90) and the orchestral Stele (1993–94) were among the first manifestations of the newer, more "monumental" Kurtág which has perhaps reached its consummation with his aptly-titled full-length opera Fin de Partie (2018), after Beckett's Endgame.
In a way it's fitting that a transitional piece like Kafka Fragments would come to Octave 9 now, amplified by what's arguably the biggest star power yet to appear at that venue. Fashioned from a generic storefront space at the corner of Seattle Symphony's Benaroya Hall complex, its uses are divided between educational/community outreach events and contemporary music recitals featuring the Symphony's musicians and guest artists. One of its goals has been to foster new works "without the risk of presenting them in front of 2500 people" (as Ludovic Morlot put it to me shortly before his departure as Music Director). Today, though, one year after its March 2019 unveiling, a mass exodus of executive-level talent from the Symphony has left Octave 9 shorn of all four of its principal architects: CEO Simon Woods, two key VPs (Elena Dubinets and Laura Reynolds, whose replacements have not yet arrived) and Morlot himself. Like Kurtág at the time of his Fragments, Octave 9 appears to be facing a crossroads.
Despite hosting a succession of noteworthy events, including a remarkable inaugural 24-hour contemporary music marathon, the space has yet to make a noticeable impact on the chronic fragmentation of Seattle's new music community, whose denizens seem to be deterred by its ticket prices and downtown location (those that I saw in attendance at the PatKop/Hong event were mostly Symphony personnel). Instead the clientele for the venue's new music events comes mainly from Symphony patrons, many of them downtown-dwelling professionals for whom the featured performers are celebrities. Speaking afterwards with some of these concertgoers, none of which had previously heard of Kurtág, I encountered several variations on "this music is a lot more interesting when you're close to the musicians and can see their enthusiasm", a sentiment that shows that the Octave 9 experiment is at least working for this cohort. Success at audience cultivation can portend broader successes down the road, and the potential on display at Octave 9 pleads for a replenished leadership team that will support it with the same vigor and creativity as its founding cadre.
---
Photos by James Holt/Seattle Symphony. Score excerpts via Stretta Music.