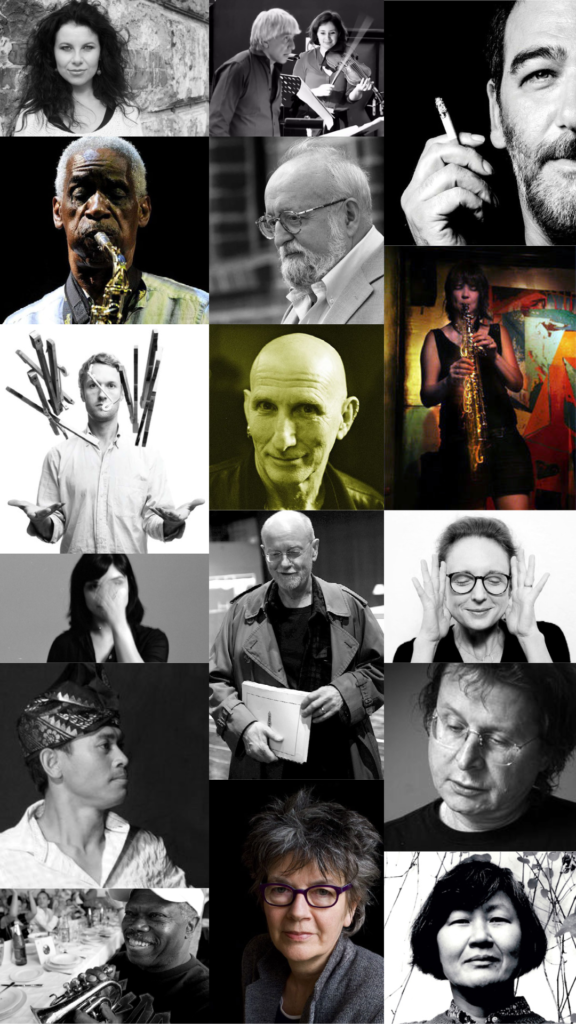 Two years ago, Noah Creshevsky, a committed advocate of fixed-media composition, and one of the musical voices lost to us in 2020, asserted that "today's best seats are in our own homes or wherever we may be, listening to music through speakers or headphones, in chairs of our choosing, with or without extramusical diversions." It's a sentiment reflective of both the mobility available through digital devices and the Internet, and the advancements in recording engineering over the past generation. Most music just sounds better in state-of-the-art recordings than in concert halls, and such modern accoutrements as Web searches and streaming media offer a degree of choice and immediacy unattainable through traditional means.
Creshevsky could not have anticipated how drastically his proposition would be tested from March 2020 onward, as COVID lockdowns suddenly quashed most in-person concertizing. It turned out that people badly missed the social aspects of traditional concerts, whatever their logistical costs or acoustic inferiorities. And though ensembles and opera companies valiantly tried to substitute livestreamed performances for the real thing, this seemed a poor substitute to most listeners, dissatisfied with the technical limitations of real-time content delivery using home computers as a terminus. Urbanites, the medically responsible ones anyway, have leaned on things like social media to help replace in-person socializing, while favoring existing, non-real time channels (CDs, broadcasts, downloads, and platforms like Spotify, Bandcamp and YouTube) for their music consumption, which remains centered on conventionally published albums and songs.
Production cycles being what they are, the lockdowns haven't produced an overwhelming decline in actual releases, as record labels continue to issue previously recorded content alongside new smaller-scale (and sanitary) recording projects. Intriguing material continues to flow into the Radio Eclectus inbox, and if a drought does hit, the biggest impact will likely come a year or two down the line. One of the few positive trends of 2020 was the retrieval of compelling older work, both the resuscitation of dormant projects and the rescue from producers' vaults of valuable cultural documents that had long been unavailable. High-end opera companies were especially prominent in this effort (e.g., Metropolitan Opera's nightly video streams of past Live in HD productions), leading to the ironic result that in a year that saw the shuttering of opera houses, it's newly-mediated operatic projects that have risen to the top of my opinionated list of the past year's most noteworthy new releases in the domain of contemporary Western art music.
New music theater
Not surprisingly, most of the video entries on the list are European. The economic and human impacts of the COVID pandemic in the US, exacerbated by the incompetence of the Trump administration, have amplified the longstanding trans-Atlantic disparities in arts support, leaving European institutions practically alone in mustering the resources for high-end contemporary music-focused intermedia production, even if many of the releases enumerated below had an earlier provenance.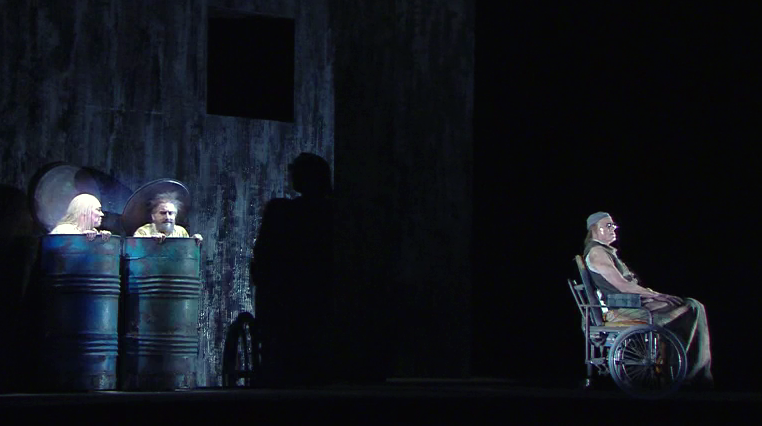 Now on to audio-only recordings.
Anthony Gatto: Wise Blood (New Focus) and The Making of Americans (New Focus)
Narrative music needn't be conventionally staged to be effective. The earliest radio dramas, including such musically extended ones as Hindemith's Sabinchen, predate musique concrète by a good two decades, initiating a lineage embraced spectacularly by Anthony Gatto in these two works, which were conceived as a kind of installation (in the case of Wise Blood, premiered as such in 2015 at the Walker Art Center) and as a stage work later converted into a radio opera (in the case of The Making of Americans).

Wise Blood is adapted from Flannery O'Connor's first novel. Its action begins on a train with a number of flash-forwards, then settles into a small, post-WW2 Tennessee town whose demons are many and easily roused. Gatto uses a mix of spoken and sung text delivery to portray the web of dysfunctional relationships—kind of a hyper-personalized, non-linear concept of music theater that owes more to Einstein on the Beach than to conventional opera. The Making of Americans, presented here in its later form as a fixed-media piece, is based on Gertrude Stein's modernist novel, and features contributions from Zeitgeist, the JACK String Quartet, several vocal soloists, and the recorded voice of Stein herself
Charles Wuorinen: Haroun and the Sea of Stories (Spotify)


Salman Rushdie

The ultimate Uptown composer meets the ultimate cancel culture survivor in this 2004 operatic setting of Salman Rushdie's 1990 novel, recorded here for the first time by Boston Modern Orchestra Project and Gil Rose. Haroun was the first book written by Rushdie under the fatwa and death threats associated with The Satanic Verses. It's a fantastical—and allegorical—children's story, which despite its serious undertones relating to censorship and other social issues, contains much humor and whimsy…words that were seldom associated with the late Charles Wuorinen. And yet this piece is uniquely jocular in the composer's oeuvre, indeed one of his most unusual and ambitious works, probably closer in temperament (and setting) to Henze's contemporaneous L'Upupa than to Wuorinen's usual models in Schoenberg, Varèse, Carter, late Stravinsky, and his fellow Ivy League serialists
Scelsi's heritage and Sorabji's wrath
Two of the 20th century's most eccentric and obsessive composers factored into some important posthumous releases in 2020.
Klangforum Wien: Scelsi Revisited (Spotify)


Giacinto Scelsi

In contrast to his countryman Berio (1925–2003), whose shadow was long during his life but whose legacy is now largely baked in, the influence of the once-obscure Giacinto Scelsi (1905–1988) continues to rise, thanks to the sway of spectralism, the expanding interest in microtonality, and a desire in Europe to promote native models for 21st century drone music as an alternative to the doubly-foreign axis of Indian music and La Monte Young. Scelsi's unorthodox work habits are well documented. He recorded his compositions as improvisations on an ondiola (a crude kind of early synthesizer), engaging assistants to transcribe and orchestrate them. These tapes were preserved, and a few years ago Klangforum Wien commissioned several composers in Scelsi's stylistic lineage to create their own inspired reactions to them, the results eventually squeezed onto this double-CD album from Kairos. Contributors include Tristan Murail and Georg Friedrich Haas (quite possibly the most admired living composers from France and Austria respectively), as well as Michael Pelzel, Ragnhild Berstad, Uli Fussenegger (Klangforum's bassist) and a few others. It's definitely one of the standout albums of 2020
Kaikhosru Shapurji Sorabji: Sequentia Cyclica Super Dies Irae (Piano Classics)
Kaikhosru Shapurji Sorabji: Toccata Seconda per Pianoforte (Piano Classics)
Kaikhosru Shapurji Sorabji: 100 Transcendental Studies, Vol. 6 (Spotify)


Kaikhosru Shapurji Sorabji

If 2020 was a challenging year for most people, it was at least a fulfilling one for Sorabji fans, with no fewer than three premiere recordings of the cantankerous Anglo-Parsi's massive piano works. The most noteworthy, and longest, of the three is the eight-hour Cyclical Variations on Dies Irae, a work that has been championed by Jonathan Powell, the pianist of record here. If you're new to Sorabji, know that this is not eight hours of minimalist or sparse Webernian music. It's a dense, unceasing, highly chromatic and often rapid barrage of notes, culminating in a four-voice fugue with three separate subjects—like Bach on steroids with 20th century harmonies. What makes this piece unusual among Sorabji's most epic compositions is the presence of a familiar and easily recognized tune as a recurring anchor, an attractive entry point if you're ready to tackle your first full-length Sorabji target. Still, if eight hours of continuous listening is hard to make time for, you can listen to 1½ hours of carefully selected excerpts on Radio Eclectus #30. The Second Keyboard Toccata (2½ hours long, performed by Abel Sánchez-Aguilera) and the last 17 of Sorabji's Transcendental Studies (2 hours total, performed by Fredrik Ullén, thus completing his survey of the complete set) are likewise presented in condensed versions in shows 38 and 75.

Hearing this music—which lay unrecorded and for the most part unperformed for 70 years—creates several impressions, of which the most salient may be the sheer awe toward a composer with the audacity and focus to fill page after page, hour after hour, with thousands of notes in a prodigious display of immersive counterpoint
More from the old masters
Krzysztof Penderecki with Fire! Orchestra, Mats Gustafsson: Actions for free jazz orchestra (YouTube)


Don Cherry

In 1971 Don Cherry and his New Eternal Rhythm Orchestra were engaged to perform at the Donaueschingen Music Festival, for which occasion Penderecki composed this structured improvisation piece. The premiere, which featured such now-famous Eurojazz figures as Peter Brötzmann, Fred van Hove and Han Bennink, was recorded by Philips and released on Cherry's Humus, The Life Exploring Force album. Cherry went on to co-found what came to be called World Music, while Penderecki soon turned away from avant-garde experimentation to a more deterministic style of neoromanticism. And Actions went into the desk drawer, never to be performed again…until now. Mats Gustafsson has not only recorded the work for first time in half a century, he's also restored it to its full length: 40 minutes compared to Cherry's 16. It's a worthy revival of this curiosity in jazz history, and a worthy memorial to the late Polish composer
Cecil Taylor, Tony Oxley: Birdland, Neuburg 2011 (Bandcamp)
Cecil Taylor on Bösendorfer piano and Tony Oxley on drums, recorded at a jazz club outside Munich in November 2011. Little more needs to be said. From the Polish label Fundacja Słuchaj
Coriún Aharonián: una carta (2019) (Spotify)
A revelatory portrait of the late Uruguayan composer Coriún Aharonián (1940–2017), son of Armenian refugees and pupil of Nono, Globokar, Ligeti, Mumma, Wolff and Xenakis. His Una canción (1998) makes a good introduction, a short piece for Pierrot ensemble that applies minimalist aesthetics to a Latin American-inflected sound world rooted in romantic chamber music. Villa-Lobos with Glass's sensibilities, if you like. From Wergo records, featuring Ensemble Aventure
Gentle Fire: Explorations (1970–1973) (Bandcamp)


Gentle Fire

Another revelation is this cherishingly produced 3-CD retrospective of the little known British experimental music ensemble Gentle Fire. Active in the early 1970s, and modelled after groups like Musica Elettronica Viva and the live-electronic bands led at that time by Cage and Stockhausen, these six musicians (Richard Bernas, Hugh Davies, Graham Hearn, Stuart Jones, Richard Orton and Michael Robinson) presented mixed acoustic-electronic performances of works by themselves and other composers. Included here are classic open-form works by Stockhausen, Cage, Ichiyanagi, Christian Wolff and Earle Brown (including one of the earliest non-Stockhausen led recordings of his Treffpunkt). Most astonishing of all is 2 Pianos Piece, recorded at Radio Bremen in 1973. A 16-minute beat-driven, phase-shifting atonal minimalist piece, its closest relative among canonical works is Ligeti's Three Pieces for Two Pianos, written three years later (though it could have been influenced by John White's Son of Gothic Chord, purportedly composed in 1970 but not available on record until 1978). The composer is Michael Robinson, practically unknown in the new music world (he stopped composing to become a journalist for the BBC). All of the tracks on this album appear here for the first time
Salvatore Martirano: Live Electronics (Bandcamp)


Salvatore Martirano with his Construction

Another precious artifact from the early 1970s live electronic zeitgeist, this freshly unearthed recording captures a live improvisation by Martirano (1927–1995) on his Sal-Mar Construction, an early hybrid instrument with analog oscillators and crude digital sequencers, built by Martirano and a team of engineers at the University of Illinois. Martirano actually toured with this clunky contraption, earning himself a place in electronic music textbooks. This particular performance took place in Chicago, a rare document of the Construction in action. It's been remastered and released by Nihilist records, and the full box set includes the accompanying live video performance by Dan Sandin, a pioneer of analog image processing
John J. Becker: Soundpieces 1–7 (Spotify)
Moving back two generations brings us to a name commonly found in music textbooks whose actual compositions are rarely heard. It's John J. Becker (1886–1961), a kindred spirit to better known American atonalists like Ives, Ruggles, Crawford and early Copland. Becker lived in the Midwest, served as music director of the St. Paul Chamber Orchestra, and suffered the neglect of many Stateside composers who worked far from the coastal media hubs. But his percussion piece The Abongo (1934) was an important influence on John Cage, and Becker also pioneered what we'd now call multimedia music theater, so it's nice to see this double CD set from New World Records that documents his Soundpieces, a series of hard-hitting works for piano or chamber ensemble, many of which are recorded here for the first time. Features Joseph Kubera and the FLUX Quartet
Harold Shapero: Orchestral Works (Spotify)
Yet another textbook dweller whose music has been revived by a new recording. In this case it's Boston Modern Orchestra Project doing the excavating, a service they've performed for many neglected American composers. Harold Shapero (1920–2013) belonged to the American neoclassical generation of Bernstein, Schuman, Fine and early Foss. His heyday extended from the late 40s through roughly 1960, the date of his Partita in C for piano and small orchestra (presented here with Vivian Choi as soloist), which reflects the deep influence of Agon-era Stravinsky. Debuting in the same year as Cartridge Music, Kontatke, Interstellar Low Ways and Threnody to the Victims of Hiroshima, it understandably struck its hipper contemporaries as a relic of simpler times. And yet it carries hints of the phrasing and short-term repetitions that we nowadays associate with the likes of John Adams and Michael Nyman, suggesting that now might be an auspicious time to reassess his output through good modern recordings like this one
Masters still at it
Alvin Lucier: Works for the Ever Present Orchestra (Bandcamp)
This year marks the 50th anniversary of I Am Sitting in a Room, one of the most rigorously minimalist pieces of music ever conceived. At 89, the old master of acoustic investigation is still at it, as evinced by this admiring portrait album from Oren Ambarchi's Black Truffle label. It features a half-dozen ascetic compositions exploiting microscopic tuning differences among similar instruments—a different kind of beat-driven music, as with EPO-5 for saxophone, violin, glockenspiel and two electric guitars with EBows slowly moving up a chromatic scale. Headphones are best for this reductionistic, thought-provoking music
Roscoe Mitchell: Splatter (Bandcamp)


Roscoe Mitchell

One of 2020's new octogenerians, Mitchell here pursues two recent areas of emphasis. One involves transcription and re-presentation of improvised material, as with the title track, which was originally improvised by Mitchell, Craig Taborn and Kikanju Baku, subsequently transcribed and orchestrated by Christopher Mega Luna, then performed here as a composed work. Another track, Distant Radio Transmission, was likewise created from a transcribed trio improvisation, but with Mitchell and baritone Thomas Buckner improvising new solos over the performed composition. The other facet of Mitchell's musicmaking on display here is his longstanding free improvisational practice, this time in the unusual company of a pipe organ, played by Francesco Filidei, an interesting young Italian composer whose opera The Flood was one of my picks for 2019. All of these tracks were recorded at the Angelica festival in Bologna in 2017
Frederic Rzewski: Songs of Insurrection (Coviello Classics)
Yet another formidable octogenarian and veteran of the American avant-garde chimes in with a new and substantive work, perhaps his most compelling solo piano composition since De Profundis. Rzewski's Songs of Insurrection sets seven revolutionary and protest songs from around the world, among them Ain't Gonna Let Nobody Turn Me Around and the anti-Nazi Die Moorsoldaten. The delivery is exclusively instrumental—soloist Thomas Kotcheff doesn't sing or speak the song lyrics—and without texts, there's little basis for an uninformed listener to associate a political message with any of the tunes (something that's also true of Rzewski's The People United Will Never Be Defeated!). It demonstrates how the most enduring politically-motivated art music tends to be that which is most abstract. Rzewski's setting of Grândola, Vila Morena (associated with the Carnation revolution in Portugal) is typical of the set. It begins and ends with Crumb-like knocking on the body of the piano, with an Ivesian fantasy on the song's melody in the middle
Musikfabrik: Erbe, New works for Harry Partch instruments (Wergo)


Helen Bledsoe playing Cloud Chamber Bowls

This new CD from Wergo features Ensemble Musikfabrik performing on their complete replica set of Harry Partch instruments. Built in 2013 for Heiner Goebbels' staging of Delusion of the Fury, the set is kept in regular use, the object of an ongoing initiative to commission new works for these famous instruments by European composers. Erbe includes contributions by Carola Bauckholt, Sampo Haapamäki and Martin Smolka, the latter recalling how his life behind the Iron Curtain was changed when someone gave him a cassette tape of Partch's music that had been smuggled into Prague.

I've long felt that Americans are generally best at performing Partch's music, since we understand the cultural references, and since the build-your-own tradition that he helped launch is so deeply internalized in our experimental music ethos. But Europeans may be better at writing new compositions for his instruments without sounding too derivative of Partch's style (e.g., Garth Knox's Crystal Path, reviewed here). Regardless, any endeavor that helps to sustain Partch's legacy is a good thing in my book, and this attractively-packaged offering deserves praise. It's a CD-only release as of December 2020, but all three compositions can be streamed from the Radio Eclectus archive (shows 33, 34 and 37)
Undead masters
Giovanni Antonini and Patricia Kopatchinskaja

Patricia Kopatchinskaja et al: What's Next Vivaldi? (Spotify)
Der Finger: Le cinque stagioni (Bandcamp)
PatKop takes on Vivaldi in the company of Giovanni Antonini and Il Giardino Armonico, in the process intercutting several of the Venetian's string concertos with five new works for violin (either solo or with Baroque instruments) by living Italian composers. The results hold their own in the impressive discography of this quirky Moldovan-Swiss soloist. And then there's Der Finger, a Russian band with a German name and an album whose title means "The five seasons" in Italian. Their instrumentation features sax/bass clarinet plus drums and electric bass, and the result can be described as noise music meets free jazz with bits of Vivaldi's Four Seasons thrown in
Gabriel Prokofiev et al: Beethoven Reimagined (Spotify)
The obligatory Beethoven entry for his 250th birthday comes from Gabriel Prokofiev, whose spiking of the Ninth Symphony is the most interesting of the semiquincentennial offerings, following in the tradition of Louis Andriessen's 1970 bicentennial parody, and benefiting from the British musician-producer's experience grappling with the legacy of famous composer names
Microtones and minimalism
Microtonality is one of the few growth industries in today's musical avant-garde. Minimalism, on the other hand, is a blue-chip stock that can be counted on to return a steady if predictable dividend. The following entries are representative of the state of both practices, sometimes simultaneously.
Concertos redux
Barry's is one of many prominent concertos to debut on record in 2020, a year that, for whatever reason, turned out piles of solo concertos and solo electronic music. Generations of composers have regarded the traditional concerto format—with its arbitrary isolation of a single instrument before an ensemble that evolved as the apogee of monumental sound projection—as an aesthetic contrivance. But the prospect of showcasing a star performer seems to mitigate the risks of programming a unfamiliar contemporary piece in the eyes of orchestra managers, so commissions for this medium seem to flow more readily than other kinds of orchestral works.
As evinced by the following selections, Europeans seem best equipped to find relevant contemporary expression through the modern orchestral medium. The orchestra is a European invention after all, whereas Americans, at least after Ives, have tended to be more inventive when we're tweaking the established order rather than trying to adapt it to new zeitgeists.
Rebecca Saunders: Still. From Musica Viva #35: Still, Aether, Alba (Spotify)
Agata Zubel: Violin Concerto. From Cleopatra's Songs (Spotify)


Rebecca Saunders

Saunders is a violinist herself, but her colorful single-movement concerto Still was written for Caroline Widmann, who performs it here with conductor Ilan Volkov (whose At Home podcasts, featuring obscure contemporary music albums harvested from his extensive home music library, have been a beacon for the new music community during the lockdowns). Zubel's Violin Concerto, recorded here on her new portrait album from Kairos, is confidently centered in the tradition of the modern Polish avant-garde that brought us composers like Penderecki and Lutosławski
Pesson, Abrahamsen, Strasnoy: Piano concertos (Spotify)
Alexandre Tharaud is the featured soloist here. Hans Abrahamsen's one-handed concerto Left, alone carries personal meaning (Abrahamsen himself is disabled, having only partial use of his right hand), and establishes a theme of confronted adversity that continues in the ghostly stylings of Gérard Pesson's Future is a Faded Song, whose closing thumps come from the solo instrument with its lid closed and its player kicking and banging on it like a poltergeist
Ammann, Ravel, Bartók: Piano Concertos (Spotify)
Ramón Lazkano: Two Prefaces. From Piano Works (Spotify)
Swiss composer Dieter Amnann's The Piano Concerto (Gran Toccata) is a new and eclectic statement of postmodern compositional praxis, while the Spanish Basque composer Ramón Lazkano's Two Prefaces for piano and orchestra sound like they might have been informed by the lineage that Wuorinen championed
Pelle Gudmundsen-Holmgreen: For Violin and Orchestra, Allan Gravgaard Madsen: Night Music (Dacapo)
Two more standout concertos from Denmark. The polystylistic For Violin and Orchestra by the late Pelle Gudmundsen-Holmgreen (1932–2016) incorporates microtonal writing and hints of vernacular music traditions as though the soloist is journeying through a sonically diverse landscape (an accompanying promo video from Dacapo Records shows the composer paddling through a wetland while describing the birdsongs, bleating sheep and other sounds that surround him). Night Music, a violin/piano concerto by the much younger Allan Gravgaard Madsen (1984–), follows a more static path as often characterizes his generation of composers
John Harbison: Concertos for String Instruments (Spotify)
Christopher Rouse: Concerto for Orchestra, Symphony No. 5 (YouTube)


John Harbison

Crossing the Atlantic brings us to this pair of new American releases, including another offering from Boston Modern Orchestra Project, this time devoted to the venerable John Harbison, probably best known for his opera The Great Gatsby. The Double Concerto from 2009 adapts the format of Brahms' last concerto and moves from some rather Britten-like lines in alternating major and minor thirds in the first movement to decidedly un-Brittenesque Bluegrass flashes in the third. Harbison's stylistic soulmate, the late Christopher Rouse (1949–2019), carried the banner of the American postromantic symphonic lineage associated with Barber and Schuman (and contemporaries like Corigliano, Lieberson and Zwilich). His 2008 Concerto for Orchestra, cast in a single half-hour movement, may be his most compelling large-scale work, more variegated and less brash than most of his orchestral music. It's recorded here for the first time on Naxos by Giancarlo Guerrero and the Nashville Symphony
Rouse's title offers a segue into other orchestral genres. Such as…
Thomas Agerfeldt Olesen: Der Wind bläset wo er will (Dacapo)
I was not familiar with this particular Danish composer, which was my loss, since the title piece (The wind blows wherever it wants, quoting Jesus in the Gospel of John) is a quintessential postmodern orchestral work, whose musical ideas do indeed seem to arise from unexpected quarters, including elements of pastiche and even a twangy South Asian musical bow called a gopichand. Among Olesen's other works is a 2013 opera based on Oscar Wilde's The Picture of Dorian Gray
Iceland Symphony Orchestra, Daníel Bjarnason et al: Occurrence (Spotify)


Veronique Vaka

Iceland continues its remarkable streak of orchestral relevance with this latest ("and at least for now the last") volume from Daníel Bjarnason and Sono Luminus. It's a survey of five works by Iceland composers (including Canadian transplant Veronique Vaka) that demonstrates the slowly-changing washes of color that we associate with this country's contemporary music
Steven Mackey: Time Release (Spotify)
Mackey is a rock guitarist by trade, who gradually got interested in instrumental composition, influenced by the both the international avant-garde and the Downtown New York scene. I think of him as an American counterpart to someone like Heiner Goebbels or the late Steve Martland, and the eclecticism and unpredictability of his music is on display in this second album devoted to his works by Boston Modern Orchestra Project
Composed chamber and solo music
Get your ambient fix
The late Harold Budd (1936–2020), when told by Ryley Walker "I love falling asleep to your records" replied "You look like you haven't slept in weeks". Budd's own "soft pedal" sensibilities are best conveyed through his live recordings, including a pair of delicate improvisations with bassist Keith Lowe captured in concert in 2009 and broadcast for the first time on Radio Eclectus #76. A few albums of more experimental bent (if similar sensibility) came along in 2020. The following all make good bedtime choices for open-eared listeners.
Darker ambient
Electronic
Ear-stretching anthologies
The assembly of musical anthologies was another activity embraced by producers eager to compensate for the COVID-era's dearth of new recording projects. Several of these albums highlight underexposed gems from places far from the scrutiny of mainstream music journalism.
Traditional singing meets free improvisation, and other intercultural explorations
London Experimental Ensemble: Child Ballads (Bandcamp) and Child Ballads Exclusive Bonus Tracks (Bandcamp)


Carole Finer

Another of the year's most astonishing releases. London Experimental Ensemble burst onto the scene in 2018 with the first ever complete recording of Cornelius Cardew's Treatise. These two newer volumes feature vocalist Ed Pettersen's "straight" rendition of several traditional Celtic ballads, accompanied by the Ensemble's deliciously noisy but downtempo improvisations. It continues a tradition of colliding musical genres that includes Salvatore Martirano's own Ballad, wherein a 60s pop singer ("You are too beautiful, my dear, to be true…") is accompanied by chamber pointillism—like hearing Johnny Mathis with Webern's Op. 22 as the backup band. My favorites from this collection are Captain Wedderburn's Courtship (about a kinder, gentler, Scottish Turandot), the more apocalyptic sounding Among the Blue Flowers, and the foreboding plague-era setting of Bessie Bell and Mary Grey which makes a sadly apt memorial for COVID victim Carole Finer—folk musician, avant-gardist and Scratch Orchestra veteran—whose suitably scratchy violin sounds can be heard throughout these tracks
Adam Rudolph: Focus and Field (Bandcamp)
Rudolph earned a spot on my 2019 list for his remarkable Ragmala album, featuring Western and South Asian musicians. This new release, recorded live at Roulette just before the March 2020 lockdowns, is dominated by the long track Tsuzumi, which features Sumie Kaneko singing a 12th century Japanese text alongside a mix of East Asian and Western instruments drawn from the Go: Organic Orchestra lineup. It's a multicultural counterpart to Child Ballads, sounding like a cross between Takemitsu and the Art Ensemble of Chicago
Eunhye Jeong et al: The Colliding Beings, Chi​-​Da (Bandcamp)


Eunhye Jeong (center) with trio and Il-dong Bae

Of a similar nature is this album from Eunhye Jeong's trio, versed in international free improv, performing alongside Il-dong Bae, one of the masters of Pansori singing. Recorded in Seoul in 2019
Eyvind Kang: Ajaeng Ajaeng (Ideologic Organ)
Another flavor of cross-pollination comes from this versatile musician, born in Corvallis, OR and resident, at various times, in Canada, Europe and Asia. In Tanpura Study, a pair of those ubiquitous Indian drone-makers are played, uncharacteristically, as solo instruments, using a variety of traditional and non-traditional plucking techniques. Time Medicine is a more proper sort of drone piece, featuring two tubas, two bass drums, violin, cello, miscellaneous percussion, and a pair of ajaengs, Korean string instruments with movable bridges akin to a koto, but which are bowed rather than plucked. Kang, a violist by trade, has always been fond of finding new uses for old things
Dewa Alit: From when i OPEN MY DOOR (Bandcamp)
Alit is a Balinese composer and gamelan master. This portrait album includes one contemporary gamelan piece, combined with three compositions for Western instruments, including Open My Door, created in 2015 in collaboration with Ensemble Modern which Alit regards as "opening my door to the [avant-garde, non-Balinese] world"
More improv and avant-rock
Other media
Langham Research Centre: Quanta / Signal / Noise (Bandcamp)
An unusual project from the UK's most intriguing live-electronic repertory band is available both as an EP and as an interactive app for iOS devices. Four realizations of this piece are available on the album, and you can make your own versions with the largish (245 MB) iOS app (pictured at right)
Z'EV and Ellen Zweig: Heart Beat Ear Drum (Vimeo)
With all the media spotlights aimed at Alex Winter's new Zappa documentary (with an accompanying soundtrack album that includes some previously unissued performances with Ensemble Modern among others), I'll aim a modest flashlight on Ellen Zweig's new documentary about a far less famous, but still worthy, musician: Stefan Weisser (1951–2017), better known as Z'EV—much admired among his peers for his solo percussion performances that featured homemade instruments made of reclaimed and surplus pipes, ducts, appliances and other miscellaneous wood and metal objects from which he could coax interesting sounds. Despite his reputation as a "junk musician", Z'EV preferred scrapyards and surplus stores over garbage dumps for his raw materials ("I like the object to have a history already—it has to do with the whole found object thing"). The 75-minute film includes interviews with Weisser and several of his collaborators and associates (including Carl Stone), with plenty of performance footage dating back to the 1970s
Older and non-Western music
On to 2021
Whether Creshevsky was right in his assertion about concerts versus recorded music—and whether the environment for art music in the 2020s will end up resembling the chaos of the early 17th century as the Thirty Years War sent German and French fortunes careening in opposite directions—one can at least admire the pluck, resilience and initiative of the artform to which these remarkable recordings all attest, proof of the breadth and adaptability of a tradition that deserves to endure and thrive.
---
Photos:
Collage: Agata Zubel by Sabine Hauswirth, Roscoe Mitchell by Michael Hoefner, Gabriel Prokofiev by Nathan Gallagher, Sarah Davachi by Alex Waber, Dewa Alit via the artist, Joe McPhee by Žiga Koritnik, Giovanni Antonini & Patricia Kopatchinskaja by Leonardo Aloi via Alpha Classics, Krzysztof Penderecki by Adam Kumiszcza, Z'EV via the artist, Charles Wuorinen By Javier Del Real, Ig Henneman 2010 by Francesca Patella, Alireza Amirhajebi by AmirAli Piroozbakhsh, Ingrid Laubrock via the artist, Rebecca Saunders by Astrid Ackermann, Tristan Murail via Wikimedia, Younghi Pagh-Paan via Ricordi.
Fin de Partie at La Scala
Luci mie traditrici at Staatsoper Stuttgart by Matthias Baus
Michaelion at Birmingham Opera
Samstag aus LICHT at Philharmonie de Paris
Karlheinz Stockhausen rehearsing Michaels Heimkehr via Wikimedia
Curlew River at Barbican Centre with Ian Bostridge (L) as the Madwoman
Der Kaiser von Atlantis at Deutsche Oper am Rhein
Salman Rushdie by Moskowitz
Giacinto Scelsi via Wikimedia
Kaikhosru Shapurji Sorabji by Joan Muspratt
Don Cherry via Wikimedia
Salvatore Martirano with Sal-Mar Construction via University of Illinois
Roscoe Mitchell by Michael Hoefner
Helen Bledsoe with Cloud Chamber Bowls by Astrid Ackermann
Giovanni Antonini and Patricia Kopatchinskaja by Leonardo Aloi via Alpha Classics
Charlemagne Palestine by Sandra Fauconnier
Rebecca Saunders by Astrid Ackermann
John Harbison by Julian Bullitt
Veronique Vaka via the artist
Younghi Pagh-Paan via Ricordi
Oxana Omelchuk via the artist
Anahita Abbasi and Mahan Esfahani by Tony Minaskanian via Hyperion Records
Michael Pisaro by Kathy Pisaro and Matthew Revert
Sarah Davachi by Alex Waber
W. David Oliphant via the artist
Sam Pluta by Angela Guyton via Rodrigo Constanzo
Alireza Amirhajebi by AmirAli Piroozbakhsh
Carole Finer by Stefan Szczelkun
L-R: Ji Park, Soo Jin Suh, Eunhye Jeong, Il-dong Bae via Eunhye Jeong
Le Grand Sbam by Paul Bourdrel
Cenk Ergün via the artist
Ingrid Laubrock via the artist
Alla Francesca by Alain Genuys
La Reverdie and Christophe Deslignes by Fabio Fuser
Ensemble Rosaces by Romain Fageot
Il Palazzo incantato at Opéra de Dijon
El Prometeo at Opéra de Dijon