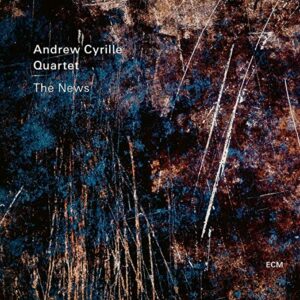 Best of 2021
Andrew Cyrille Quartet
The News 
ECM Records
David Virelles, piano; Bill Frisell, guitar; Ben Street, bass; Andrew Cyrille, drums and percussion
Andrew Cyrille is now an octogenarian, an age at which many musicians have already retired or are slowing down. Cyrille retains a superlative technique and while his latest quartet outing for ECM, The News, emphasizes interplay and texture over power, it is clear that there is much of that yet remaining in the drummer's arsenal as well. 
Cyrille is credited with three of the compositions on The News. The title track was originally a solo percussion piece. Recast for the quartet, it is the most experimental sounding piece on the album. David Virelles plays synth as well as his usual instrument, the piano, Ben Street plays the bass both arco and pizzicato, guitarist Bill Frisell daubs dissonance and darting linear flurries here and there, and Cyrille employs a number of drums and percussion instruments in a spell binding, unorthodox fashion. The drummer places newspaper over the snare and toms and plays with brushes: an intriguing timbral choice. "The Dance of the Nuances," co-authored by Cyrille with the group's pianist David Virelles, features bowed bass and single line solos punctuated by Cyrille's syncopated drumming.
Three pieces are credited to Frisell. "Go Happy Lucky" is a mid tempo blues bounce that is jubilant in tone. Frisell plays the head and the first solo section in jaunty fashion, followed by succulent arpeggiations  from Virelles. Cyrille's drumming is propulsive and responsive to the melodic gestures of the soloists. Street plays walking lines that lead to the return of the head, this time with the whole group digging in and matching Frisell. "The Mountain" begins with a simple melody and chord progression played by Frisell. Gradually, it becomes more chromatic and embellished as Virelles and Street push the guitarist's material outside. Cyrille adds a counter rhythm that also complicates the piece's surface. "Baby" is one of Frisell's pastoral Americana style pieces. His honeyed melody is supplied counterpoint by Street, Fender Rhodes comping from Virelles, and subdued drumming by Cyrille. Virelles contributes the composition "Incienso," which has an ambling melody and an intricate chord structure filled with Brazilian allusions and polytonal reference points. 
The one piece used by a musician outside the group is "Leaving East of Java" by Steve Colson. This is a felicitous inclusion. A performer, composer, and educator, it is unfortunate that Colson's work isn't better known today. "Leaving East of Java" includes guitar and piano in octaves and intricate chords rolled by Virelles. Synthetic scales evoke the exoticism, if not the specific content, of Javanese gamelan. Partway through, Street takes a suave solo succeeded by florid playing from Frisell and a repeated riff from Virelles. The pianist then plummets into the bass register, placing quick scalar passages underneath Street's legato playing. The octaves return briefly to punctuate the piece's close. 
The final composition, "With You in Mind" by Cyrille, features the drummer intoning a spoken word introduction of an original poem. The main section of the piece starts as a duo, with Virelles and Street creating a gently lilting ambience with traditional harmonies and rhythmic gestures that reflect the poetry (it would be great to see this poem set with the tune for singers). A piquant piano chord invites Frisell and Virelles to join the proceedings, with the guitarist creating an arrangement of the tune with chordal embellishments and Cyrille imparting the time with graceful poise. It ends in a whorl of chordal extensions and soft cymbal sizzle. 
Jazz players and audiences alike are often seeking "new standards" to canonize. There are several tunes here that qualify. The News is one of our Best of 2021 recordings. 
-Christian Carey