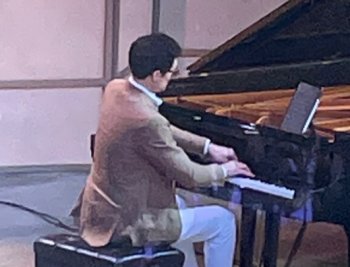 The 8:00 AM Sunday morning concert featured pianist Timo Andres in recital. His first set was from the cycle titled I Still Play, and consisted of several piano pieces written by a group of composers associated with Nonesuch Records. The occasion was the retirement from Nonesuch of Robert Hurwitz, president of the recording label for 32 years, who has long been a strong supporter of contemporary music. Hurwitz is also a talented amateur pianist who begins each day with serious time at the keyboard. The list of composers who contributed is impressive, with names such as Philip Glass, Nico Muhly, Steve Reich, Louis Andriessen, Laurie Anderson, John Adams and Timo Andres himself.

The piano pieces of I Still Play are all miniatures, and were intended both as a tribute and as exercises to be played by Hurwitz during his daily keyboard sessions. Andres played them serially and without separate introductions, but many of the styles were immediately recognizable. The first piece, Evening Song No. 2, was gently quiet and reserved, but unmistakably Philip Glass. The Nico Muhly piece, Move, had his characteristic energy and verve. The Timo Andres piece, Wise Words, was slower and more deliberate, while For Bob, bounced along with a characteristic Reich groove. The other pieces ran the range from playful to respectful with the title piece, I Still Play, by John Adams, ending the set with a quiet reverence. All the pieces were sincere and heartfelt expressions of appreciation to Hurwitz, who had played a key role in musical careers and to the progress of new music in general.

Impromptus, by Samuel Adams followed, a work written for Emanuel Ax and inspired by Franz Schubert's Four Impromptus. Impromptus was originally intended to serve as bridges played between the Schubert movements. The Adams piece, heard in this recital on its own, begins with an active phrasing in the upper registers and sustains a mobile feel as if always on the move. There is a pointillist sensibility to this that artfully brings the many notes of the individual phrases together into a series of cohesive gestures. Adams writes that "Each impromptu is carefully constructed, but rooted in a simple impulse." As the piece proceeds, there are slower stretches marking transitions to offset the faster parts, leaving a pleasantly reflective aura surrounding the listener. Timo Andres played each impromptu cleanly and with great sensitivity. After an impressive cadenza-like finale, Impromtus fades to its finish.

The recital concluded with the inventive Imaginary Pancake by Gabriella Smith. This opened with fast passages in both the very high and very low registers of the piano. The notes in the chords were at times so widely separated that extreme manual was required. Timo Andres was physically tested and could occasionally be seen with his arms crossing over as he reached for the right keys. A lilting, boogie woogie groove often broke out from the dense rhythms. An effective contrast soon appeared with a series of muscular chords below and a running tinkle of higher notes above. This eventually morphed into a loud banging of chords at both extremes of the keyboard, with Andres needing every inch of his wingspan to reach the farthest keys. Happily, the phrasing worked its way back towards the middle of the piano and the mix of descending and ascending chords combined for a splendid sound. It would seem that the composer was intent on using every one of the 88 keys, but it was all in good musical form and expertly played by Andres.

As Imaginary Pancake wound down, there were softer and more dramatic chords below with a simple running line above. The decrescendo continued until Andres reached into the piano case to further suppress the remaining high notes by pressing on the strings, and the piano faded to a quiet finish. Imaginary Pancake is full of delightful surprises and has an impetuous spirit – a fine piece on which to conclude this recital.

Despite the early hour and morning chill, a fine crowd gathered in the Libbey Bowl to hear Timo Andres perform – another marker of the public enthusiasm and musical professionalism present at the 2021 Ojai Music Festival.