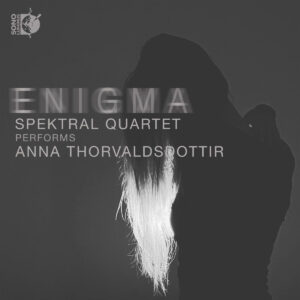 Anna Thorvaldsdottir
Enigma EP
Spektral Quartet Clara Lyon, Maeve Feinberg, violin; Doyle Armbrust, viola; Russell Rolen, cello
Sono Luminus CD, 2021
Enigma, the first string quartet by Icelandic composer Anna Thorvaldsdottir, arrives after a spate of engaging chamber works that have often featured strings, but never in this most traditional configuration. The piece has essentially two very different experiences to offer to the listener. The one considered here is a well engineered CD recording with detailed antiphony that gives a sense of the spatial dimensions of Enigma's live incarnation, a multimedia work in a 360 degree full-dome theater space, with visuals provided by Sigurdur Gudjonsson. Premiered at the Kennedy Center and co-commissioned by Carnegie Hall, Enigma is likely to have audiences on the edge of their seats. 
In her informative program note, Thorvaldsdottir indicates that the piece is about both microcosmic and macrocosmic levels. This is an ideal vantage point from which to consider Engima. The composer is well versed in advanced string techniques. The granularity of details such as microtones, harmonics, and bow pressure, are nested in sweeping modal harmony. The first movement reveals these details gradually. 
Glissandos, especially the gull's cry effect,  announce the second movement,  to which are added pizzicato and angular gestures to give the underlying grid a nudge in tempo. Grinding bow pressure and a fleet viola solo yield to the modal bass register harmonies found in the previous movement,  a more subdued return to harmonics and pizzicato, and then an addition of  sepulchral octaves paired with the return of the viola's solo. Cluster chords and a narrow melody ratchet up the intensity against insistent bass octaves to close.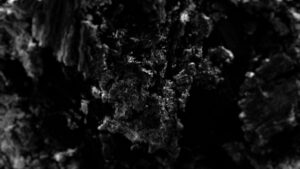 The final movement overlaps glissandos and harmonics to create an altissimo register colloquy only occasionally interrupted by the cello in the bass register, playing a skeleton of the first movement's harmony. Gradually, the registers are filled in and a keening melody announces the return of the modal harmony first revealed in the opening. There are slow percussive blows that articulate a polyrhythmic grid and a subtle underpinning of bow pressure that provides another articulation. A descending line joins the microtonally tuned violin solo, providing tangy dissonance against the harmonic ground beneath. Synthetic scales then provide dissonances and augmented seconds that alter the mode (a nod to the title, it is perhaps the most enigmatic turn in the piece). Solo harmonics then outline the harmony and repeated notes create a fadeout to close the work. 
The Spektral Quartet performs both the micro and macro levels of the piece with an admirable sense of pacing and keen attention to detail. Enigma is our first Best of 2021 pick.
-Christian Carey