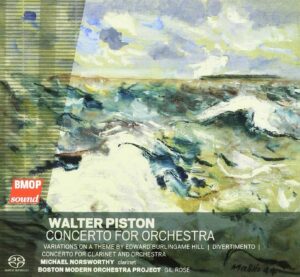 Walter Piston: Concerto for Orchestra 
Variations on a Theme of Edward Burlingame Hill, Divertimento, Clarinet Concerto
Michael Nosworthy, clarinet
Boston Modern Orchestra Project, Gil Rose, conductor
BMOP/sound CD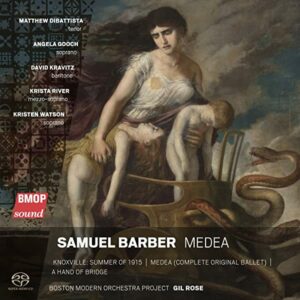 Samuel Barber: Medea
Knoxville: Summer of 1915, Medea (complete ballet), A Hand of Bridge
Kristen Watson, soprano; Matthew DiBattista, tenor; Angela Gooch, soprano, David Kravitz, baritone, Krista River, mezzo-soprano; Boston Modern Orchestra Project, Gil Rose, conductor
BMOP/sound CD
Although the Boston Modern Orchestra Project has undertaken commissioning and recording music from our time, another important part of their mission has been reviving symphonists from mid-century America. Two recordings spotlighting music from the 1930s to the 1960s stood out this year. Many may know Walter Piston (1894-1976) as a teacher of composition and author of music textbooks (Harmony, Orchestration, etc.), but during his lifetime he was in demand as a composer of chamber and orchestra music. BMOP's recordings of four of his ensemble works are Exhibit One of the substantial pieces of evidence that his work is worthy of revival. The earliest, and largest piece on the recording is 1933's Concerto for Orchestra, following Hindemith's 1925 work, both in terms of overall design but also the degree to which the piece features many instruments of the orchestra in solo turns. It is also a masterclass in canonic counterpoint. Piston evokes Stravinsky as well by recycling the "Psalm chords" from Stravinsky's Symphony of Psalms (which had been written just three years prior) in identical spacing and scoring. Variations on a Theme of Edward Burlingame Hill was written for a Massachusetts municipal orchestra and would be an excellent programming choice for today's educational and community ensembles. 
Divertimento, for Nine Instruments, showcases Piston's proclivity for chamber forces. Once again, Stravinsky's neoclassicism is a touchstone: one might think of this as the Octet plus one. The standout work is the late Clarinet Concerto (1967). Cleverly shaped, it is cast in four attacca movements with several cadenzas and interludes featuring the soloist. Piston acknowledges the clarinet literature from Brahms' sonatas to Benny Goodman, providing a challenging and varied showcase. Soloist Michael Nosworthy plays superlatively, navigating challenging registral changes and elegantly sculpting the rhythms of the cadenza material. BMOP is at its best here too; Rose brings out the various countermelodies embedded in the score while deftly supporting the soloist throughout.
There are plenty of opportunities, live and on recording, to hear Knoxville: Summer of 1915 (1947) by Samuel Barber (1910-1981); this year proved there is room for another. BMOP's rendition is excellent, with fluid, but not languid, tempos and delicate, detailed singing from soprano Kristen Watson. Watson is joined by singers soprano Angela Gooch, mezzo-soprano Krista River, tenor Mathew DiBattista, and baritone Kravitz in A Hand of Bridge, a ten-minute long piece from 1959 that has become an opera training center staple. It is refreshing to hear it performed with such professionalism, and here Rose elicits a jaunty swagger from BMOP's musicians. 
Posterity has been less kind to Barber's ballet Medea. Composed in 1947, the same year as Knoxville, it is a bit edgier than his other works but remains within the spectrum of neoclassical tonality for which he is best known. The orchestration is vivid, with excellent solo writing for winds and brilliant chorales for brass in particular, witness the opening solo of the "Dance of Vengeance." There is a "re-tunable moment" or two in the strings, but otherwise the performance is eminently assured. The rhythmic vivacity of Medea is particularly memorable, part mixed meter writing with just a hint of Hollywood filtered jazz around the edges. I would love to see a dance performance of it. 
-Christian Carey