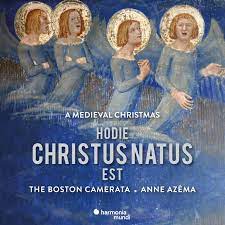 Hodie Christus Natus Est
Boston Camerata, Anne Azéma
Harmonia Mundi CD
A trio of female singers accompanied by hurdy gurdy, harp, rebec, and bells present a diverse program of medieval Christmas music in English, Latin, Italian, Iberian, and French. Plainsong hymns, responses, carols, and dances, all by anonymous sources, are performed with impeccable sound, blend, and tuning and an impressive variety of approaches. Some of the music is intoned as chant while other pieces are metricized. This repertoire would not have appeared together in a single performance, especially given the blend of sacred and secular pieces, but Hodie Christus Natus Est is a rich program that displays historically informed performance at its very finest.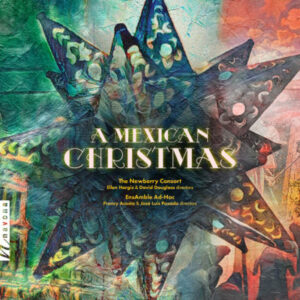 A Mexican Christmas
The Newberry Consort | Ellen Hargis, David Douglass directors
EnsAmble Ad-Hoc | Francy Acosta, José Luis Posada directors
Navona Records CD
Much like composers from Spain in the first half of the seventeenth century, Mexican composers during the same time period adhered to the "prima pratica" principles exemplified in sixteenth century Italy, most notably by Palestrina. They may have been latecomers to Baroque musical practices, but tarrying with earlier contrapuntal styles resulted in an extravagant coda to music of the Renaissance.
A Mexican Christmas is a live recording of Christmas music performed by the Newberry Consort and Ensemble Ad-Hoc. Rather than focusing on Mexican liturgical music, of which there is also a significant repertory, the main emphasis of the program is extra liturgical and secular music, including stirring instrumental selections by Santiago de Murcia. If one is unfamiliar with the composers Juan Guitierrez de Padilla, Gaspar Fernandes, and Juan Garcia Despedes, the selections here provide an excellent introduction to this underserved repertoire.
In the Bleak Midwinter: Christmas Carols from King's
Choir of King's College, Cambridge, Daniel Hyde
King's College, Cambridge CD
Every year, I think that the Choir of King's College, Cambridge has arrived at the pinnacle of presenting Christmas carols. In 2021, they once again prove that they have even more room to climb. In the Bleak Midwinter features fresh approaches to arrangements and descants, talented soloists, memorable organ solos, and selections from corners of the repertoire, old and new, that merit more attention. Director Daniel Hyde does an admirable job musically and curatorially, favoring a lithe approach to phrasing and tempo that prevents the schmaltz that ruins so many recordings of carols. Organist Matthew Hyde supplies a colorful yet balanced array of textures when accompanying the choir. His performance of "Improvisation on Adeste Fideles," by Francis Pott, supplies a memorable postlude to the proceedings. My favorite carol is Holst's "In the Bleak Midwinter," and the rendition here is practically peerless.
-Christian Carey