Best New/Experimental Recordings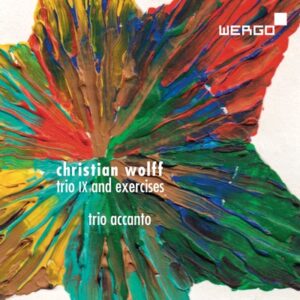 Trio IX and Exercises
Christian Wolff
Trio Accanto
Nicholas Hodges, piano; Marcus Weiss, saxophone; Christian Dierstein, percussion
Wergo CD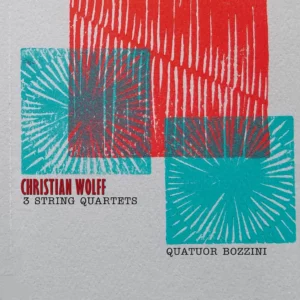 Three String Quartets
Christian Wolff
Quatuor Bozzini
New World CD
On Trio IX and Exercises, Trio Accanto performs recent music by Christian Wolff, a composer with whom they have often collaborated. Trio IX (2017) is dedicated to the group, and it is filled with tunes ranging from J.S. Bach to work songs to quotes and "reminiscences"  from Wolff's own music. This is a palimpsest of a quodlibet, and all the better for it, as the strands from Wolff's repertory of tunes are crafted into a fast shifting colloquy between trio members. Snippets of material are passed back and forth, with frequent interruptions and sudden confluences that make for many delightful surprises. Trio Accanto also performs some of Wolff's most recent pieces in his Exercises series, from 2011 and 2018; open instrumentation, mobile form compositions. The similarity between these freer pieces and Trio IX, and the fact that the performers worked on the music in close consultation with the composer, suggest that this is a benchmark recording for understanding Wolff's recent performance practice. 
Wolff's String Quartet: Exercises Out of Songs (1974-1976) is another covert quodlibet, one in which Wolff's music takes on an Ivesian cast, both in terms of some of the material and the collage aspects of the form. Once again, rapid stops and starts deliberately disrupt the flow. These juxtapositions are performed spotlessly by the estimable Quatuor Bozzini. Cast in a single movement, For Two Violinists, Violist, and Cellist (2008), as the title suggests, breaks the string quartet mold, allowing each player their own space and a degree of agency. This goes hand in hand with the egalitarian sensibility that Wolff has espoused both in his writings and music, always viewing new works with an eye toward collaboration. For Two Violinists, Violist, and Cellist ups the dissonance quotient but retains a highly gestural rhythmic language. Its one attacca movement, clocking in at over a half hour, is a compelling retort to large-scale late modernism. Out of Kilter (String Quartet 5) was written in 2019, and contrasts the previous piece in terms of design. Cast in a series of short movements, the demeanor now shifts within movements and between movements, capturing a plethora of moods, tempos, and solo, duo, and ensemble deployments. Wolff is nearing ninety years of age, yet he still has more tricks up his sleeve. 
Pauline Anna Strom
Angel Tears in Sunlight
RVNG
Pauline Anna Strom passed away in December 2020. She left behind her first new album in over thirty years, Angel Tears in Sunlight, which was released on RVNG in February 2021. The recent resurgence of interest in "sisters with transistors," female synthesizer pioneers, has enabled a number of artists to be reconsidered and reissued. It has also inspired several to make new work. Strom was part of the dawning of New Age music, an unfairly maligned genre that is having a resurgence in interest. However, Angels Tears in Sunlight demonstrates that Strom's work was never about easy stylistic markers. It includes pieces like "Marking Time" and "I Still Hope" in which one can readily hear how minimalism and ambient electronica were touchstones. Wide ranging glissandos in "Tropical Rainforest" unhinge elements of the music from simple harmonic trajectory into synth experimentation that resides further out. One only wishes Strom had gotten to see how deservedly this new music has been warmly received.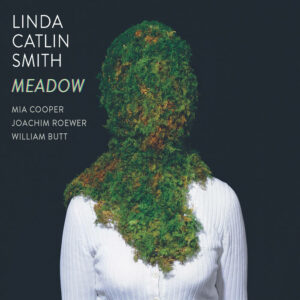 Meadow
Linda Catlin Smith
Mia Cooper, violin; Joachim Roewer, viola and William Butt, cello
Louth Contemporary Music Society CD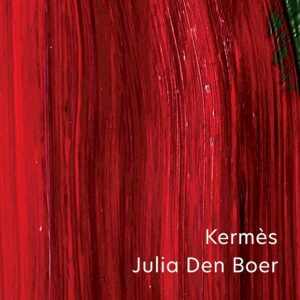 Kermès
Julia Den Boer, piano
New Focus Recordings CD
Meadow was released December 11, 2020, too late for most music critics to catch it in time for year-end coverage (except Steve Smith and Tim Rutherford-Johnson, of course). Since the release of this half hour long string trio composed by Linda Catlin Smith, both the composer and the label of this release, Louth Contemporary Music Society, have grown in terms of influence and recorded output (see the Frey review below). Meadow contains a lush, primarily modal, harmonic palette tempered with piquant dissonances. Smith takes her time unfolding various patternings of the primarily chordal texture, creating a deliciously unhurried amble through fascinating, distinctive musical pathways. 
Catlin Smith features prominently on Kermès, a release on New Focus by pianist Julia Den Boer that features four pieces by female composers. The Underfolding once again features added-note harmonies, but these are interspersed with pure triads and, in a fleeting but fetching middle section, offset by a descending bass line. Crimson, by Rebecca Saunders, has some delightfully crunchy verticals, a constantly evolving set of clusters that move upward from the middle register to encompass widely spaced gestures in the soprano register. These two angular off-kilter ostinatos create complex rhythmic interrelationships. The lower register enters belatedly and is startling upon its appearance. Crimson's denouement is something to behold. Déserts, by Giulia Lorusso, includes five movements responding to the flora and fauna of deserts in different locations. Lorusso often uses the sustain pedal to extend bass note jabs and dissonant intervals. These are juxtaposed against repeated open fifths and octaves, which reveal a plethora of overtones when sustained. Lorusso depicts powerful images of the desert as richly inhabited rather than the default brittle dryness that other composers have adopted. Anna Thorvaldsdottir's Reminiscence begins with open intervals and quickly moves to widely spaced diminished sonorities, from there incorporating polychords with the tritone remaining prominent. It is the first piece by Thorvaldsdottir that I can recall using chordal arpeggiations in the bass, which presses the piece forward during its conclusion.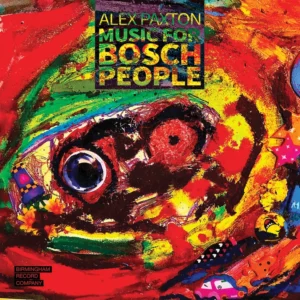 Alex Paxton
Music for Bosch People 
Birmingham Record Company/NMC
Taking the bizarre work of 16th century artist Hieronymus Bosch as an inspiration, on Bosch People improvising trombonist and composer Alex Paxton writes exuberantly polystylic music that switches abruptly from genre to genre: think Zappa, Zorn, and Vinko Globakar in a mixing bowl. Backed up by ten crackerjack musicians who inhabit jazz, rock, and contemporary classical, the music is breathless for the sopranos, saxophonists, and Paxton himself; likely for the listener as well.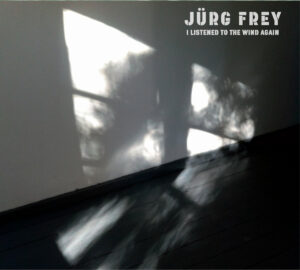 I Listened to the Wind Again
Jürg Frey
Louth Contemporary Music Society
Hélène Fauchère, Soprano; Carol Robinson, Clarinet; Nathalie Chabot, Violin;  Agnès Vesterman, Cello; Garth Knox, Viola;  Sylvain Lemêtre, Percussion
Louth Contemporary Music Society has released a treasure trove of recordings via their Bandcamp site this year. This new recording of Jürg Frey's I Listened to the Wind Again, for soprano, clarinet, strings, and percussion, is a standout among chamber releases of new music this year. Frey sets fragmentary quotations from French-Swiss poets Gustave Roud and Pierre Chappuis, Tang dynasty poet Bai Juyi, and  Lebanese-U.S. poet-painter Etel Adnan. The gentle declamation of the text is exquisitely rendered by Hélène Fauchère. The rest of the ensemble undertakes similarly aphoristic lines, slowly and softly, which gradually thread together into an achingly beautiful web of layered interplay. I Listened to the Wind is a captivating listen.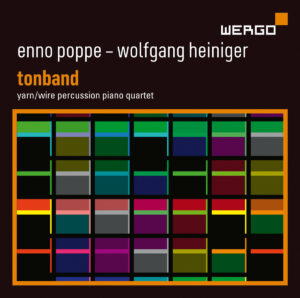 Enno Poppe/Wolfgang Heiniger
Tonband
Yarnwire and Sam Torres
Wergo DL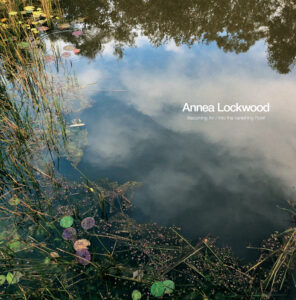 Annea Lockwood
Becoming Air/Vanishing Point
Nate Wooley, trumpet
Yarn/Wire
Black Truffle DL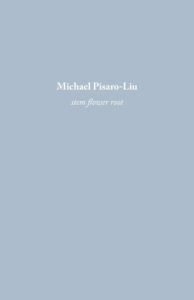 Michael Pisaro-Liu
Stem-flower-root
Nate Wooley
Tisser/Tissu Editions DL and Chapbook
Composers Enno Poppe and Wolfgang Heiniger collaborate on the work Tonband, a piece for the piano/percussion quartet Yarnwire plus live electronics. Heiniger is skilful at finding and emulating all sorts of vintage keyboard sounds and also supplies synthesis that glides through glissandos and microtones. Each composer has a solo work as well. Enno Poppe's Field unfurls off-kilter ostinatos, building sheets of chromatic scales on mallet instruments and piano. Tonband, featuring live electronics performed by Sam Torres, is an imaginative combination of percussive timbres elicited from Yarn/Wire along with a diverse palette of bleep electronica. Heiniger's solo turn Neumond, based on horror movie soundtracks, is an appropriately spooky electronics piece but also features a number of melodic fragments, each of which could be a theme in its own right. 
Two recent instrumental pieces by Annea Lockwood are included on a recent Black Truffle release, Becoming Air/Vanishing Point. Trumpeter Nate Wooley is challenged to transcend the limitations of his quite considerable chops on Becoming Air (2018). Wooley is a masterful trumpeter, who specializes in overblowing and extended techniques, but the piece deliberately creates an environment in which some notes will inevitably waver. Starting out soft with lots of silences and abetted by electronics, it eventually crescendos into a gale force of fortissimo distortion. Yarn/Wire is featured on the second piece, Vanishing Point, a threnody for the mass extinction of insects. While there is no attempt at deliberate parody, the ensemble does an estimable job creating an insectine ambience that is movingly evocative.
The format for Michael Pisaro-Liu's Stem-flower-root is an appealing one: a download with a chapbook discussing the piece's inspirations in detail. It was premiered at Brooklyn's For/With Festival, for which Wooley commissioned solo trumpet pieces from composers who hadn't previously considered the medium. Allowed here to address music that celebrates rather than devolves his sound, Wooley plays sustained tones with abundant air supply. Octaves and overtones enter over a unison to create polyphony based on the harmonic series. Sine tones play a prominent role as well, allowing for a different color to complement the trumpet. I love the depiction of the score, how Pisaro-Liu, in reference to the titular subject, describes sections as "branchings." Wooley is an extraordinarily gifted player, and in tandem with one of the most imaginative composers in the US, he creates a winning performance of an absorbing piece.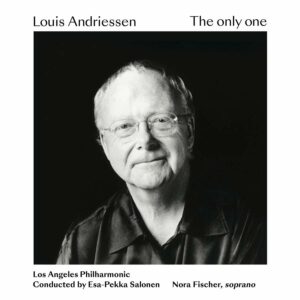 Louis Andriessen
The Only One
Nora Fischer, soprano
Los Angeles Philharmonic, Esa-Pekka Salonen, conductor
Nonesuch Records
Louis Andriessen passed away this year at age 82 . The Los Angeles Philharmonic, conducted by Esa-Pekka Salonen, has released one of Andriessen's final works, The Only One (2018), on a Nonesuch recording. It is a set of five orchestral songs, with an introduction and two interludes, for soprano soloist Nora Fischer. The texts are by Flemish poet Delphine Lecompte, who translated the ones used into English. 
Fischer is a classically trained vocalist who is also adept in popular and cabaret styles. Her singing is abundantly expressive, ranging from Kurt Weill style recitation through honeyed lyricism to raspy screams. This is particularly well-suited both to the texts, which encompass a range of emotions, from rage to resignation, and to the abundantly varied resources Andriessen brings to bear. In The Only One, his inspiration remains undimmed; it is a finely wrought score. Much of it explores pathways through minimalism equally inspired by Stravinsky that have become his trademark. Andriessen is also well known for resisting composing for the classical orchestra for aesthetic reasons. Here he adds electric guitar and bass guitar and calls for a reduced string cohort, making the scoring like that used for a film orchestra. Harp and piano (doubling celesta) also play important roles. Esa-Pekka Salonen presents the correct approach to this hybrid instrumentation, foregrounding edgy attacks and adopting energetic tempos that banish any recourse to sentimentality. As valedictions go, "The Only One" is an eloquent summary of a composer's life and work.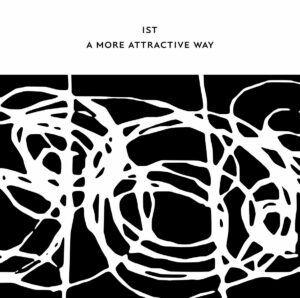 A More Attractive Way
IST
Rhodri Davies, prepared harp; Simon H. Fell, prepared double bass; Mark Wastell, prepared cello
Confront Core Series 5XCD
Improvising String Trio's scintillating interplay is captured on A More Attractive Way, a generous boxed set of live performances from 1996-2000 in the UK. All three members of IST use preparations, so that at times they challenge the listener to recognize the players among a "super instrument" of effects. Harpist Rhodri Davies, bassist Simon H. Fell, and cellist Mark Wastell are chronicled at the outset of their collaboration at a gig in London, which is followed by performances in Barclay, Norwich, and Cambridge. Already compelling at the outset, it is fascinating how the group's dynamic and their collective sense of pacing and shaping extended materials evolves to an almost extrasensory level by the conclusion of the quintuple CD set. Free improvisation at the highest level.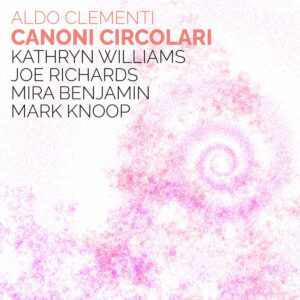 Canoni Circolari
Aldo Clementi
Kathryn Williams, flutes; Joe Richards, percussion; Mira Benjamin, violins; Mark Knoop, piano
All That Dust D/L
Italian composer Aldo Clementi (1925-2011) made the venerable procedure of canonic writing seem fresh again with the unconventional instrumentation of his work Canoni Circolari (2006). Alongside three other process-driven and relatively compact pieces, the listener is treated to Clementi's passion for patterning ranging from clocks to chess, to canons from all periods of music. On Overture, Kathryn Williams overdubs a whorl of scalar passages in proportional rhythm for a dozen flutes in different shapes and sizes.
Percussionist Joe Richards and pianist Mark Knoop create a Westminster Abbey level of clangor on the mimicked bell-changing of l'Orologio di Arcevia. Mira Benjamin overdubs eight violins, once again in polytempo relationships to each other, on Melanconia. The whole quartet interprets the enigmatically notated titled work, a canon with interpretation left open about which parts are taken by whom and when to stop. When is the circle broken? In three minutes – one could imagine even more. How often does one say that about a round?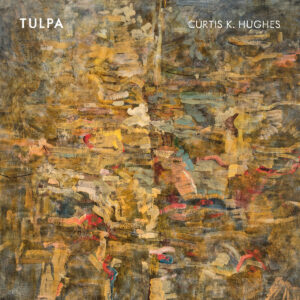 Tulpa
Curtis K. Hughes 
New Focus Recordings
Curtis K. Hughes's second portrait CD was released this year on New Focus;  the programmed works span from 1995 to 2017. There is craft-filled consistency from the earliest to most recent works, with the principle change being an ever more assured compositional voice and a major work in Tulpa, a 2017 piece for ensemble. Tulpa is engaging throughout, and seems to be a culmination of the other, smaller, compositions on the CD. Whether for soloists or writ large, Hughes writes compelling music that is artfully crafted and energetically appealing.
-Christian Carey