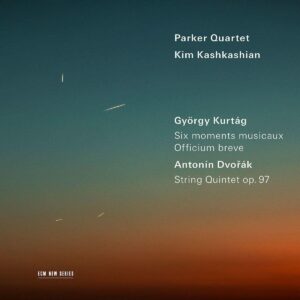 Parker Quartet; Kim Kashkashian, viola
György Kurtág: Six moments musicaux; Officium breve
Antonin Dvořák: String Quintet op. 97
ECM Records
The Czech composer Antonin Dvořák (1844-1901) and Hungarian composer György Kurtág (1926-) are seldom mentioned in the same breath. One is more often likely to hear Dvořák being discussed in relation to his older colleague Johannes Brahms, and a similar pairing might be made between Kurtág and György Ligeti. However, they are paired by the Parker Quartet and violist Kim Kashkashian on a 2021 ECM CD. 
While their musical languages are worlds apart, connections between Dvořák and Kurtág, both as composers and teachers, might be found in their shared affinity for chamber music. The Parker Quartet and Kashkashian (who has recorded both Kurtág and Ligeti for ECM), provide a fitting approach to each piece on the recording.  In the Kurtág  selections, they make the most of the silences, extreme shifts of demeanor, and the aphoristic fragility of the often Webernian approach to line. This contrasts nicely with the warmly expressive interpretation they give to Dvořák's String Quintet, op. 97. Written during his visit to America, it is one of Dvořák's finest chamber pieces. Compelling playing and imaginative curation here.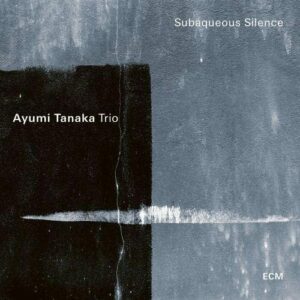 Ayumi Tanaka Trio
Subaqueous Silence
Ayumi Tanaka, piano; Christian Meaas Svendsen, double bass; Per Oddvar Johansen, drums
ECM Records
Pianist Ayumi Tanaka makes her leader debut on ECM Records with Subaqueous Silence, a trio recording alongside bassist Christian Meaas Svendsen, who makes his label debut, and drummer Per Oddvar Johansen, who has recorded with a number of ECM's other artists. Tanaka moved to Norway because she found the improvised music being made there compelling. She fits right with her colleagues in the trio, but also brings the sensibility of, as she describes it, "chamber music … Japanese classical music," to create a distinctive sound and approach. Her use of space, with silences and pianissimo passages prominent in the texture, is counterbalanced by arpeggiations rife with dissonance and bass note stabs. Indeed, in places one wonders if Kurtág (see above), might be a touchstone. Elsewhere, her harmonies oscillate between jazz and extended chords that seem borrowed from early in the twentieth century; Tanaka certainly has Debussy and Schoenberg under her hands. Svendson is a study in opposites as well, grounding the harmony with slow-moving bass notes, and playing raucous high harmonics in a few places. His arco playing is quite attractive. Johansen is a perfect percussionist for this setting, subtle, responsive, and more textural than propulsive. One hopes this is the beginning of a long term collaboration for these three talented improvisers.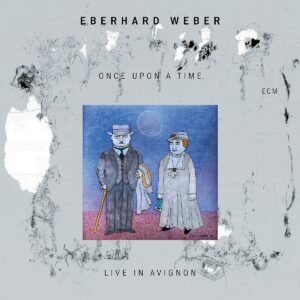 Eberhard Weber
Once Upon a Time
ECM Records
On Once Upon a Time, Bassist Eberhard Weber is captured in a live performance from 1994 at Avignon's Théâtre des Halles, part of a festival celebrating bassists organized by Barre Phillips. Weber explores a number of his then recently recorded works, including ensemble pieces such as his Trio for Bassoon and Bass, deconstructing and reanimating them in this solo setting. One of the ways that he accomplishes this is by using delay pedals to create five-second loops, over which he adds additional voices. Weber often opts for a clean sound, but allows for some timbral modifications around the edges, again via pedals. These are particularly surprising in the one standard on the CD, "My Favorite Things," which is given the overdub treatment; particularly rousing riffs and squalling notes from the highest register appear over the chordal vamp. Another standout is the extended workout Weber gives to his piece "Pendulum," with an attractive melody and variation after variation explored throughout the compass of the instrument. "Delirium" explores chords and harmonics in equal measure, while "Ready out There" is a feast of virtuosity.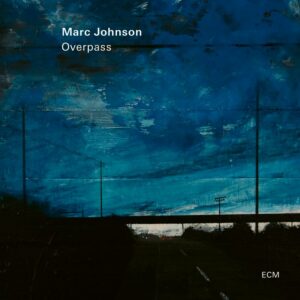 Marc Johnson
Overpass
ECM Records
For an entirely different kind of solo bass recording, Marc Johnson plays originals and others' compositions significant to his work from throughout his career on double bass. Thus, "Love Theme from Spartacus" recalls his work in 1970 with Bill Evans' last trio, as does a welcome return to his showcase "Nardis." Both of these have grown in conception and are thoughtfully reinvestigated. The oft recorded "Freedom Jazz Dance," by Eddie Harris, elicits a polyphonic performance with a low-register ostinato and florid soloing in the cello register. Among Johnson's own compositions, particularly impressive is "Strike Each Tuneful String," which references the African instrument with ox tendon strings called the Inanga. It features a melody in the low register complemented by chordal harmonics. The exoticism of "Samurai Fly," a reworking of Johnson's eighties tune "Samurai Hee-Haw," features Asian exoticism in a more overt tip of the hat to nonwestern musical material. It also includes a small amount of overdubbing, more subtle than Weber's looping but just as effective. "Yin and Yang" instead plays with using four-string strumming to create a thickened texture, while the closer "Whorled Whirled World," appropriate to the title, features circular patterning that resembles double time walking with a splash of minimalism tossed in for good measure. A varied and compelling outing that will occupy a well-deserved spot among ECM's collection of solo bass recordings.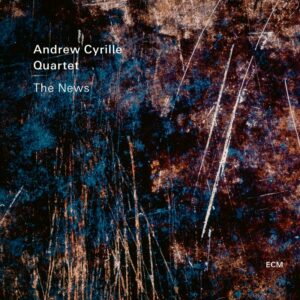 Andrew Cyrille Quartet
The News 
ECM Records
David Virelles, piano; Bill Frisell, guitar; Ben Street, bass; Andrew Cyrille, drums and percussion
Andrew Cyrille is now an octogenarian, an age at which many musicians have already retired or are slowing down. Cyrille retains a superlative technique and while his latest quartet outing for ECM, The News, emphasizes interplay and texture over power, it is clear that there is much of that yet remaining in the drummer's arsenal as well. 
Cyrille is credited with three of the compositions on The News. The title track was originally a solo percussion piece. Recast for the quartet, it is the most experimental sounding piece on the album. David Virelles plays synth as well as his usual instrument, the piano, Ben Street plays the bass both arco and pizzicato, guitarist Bill Frisell daubs dissonance and darting linear flurries here and there, and Cyrille employs a number of drums and percussion instruments in a spell binding, unorthodox fashion. The drummer places newspaper over the snare and toms and plays with brushes: an intriguing timbral choice. "The Dance of the Nuances," co-authored by Cyrille with the group's pianist David Virelles, features bowed bass and single line solos punctuated by Cyrille's syncopated drumming.
Three pieces are credited to Frisell. "Go Happy Lucky" is a mid tempo blues bounce that is jubilant in tone. Frisell plays the head and the first solo section in jaunty fashion, followed by succulent arpeggiations  from Virelles. Cyrille's drumming is propulsive and responsive to the melodic gestures of the soloists. Street plays walking lines that lead to the return of the head, this time with the whole group digging in and matching Frisell. "The Mountain" begins with a simple melody and chord progression played by Frisell. Gradually, it becomes more chromatic and embellished as Virelles and Street push the guitarist's material outside. Cyrille adds a counter rhythm that also complicates the piece's surface. "Baby" is one of Frisell's pastoral Americana style pieces. His honeyed melody is supplied counterpoint by Street, Fender Rhodes comping from Virelles, and subdued drumming by Cyrille. Virelles contributes the composition "Incienso," which has an ambling melody and an intricate chord structure filled with Brazilian allusions and polytonal reference points. 
The one piece used by a musician outside the group is "Leaving East of Java" by Steve Colson. This is a felicitous inclusion. A performer, composer, and educator, it is unfortunate that Colson's work isn't better known today. "Leaving East of Java" includes guitar and piano in octaves and intricate chords rolled by Virelles. Synthetic scales evoke the exoticism, if not the specific content, of Javanese gamelan. Partway through, Street takes a suave solo succeeded by florid playing from Frisell and a repeated riff from Virelles. The pianist then plummets into the bass register, placing quick scalar passages underneath Street's legato playing. The octaves return briefly to punctuate the piece's close. 
The final composition, "With You in Mind" by Cyrille, features the drummer intoning a spoken word introduction of an original poem. The main section of the piece starts as a duo, with Virelles and Street creating a gently lilting ambience with traditional harmonies and rhythmic gestures that reflect the poetry (it would be great to see this poem set with the tune for singers). A piquant piano chord invites Frisell and Virelles to join the proceedings, with the guitarist creating an arrangement of the tune with chordal embellishments and Cyrille imparting the time with graceful poise. It ends in a whorl of chordal extensions and soft cymbal sizzle. 
Jazz players and audiences alike are often seeking "new standards" to canonize. There are several tunes here that qualify. The News is one of our Best of 2021 recordings. 
-Christian Carey