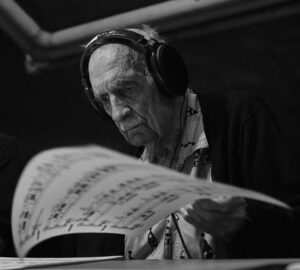 We are saddened to learn of the loss of George Crumb, who passed away on February 6, 2022 at the age of 92. A winner of the Pulitzer Prize, the composer was one of the most important musical figures of his generation, both as a creator and, for many years, as a professor at University of Pennsylvania. Considered by his students to be a supportive and gifted teacher, he mentored a number of composers who went on to major careers.
Crumb composed a large catalog of works, and many of them have become touchstones of the contemporary repertoire.  The bracing amplified string quartet Black Angels (1970) decried the atrocities of the Vietnam War; from that same year, the poignant and colorful Ancient Voices of Children is a standout among a host of eloquent settings of Federico Garcia Lorca's poetry. He often wrote series of pieces; Madrigals from the 1960s for soprano and mixed ensemble, Makrokosmos from the 1970s for amplified piano, and American Songbooks from the 2000s for male and female voices and mixed ensemble are among them. Occasional pieces, including a few depicting his beloved mischievous dogs and a gloss on Thelonious Monk's "'Round Midnight," were witty and equally memorable.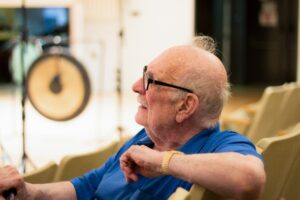 From the outset of his career, Crumb referenced a different set of influences than many of his relative peers, with Bartôk, Debussy, Cowell, Cage, and the burgeoning movement of postmodern Europeans informing him as he struck out on his own path. Crumb was a tremendously imaginative orchestrator, in particular expanding the role and number of percussion instruments in chamber music. The look of his scores, which were frequently graphic in design, was also distinctive. Crumb's music provided chamber groups, especially new music ensembles, with repertoire that stretched them technically and encouraged them to listen carefully to find the character and balance of the distinctive sound combinations he supplied. His work gave generations of other emerging composers permission to use an expansive set of resources and think outside the box.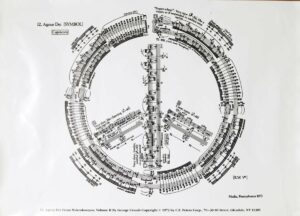 In 2021, a recent piano cycle (2015-2020) in two books, Metamorphoses, in which each piece evoked a work of visual art from a disparate collection of painters, was released on CD by Bridge Records as the twentieth volume of their George Crumb Edition. The composer was involved in the recordings, active until near the end of his extraordinary life.