Celebrating Mendelssohn's Birthday with Piano Recordings
February 3rd is Felix Mendelssohn's birthday. To celebrate, here are two reviews of recent recordings of piano music by the composer.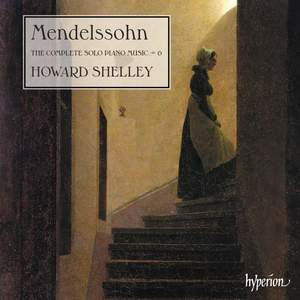 Felix Mendelssohn
Complete Music for Solo Piano, Vol. 6
Hyperion CD
Howard Shelley
Pianist Howard Shelley has been making his way through the compendious catalog of Felix Mendelssohn. The latest entry in his complete set, Volume Six, contains several well-known favorites as well as gems without opus numbers. If one has the impression of Mendelssohn as a neo-Mozartean composer of grace without the oomph of a creator like Schumann from the Romantic generation, the powerful Reiterlied presents a different side of the composer, as does his Sonata in B-flat Major, which should be programmed far more than it currently is. The Fugue in E minor reminds one of Mendelssohn's affinity and advocacy for Bach's music. Shelley makes the case for versatility in Mendelssohn but retains the quintessentially burnished and characterful nature of his "Songs Without Words" in recordings of two of the books of this collection. A lovingly crafted addition to what is becoming a benchmark complete works edition.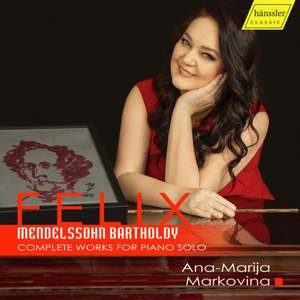 Felix Mendelssohn Bartholdy
Complete Music for Piano Solo
Hänssler Classic 12 CD boxed set
Ana-Marija Markovina
Ana-Marija Markovina has released her Mendelssohn cycle all at once in a well-appointed 12 CD boxed set. Where Shelley brings out the luminous qualities of the piano works, Markovina is a classicist, creating interpretations that are lucidly detailed. I am particularly fond of Markovina's playing in the sonatas and fugues, where she reveals the architecture of these pieces with abundant clarity.
The pieces without opus number, including fragments and juvenalia, are spread throughout the collection rather than put in an appendix. At first, this may seem surprising, however it is an excellent way to measure Mendelssohn's prodigious development. The composition teacher in me immediately thought of using the fragments and short pieces with students, asking them for Mendelssohnian completions as assignments; they are ideal models. It is wonderful that both pianists have taken on this project, as there is ample room for their distinctive approaches.
-Christian Carey