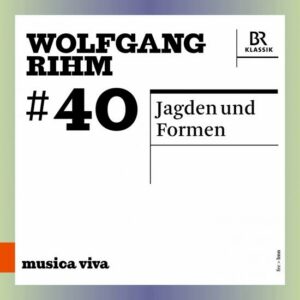 Wolfgang Rihm
Jagden und Formen
Bavarian Radio Orchestra, Franck Ollu, conductor
BR-Klassik CD
Wolfgang Rihm's hour long orchestra work Jagden und Formen (2008) has its roots in an earlier work, some fifteen minutes long, from 1996, dedicated to Helmut Lachenmann on his sixtieth birthday. The piece ultimately morphed and expanded into the version recorded here. There is precedence for this in postwar Europe, particularly in several of the works of Pierre Boulez, which remained in progress and perpetually expanding throughout his lifetime. In his program note, Rihm says that the piece will henceforth likely remain in its current form.
While it is dedicated to Lachenmann, the piece remains solidly in Rihm's language. The music is muscular, post-tonal, and replete with strongly articulated gestures. At the same time, there are guideposts that afford the listener a sense of groundedness: returning sections, repeated pitches that provide momentary centers, and phrase boundaries that include landing points akin to cadences.
The piece's scoring is somewhat unusual. Winds are doubled, but strings are one to a part, the result being a kind of sinfonietta with bolstered textures. The choice for solo strings is canny, in that Rihm frequently deploys them like a chamber quintet within the whole ensemble. The extraordinary tone of the Bavarian Radio Orchestra's strings undoubtedly abets this impression. This is equally true of the rest of the ensemble, which frequently creates glistening textures and just as often fluid counterpoint that ricochets between instrumental cohorts. 
The recording is broken up into tracks, but these do not demarcate movements. They connote sections with particular tempos and scoring, and so suggest the overall formal trajectory of the piece. Adding to the aforementioned concertino impression are a number of solo turns. Particularly impressive are the blindingly fast runs by pitched percussion and the equally fast angular solos taken by the oboe and bassoon. Jagden und Formen traverses a number of tempos, and it is to Franck Ollu's credit that transitions are seamlessly negotiated and even the most breathless passages are well-coordinated. The piece's abundant variety and compelling sound world make it a solid addition to Rihm's compendious catalog. Jagden und Formen will likely see more performances, but this recording will long remain a benchmark.
-Christian Carey