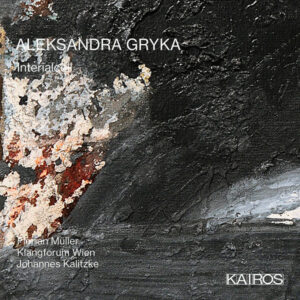 Interialcell
Aleksandra Gryka
Florian Müller, harpsichord; Klangforum Wien, Joseph Kalitzke, conductor
Kairos CD
Klangforum Wien is undertaking a series of portrait recordings on Kairos of Polish composers. The first solo CD of music by Aleksandra Gyrka (b. 1977), Interialcell, is an impressive introduction to this composer. Consisting of ensemble pieces  written from 2003 to 2015, Interialcell provides a sense of the maturation of an already talented composer in her late twenties to work that takes on successively more intricate materials and formal designs in her thirties. 
Regarding the impetus for her music, Gryka is fairly secretive. The hard sciences, particularly quantum physics, are mentioned frequently as a reference point, as are cosmology and sci-fi. A number of her works deal with uncomfortable emotions in extremis, notably the theatre works Scream You! and Our Hell and incidental music for several plays. The instrumental pieces on Interialcell may not have a narrative component that is specifically locatable, but they clearly are wrought from the same combination of scientific, theatrical, and fantastical elements, melding together a panoply of musical elements to provide a sense of this inspirational diversity. 
Youmec is a work for harpsichord and ensemble. Florian Müller is frequently called upon to play clustered verticals as well as enigmatic ostinatos. These are accompanied by undulating glissandos in the ensemble. In a sense, the texture is an inversion of the usual concertino. The soloist plays chords while the group is afforded gestural writing. At the piece's climax, the ensemble begins to ricochet its own vertical off of the solo's repeated chords.
Interialcell opens with thrumming timpani and angular melodic cells in the strings alongside fast chromatic runs in the piano and pitched percussion. The accents of the cells become a grid for rhythmic transformations in a number of scorings and dynamic levels; a deft structural design. Emtyloop begins with furious, corruscating, overlapping strings. This idea of overlapping ostinatos is explored throughout the piece, with hairpin dynamics creating swooning contrasts. Particularly affecting is the later overlap in the upper "dolphin call" register, supplanted by cello glissandos. einerjedeneither juxtaposes percussion pulsations with chromatic wind lines, spectral verticals, and frequent silences. Instruments blown through, aphoristic piano gestures, and microtonal bends complete a haunting, gradually unfolding environment.
Mutedisorder closes out the album with furtive, hushed gestures in a portentous ambience. It is somewhat reminiscent of Mark André's recent works exploring pianissimo. Gryka demonstrates command over the wide range of materials she selects and a special ear for timbre. Recommended. 
-Christian Carey