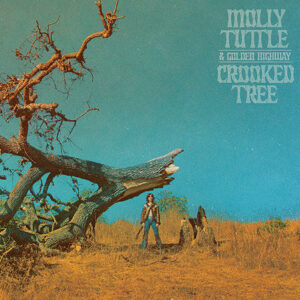 Molly Tuttle and Golden Highway
Crooked Tree
Nonesuch
Songwriter, vocalist, and guitarist Molly Tuttle makes her Nonesuch debut with Crooked Tree. Co-produced with dobro virtuoso Jerry Douglas, the release includes a number of prominent traditional musicians as collaborators and focuses on Tuttle's connections to bluegrass and roots music. Previous releases have seen Tuttle sit astride pop and bluegrass, and while Crooked Tree emphasizes the latter, the memorability and single-worthy character of many of its songs reminds us that she is a versatile and formidable talent. 
Tuttle plays guitar in a flat-picking style and at turns plays nimble lead lines and boisterous rhythm. A showcase for her playing is "Goodbye Girl." On this track, as elsewhere, Douglas makes the perfect addition to the proceedings, seamlessly integrating his formidable chops into arrangements with Golden Highway. His solo on "Goodby Girl" is simultaneously fleet and soulful. Tuttle's band Golden Highway, which consists of fiddle-player Bronwyn Keith-Hynes, mandolinist Dominick Leslie, banjo-player Kyle Tuttle, and bassist Shelby Means, are a formidable combination, all equally comfortable taking a solo turn as well as being imaginative yet rock solid ensemble players. Other musicians joined the sessions in Nashville, including bassist Viktor Krauss, drummer Jerry Pentecost, and harmonica-player Cory Younts. Ketch Secor co-writes several songs with Tuttle and contributes mandolin. Melody Walker is another co-writer and sings backing vocals on the album. 
The title track starts with a slow build to the chorus, upon which we get the full band providing a vintage bluegrass arrangement, with a stirring fiddle solo from Keith-Hynes. "She'll Change" and "Over the Line" show the assembled musicians to excellent advantage. Kyle Tuttle's banjo takes the instrumental spotlight on "Flatland Girl," while Margo Price contributes vocals. The layering of her voice with Tuttle creates a beautiful blend. Adding Old Crow Medicine Show to the "Big Backyard" creates another highlight focusing on group singing, a verse with a memorable hook followed by ebullient choruses. Guitarist and singer Billy Strings joins Tuttle on the blues shuffle "Dooley's Farm." The waltzing "San Francisco Blues" is a melancholy duet with Dan Tyminski. Perhaps the biggest star turn is Gillian Welch's appearance on "Side Saddle," a ribald, rousing showcase for the vocalists with great licks from Douglas. 
Left to their own devices, Tuttle and Golden Highway provide equally compelling performances. "Nashville Mess Around" is great fun – a hootenanny, complete with yodeling. "The River Knows" has a haunting melody that alternates sparsely arranged accompaniment of the singing with intricate instrumental breaks."Castilleja" co-opts the melody of "Poor Wayfarin' Stranger," but takes it uptempo. The album  closes with a moving song, "Grass Valley," which deals with family and loss with an uplifting sensibility. Crooked Tree is a compelling, uniformly excellent recording. Recommended. 
-Christian Carey