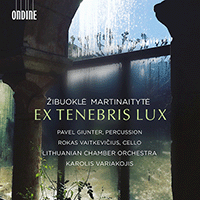 Žibuoklê Martinaitytê
Ex Tenebris Lux
Pavel Gunter, percussion; Rokas Vaitkevičius, cello
Lithuanian Chamber Orchestra, Karolis Variakojis, conductor
Ondine 
Ex Tenebris Lux is the second portrait recording in as many years for composer Žibuoklê Martinaitytê. The works here are for string orchestra, two of them with soloists. They present a reduced language, often involving modal collections without any accidentals. Despite this, Martinaitytê draws forth a variety of compelling sonorities and textures.
The Lithuanian Chamber Orchestra plays seamlessly, with rich tone and precise intonation. The title work, from 2021, is abetted by these qualities, its descending arpeggiations and vertical sonorities played with rhythmic precision. Conductor Karolis Variakojis understands that forward momentum is a necessary approach to avoid the thick textures feeling languid. In the piece Nunc fluens, Nunc stans (2020), percussionist Pavel Giunter creates gently shimmering passages that enliven the strings. The title is a quote from Boethius, a rough translation being, "The now that passes creates time; the now that remains creates eternity." Written in the midst of pandemic lockdown, Martinaitytê suggests that this piece was in response to the past being gone, the future being very uncertain, and the only thing left being the present moment. The mindfulness of this bespeaks the meditative trance that Nunc fluens, Nunc stans creates, a beautiful space of contemplation. 
Cellist Rokas Vaitkevičius is the soloist on Sielunmaisema (2019). Cast in four movements, the thirty-five minute long piece is a concerto that is more rhapsodic than virtuosic with a spacious ambience. Unfurling melodies, undulating passages, and harmonics are set against glissandos, repeated notes, and achingly long melodies in the ensemble. Ebullient repeated notes and dynamic swells characterize the second movement. The solo takes up harmonic glissandos to provide a coloristic element to the proceedings. The third movement incorporates hushed, mysterious verticals and pitch slides in the solo. The conclusion of Sielunmaisema features poignant overlapping melodies and chordal swells. Questing counterpoint, with the cello solo plangently mining its upper register, creates a closing section that soars with graceful elegance. 
Martinaitytê spent her pandemic time productively, crafting two of the three expressive works here. They are memorably beautiful pieces. Her previous recording, Saudade, is also richly recommended. 
-Christian Carey