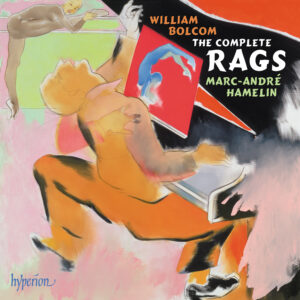 William Bolcom – The Complete Rags
Marc-André Hamelin
Hyperion Records
William Bolcom has been an important exponent of the ragtime revival. He helped to mount Scott Joplin's ragtime opera Treemonisha, has performed Joplin and much of the ragtime repertoire. Bolcom may have had a hand in Joshua Rifkin's famed Joplin recordings, which were used in the movie The Sting. As Bolcom tells it, he played Rifkin rags by Joplin at a party before the recording was made. Bolcom also encouraged contemporary American composers to return to ragtime, trading many rags with composer William Albright (one of the pieces on this recording is a collaboration between them), and performing the rags written by a number of others, mainly during the 1970s. His own catalog of rags is considerable, and considerably varied. 
Joplin's sheet music often included the admonition, "do not play fast," instead urging a deliberate pace. Bolcom takes this to heart, and pianist Marc-André Hamelin, the interpreter on this recording, pays studious attention to the details of tempo and phrasing that define ragtime. Like most classic rags, Bolcom uses titles that hearken back to ragtime progenitors past ("Eubie's Luckey Day," "Seabiscuit's Rag"), give a sense of character and gesture  ("Tabby Cat Walk," "Rag-Tango"), or are punnish ("Brooklyn Dodge").
Many of Bolcom's rags are suavely stylish, such as the well-titled "Contentment" and "Tabby Cat Walk." Of course, not fast is not ubiquitous. In a set of rags titled "Eden," the third, "The Serpent's Kiss," is rollicking, "girl on the railroad tracks" music with a taste of silent film accompaniment. The Allbright-Bolcoe collaboration, "Brass Knuckles," avails itself of splashes of dissonance, recalling Nancarrow and Monk through a Joplin lens. In "Rag-Tango" and "Estela – Rag Latino," other genres are successfully amalgamated into ragtime. It is difficult to pick favorites, but I'm partial to "Three Ghost Rags," in which music of times past is echoed. Hamelin plays this group with particular sensitivity.
Like Joplin's rags in the 1970s, Bolcom's in the 2020's deserve wider currency. Some are quite difficult, requiring the chops of a pianist of Hamelin's caliber. Others would be excellent pieces for competitions or study. The liner notes, with an essay by Bolcom, give an erudite, encapsulated view of classical rags and contemporary contributions. Highly recommended.
-Christian Carey