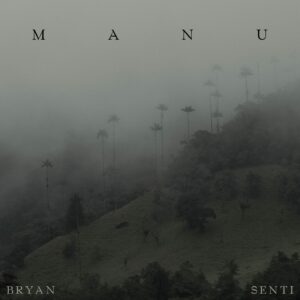 Bryan Senti
Manu
Naive
Violinist/violist and composer Bryan Senti currently lives in LA, but his connections range widely. He's scored films and television for the BBC and played on post-classical releases by Dustin O'Hallorn and Peter Gregson. Senti's recording Manu demonstrates musical versatility and arranging talent.
Given his background, it is little surprise that there is a cinematic quality to Senti's approach to scoring. That said, the pieces on Manu aren't sound files from the cutting room floor; they hold together as post-classical compositions. The recording's pieces use a cohort of strings. The title track at its outset features hocketing between various members of the ensemble, which eventually coheres into an ostinato in the bass with percussive interjections and dolphin tones above. "Icaro's" melody is plucked out against sustained violin lines and a chaconne in the bass. "Mantra" (see video below) is the most impressively layered piece on the album and is considerably catchy.
There's gravitas on Manu as well. "Humo" features Senti as soloist and is reminiscent of Arvo Pärt's austere minimalism. Like several of the pieces here, the tight arrangement is compelling but one wishes it might linger longer. "Telar" and "Via," which close the album, are more expansive. The former has a steady beat, percussively articulated, and downward glissandos in the altissimo register against mid-register repeated notes and a rangy bass part. Gradually, a forward moving harmonic progression presses the music towards its conclusion. A coda winnows down the texture to high violins and attenuations of the mid-register and bass.
"Via" has a repeating tune that is somewhere between a motive by Philip Glass and a Celtic reel. The texture shifts in a number of ways throughout the tune, at some points underscoring glissandos and altissimo register doublings of the tune, at others planing in the middle register. The violin motive returns several times, with its rhythmic values moving from sustained notes to sixteenths. It is ultimately overlaid in presentations at three different speeds, an impressive demonstration of contrapuntal chops by Senti. The coda features rich modal harmonies followed by a spare outro.
Senti demonstrates tremendous facility in scoring strings. Hopefully he will get a full orchestra involved for his next release. Recommended.
-Christian Carey