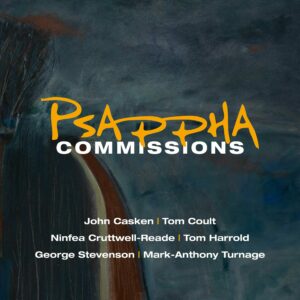 Psappha
Commissions
Psappha, 2022
Contemporary ensemble Psappha has commissioned both emerging and established composers. This recording chronicles works the group has brought to life by John Casken, Ninfea Cruttwell-Reade, Tom Harrold, Mark-Anthony Turnage, Tom Coult, George Stevenson, and Alisa Firsova. 
The selections provide a diverse array of styles, displaying the confidence with which Psappha assays musical challenges. Some of the pieces are by longtime associates, such as John Casken, whose Winter Reels, written for the group's core "Pierrot plus percussion" instrumentation, depict three different aspects of the season. The first two open with chiming percussion before the rest of the ensemble enters; the third with drums. Climate change has left Casken's reels unaffected, as blustery percussion and angular melodies depict "A Warming Song." "A Cold Song " is more reflective, with intricate layering of the parts and supple solos. "A Spirited Gathering" is rhythmically propulsive and seems like a ceremonial dance with, as one might guess, shades of Stravinsky. It does a slow build to an ebullient climax, with a splash of chimes to conclude.
Cruttwell Reade explores Indian raga in Patdeep Studies, a showcase for sitar player Jasdeep Singh Degun. It is a beguiling work, with the sitar taking up a different aspect of raga in each movement and the ensemble providing subtle accompaniment that often blurs into the sitar part. 
Tom Harrold says of his Dark Dance that it is a "perverse viola concertino." The piece is rambunctious, playfully tart, and easily could have gone on longer.  Tom Coult's Two Games and a Nocturne is similarly jocular. The first movement features inside-the-piano glissandos followed by jaunty unison gestures and pitched percussion playing a gangly tune. The second, Meccanico ma accelerando, has a devolving robotic sound in the percussion that is successively overshadowed by stentorian string and wind passages. It closes with an intensification of each instrumental group's music, with fleet winds and a percussive punctuation to close. "Nocturne" begins with chimes and wind solos with repeated pitches haloed by piano unisons. Strings then become prominent in the texture, taking over some of the angular gestures from the winds. Bird calls, piano chords, and continuous chimes underscored by enigmatic harmonies bring the piece to a pensive close.
One of the most successful pieces on Commissions, George Stevenson's Trees Made of Air, has a Francophone post-tonal pitch palette and consists of overlaid off-kilter ostinatos and angular solo and duet passages. The shifts between different gestures, and their often disparate metrical structures, is a key facet of the piece's development. Stevenson's inspiration for the piece is physicist Richard Feynman; in particular, the trajectories of his thought and explication of ideas. One can readily hear how the labyrinthine form of Trees Made of Air might be inspired by one of our era's greatest minds.
The centerpiece of the recording is Black Milk, by Mark-Anthony Turnage. A sixteen member ensemble supports jazz singer Ian Shaw, who performs Turnage's setting of an English translation of Paul Celan's poem Todesfuge ('Death Fugue'). To say that Turnage is an extraordinary orchestrator is not news. Still, the eloquently arranged accompaniment of Black Milk and the responsive quality it frequently undertakes alongside Shaw's singing creates a constant feeling of dramatic urgency. Shaw delivers the poem with poignancy and at times great emotionality, both approaches suiting his muscular voice perfectly. 
Three bonus tracks are performances by soprano Daisy Brown of Alissa Firsova's Songs of the World. Although Hugo von Hofmannsthal is best known as a librettist, Firsova found these poems to be expressive material for art songs. She is correct, and her settings display echoes of the late romantic works to which Hofmannsthal artistically contributed. Lush scoring and lyrical melodies that are beautifully sung by Brown make these songs quite a bonus for listeners. Psappha is involved in a number of current and upcoming projects. Keep an eye and ear open for them.
-Christian Carey