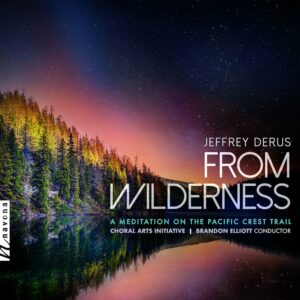 Jeffrey Derus
From Wilderness – A Meditation on the Pacific Coast Trail
Choral Arts Initiative, Brandon Elliott, conductor; Kevin Mills, cello
Navona CD/DL
With From Wilderness, Jeffrey Derus has written a soaring and eclectic full length work for Choral Arts Initiative, an ensemble committed to new music with nearly twenty commissions and seventy premieres under their belts. Their previous recording, music of Dale Trumbore, supplied significant exposure for her laudable choral works. One imagines that From the Wilderness will do the same for Derus.
Derus has an intimate connection with the environs of the Pacific Coast Trail. He takes the listener on a musical journey that includes choral movements with cluster chord modal harmonies, meditative crystal singing bowl interludes associated with the chakras, solo turns as spirit animals by soprano Anna Kietzman, alto Genie Hossain, tenor Taylor Jacobs, baritone Kirk Averitt, and bass Timothy Cervenka, and powerful cello solos from Kevin Mills. Many composers juggling this many elements might make a less than compelling mashup of them. Derus instead highlights the pathway along his spiritual journey in a keen synthesis of these various elements. 
The composer doesn't try to programmatically depict nature along the trail. His impressions and, more importantly, the cathartic response Derus has to journeying are the main topics of From Wilderness. The use of singing bowls is quite beautiful, creating clusters of harmony that presage the use of similar harmony in the voices. "Cajon Pass" is a case in point, with rich verticals and cascades of vocal overlap. Choral Arts Initiative performs with a powerful sound, strongly resonant from top to bottom. Mills plays a poignantly lyrical solo on "Sierras 1," soon augmented by upper voices creating glinting shards of sound. There is then much interplay between cello and the upper and lower voices ricocheting back and forth. When all come together, with the cello playing in the altissimo register, it is a glorious sound. 
-Christian Carey