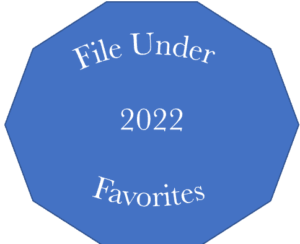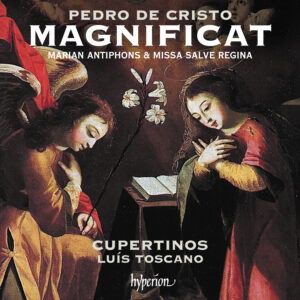 Pedro de Cristo 
Magnificat
Cupertinos, Luís Toscano, director
https://www.cupertinos.pt/en/presentation/
Hyperion Records
During the "Golden Age" of Portuguese Polyphony, the late sixteenth and early seventeenth century, composers on the Iberian Peninsula retained a more conservative idiom that has often been likened to Palestrina's approach to counterpoint and declamation. Thus, the style of the Renaissance was retained longer than on the rest of the continent or in England. The mastery that resulted in this cultivation elevated composers such as Duarte Lobo (c.1565-1646), Manuel Cardoso (1566-1650), and Miguel de Magalhães (1c. 571-1652) to considerable acclaim, affording them patronage from King John IV and the opportunity to publish their works. Less famous is Pedro de Cristo (c. 1550-1618), who, despite having some 250 compositions attributed to him, did not have any published. He initially served as chapelmaster at the monastery of Santa Cruz and later held the same position at the monastery São Vicente in Lisbon. 
Musicologist and conductor Owen Rees has done considerable research on Cristo's music, creating an edition of works from extant manuscripts and recording select pieces (one wishes his discs of Portuguese music would be reissued). Musicologists José Abreu and Paulo Estudiante have done heroic work to restore Cristo's manuscripts, some of which through the years have been quite damaged. But there has, to my knowledge, yet to be a disc entirely devoted to Cristo's music. 
Enter Cupertinos, directed by Luís Toscano. The Portuguese vocal ensemble have already made a couple of acclaimed discs of this repertory, music by Manuel Cardoso and Duarte Lobo,  and now have turned their attention to a disc of Marian-inspired music by Cristo, with several first recordings. Mary, the Mother of Jesus, played a central role during the Golden Age, with John IV supporting her significance to Portuguese life and faith practices in a variety of ways. 
Appropriately enough, the recording begins with an alternatim setting of the Magnificat. One is introduced to a space that is resonant but not too reverberant for a chamber choir to enunciate with clarity. Cupertinos have a well-balanced sound, with bright-toned sopranos offset by lithe lower voices. Their tuning is fastidious and breath control impressive, even in longer phrases. Toscano trusts the group to maintain support in tempos in which the tactus often seemed to me to be slightly on the slow side. The approach benefits declamation, the words delivered with clarity throughout.
The centerpiece of the recording is the Missa Salve Regina, in which the famous chant melody is used as material shared between the voices in small segments. The use of imitation is particularly well wrought in the Agnus Dei sections, which is interrupted by a long incipit in the second Agnus that forestalls the climax of the piece, allowing a buildup that ends the mass in rousing fashion. 
A number of Marian motets are programmed, depicting different aspects of the Mother of Jesus. My favorite is the "Alma redemptoris mater," in which fugal entrances are used to create a swath of counterpoint. It is a piece one imagines many choirs could sing well and one that would buoy concert programs. This is equally true of the effusive "Regina caeli." The performance of "Stabat Mater," a lament for Mary's grief at seeing the sufferings of Christ, contrasts this with a wrenching, emotive performance. 
The disc closes with a polychoral setting of Cristo's "Ave Maria" setting. The use of antiphony makes the most of splitting the choir in various ways and there are shimmering moments in which the upper voices sing interior cadences. When all eight parts join together near the piece's conclusion, it brings the recording to a rousing conclusion. One hopes that Cupertino's advocacy encourages more groups to take up De Cristo's music. It would be helpful if Rees' transcriptions could be published individually in performing editions. In addition, the ensemble should record Magalhães next. 
The Cristo CD is one of our Favorites of 2022.
-Christian Carey