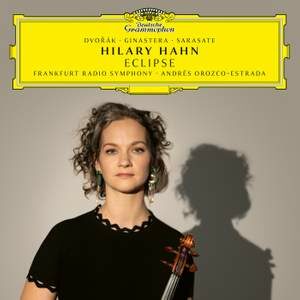 Hilary Hahn
Eclipse
Hilary Hahn, violin; Frankfurt Radio Symphony, Andrés Orozco-Estrada
DG CD/DL
Hilary Hahn is making a reputation programming famous classics paired with twentieth century works. A previous release featured Sibelius and Schoenberg, while her latest recording, Eclipse, programs Antonin Dvorak's Concerto in A minor, Pablo de Sarasate's Carmen Fantasy, and Alberto Ginastera's Violin Concerto. While some listeners may come for the Dvorak, they may well be glad to learn of the Ginastera. 
Andrés Orozco-Estrada leads the Frankfurt Radio Symphony in a well-shaped and keenly executed rendition of the Dvorak, providing explosive brass cadence points to set up Hahn's cadenzas and interludes with sumptuous strings and warmly lyrical winds. Hahn adopts a similar approach, with passages of aching delicacy as well as those of laser beam accuracy. While Dvorak has been well-served on recordings, Hahn offers a performance that stands up to the best.
Ginastera created a variety of different music throughout his career. By the time he wrote the Violin Concerto for the New York Philharmonic, in 1963, his music had taken a more modernist cast, with post-tonal and microtonal elements alongside vestiges of tonality. The structure of the concerto is fascinating, front-loaded with an eleven-part first movement that begins with an incredibly difficult cadenza. True to form, Hahn plays it with liquescent tone and supple virtuosity. A series of etudes, based on material from the cadenza, follow, each employing a different technique: chords, thirds, other intervals, arpeggios, harmonics, and quarter tones. The first movement ends with a coda, marked maestoso, alternating emphatic gestures from the orchestra with gestures from the cadenza. 
The second movement is for a smaller cohort of the orchestra, twenty-two players for the number of first desk performers in the New York Philharmonic. The movement is reminiscent of the Berg Violin Concerto and Schoenberg's Klangfarben pieces, mysterious and expressionist. Partway, an eruption from the orchestra is negated by a held, altissimo register note from the violin. Calmness pervades for some time, with the harp taking the fore, only to be drowned out again by percussion. The violin and orchestra engage in a duel between angular solo gestures and riotous punctuations. The strings and pitched percussion accompany the soloist in an evocative coda. The third movement is split into two sections, the first a scherzo played sempre pianissimo, with a number of percussive gestures that recall the Central American folk music Ginastera employed earlier in his career. The violin contributes rollicking lines and its characteristic held high notes and long trills. The solo then adds glissandos, harmonics, and a new filigreed melody. The second section is in perpetual motion with flurries from the soloist punctuated by emphatic attacks from the orchestra. A quote from Paganini's 24th Etude is added to the mix. The work ends abruptly, triumphantly. Fantastic piece, tour de force performance. 
The disc concludes in a playful spirit, with Sarasate's Carmen Fantasy, which treats the hit tunes of Bizet's masterpiece as material for a violinist to show off their chops. Alongside the daunting technical challenges are tuneful passages, the Habanera and Toreador Song noteworthy standouts. Sarasate's orchestrations are transparent and fleet-footed, which the Frankfurt orchestra executes with pliancy and balance. Hahn captures the spirit of this work, its Iberian inflections, dances, and effusive passagework. Great fun and an impressive closer. 
Hilary Hahn's commitment to programming twentieth century repertoire is laudable. It would be all too easy for a performer of her stature to program warhorses exclusively. Hahn's continued imaginative reach makes Eclipse a special recording. 
-Christian Carey