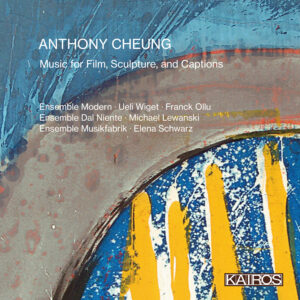 Anthony Cheung
Music for Film, Sculpture, and Captions
Ueli Wiget, piano, Ensemble Modern, Franck Ollu, conductor;
Ensemble dal Niente, Michael Lewanski, conductor;
Ensemble Musikfabrik, Elena Schwarz, conductor
Kairos Music
Anthony Cheung is a prolific composer whose music is situated astride spectralism and second modernity. This is his fifth portrait CD, his first for Kairos, and first of music that accompanies extra musical media. While these sources of inspiration are pivotal components for the music's genesis, it stands on its own as an audio recording. The works are performed by three top flight groups, Ensemble Modern, conducted by Franck Ollu with piano soloist Ueli Wiget, Ensemble dal Niente, conducted by Michael Lewanski, and Ensemble Musikfabrik, conducted by Elena Schwarz. 
Visual artist Ruth Asawa (1926-2013) made sculptures out of wire mesh. A line can go anywhere (2019) is a three-movement piano concerto inspired by Asawa's work. The first movement's title, "Wound Wire," points out the connection between piano strings and Asaway's wires. Harp-like piano arpeggiations and descending color chords are met by tumult, often riding just below the surface, that periodically erupts into repeated brass verticals. The piano enters a swirl of percussion and brass glissandos and shakes. Wind solos imitate the piano's gestures with a dovetailing effect, and the movement ends with softer, angular attacks from soloist and ensemble. Wiget does a stalwart job matching the dynamic of the ensemble without ever overplaying. His imitation of the attacks of other instruments is noteworthy. 
The second movement, "Weightless/Sustained," begins with the soft dynamic that ended the first movement. A second keyboard, tuned down a quarter tone, as well as microtones from the ensemble, serve to blur the piano's music, creating a haze of overtones. Not to be outdone, the piano thrums low bass notes followed by birdsong-like flurries. Gongs and chimes further complicate the atmosphere, and descending wind lines are juxtaposed with the piano's now ubiquitous birdsong and taut, quickly, repeated verticals. Once again, a denouement closes the movement.
The piece's finale, "Woven Wire – Homage to Ruth Asawa" is a clever rendering in sound of the sculptor's working method. The piano contorts a single line solo, let's call it wiry, while metallophones also provide a taste of Asawa's metallic medium. A plethora of glissandos in the various sections of the ensemble, as well as periodic stabs from winds, enhance this impression. A final section finds the piano playing repeated notes while boisterous brass and punctilious percussion attacks create a vibrant accompaniment. The piece closes with string glissandos surrounding final punctuations from, successively, piano and percussion. 
The Natural Word (2019) is based on the work of author Sean Zdenek, who has researched the use of closed captions in television and film. Zdemek observes that sound captions are selective. Since not every sound can be included, the editor must decide what to foreground and what background noises to select. The Natural Word doesn't include captions spoken aloud, but rather uses a collection of them, taken from Zdenek and expanded by Cheung. The composer then found analogous film clips to score. The result is a series of short contrasting sections, many of which use coloristic orchestration: seagulls are depicted via altissimo glissandos, pattering rain by percussion, upper register plucked piano, and harp, and so on. Cheung does not just seek to imitate sounds, but in juxtaposing them, mine their cultural reference points. Thus, he shuttles between disparate scorings like jump cuts, but the piece is a cohesive whole.
Null and void (2021) was composed for the soundtrack of a short silent film Stump the Guesser, created by the Canadian filmmakers Guy Maddin, Evan Johnson, and Galin Johnson. In his liner notes, Tim Rutherford-Johnson describes the film as having a "surrealistic, absurdist tone," and being inspired by the Russian poet and dramatist Daniil Karms (1905-1942). Cheung responds to the material, and to Karms' aesthetic, with nearly everything but the kitchen sink: Harry Partch's instruments, thunderous, motoric percussion that references Russian futurism, swing-era jazz brass, with wah-wah mutes, glissandos, and altissimo stabs, and a pistol firing (there is a game of Russian roulette on screen). I would greatly like to see how it syncs up with the film, but null and void as an aural document has a beguiling sound world. 
Cheung's partnership with Kairos continues to expand, encompassing a variety of techniques and inspirational material. Accompanying videos of these pieces would be welcome – dare we hope for a DVD release?
-Christian Carey