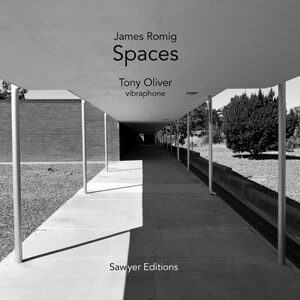 Spaces
James Romig
Tony Oliver, vibraphone
Sawyer Editions
James Romig's music has become more expansive. Spaces (2021) is his third recent piece to run over an hour in duration. Still (2016), a piece for pianist Ashlee Mack, was a finalist for the Pulitzer Prize. Last year brought The Complexity of Distance, a piece for metal guitarist Mike Scheidt that was both rigorously constructed and ripped uproariously. 
Like all of Romig's music, Spaces has a highly detailed plan. Each of the four sections of the piece has an "a" and a "b" subgroup. They begin with a collection of three pitch classes that works its way up to six by the end of "a," while "b" unspools this in reverse, ending with only three pitches. Three strands are put in a structural polyrhythm of 9:10:11, providing the work with an asymmetrical rhythmic scheme.
Vibraphonist Tony Oliver has worked with Romig for over thirty years, and Spaces was composed to celebrate that collaboration. One can readily hear why the two have enjoyed this association. Oliver performs every nuance of the score, embodying Romig's music like few others do. Romig is a percussionist himself, and knows the in and outs of the vibraphone, the resonance of each key and the best way to balance a passage. This affords the music, despite its limited palette, to retain interest throughout.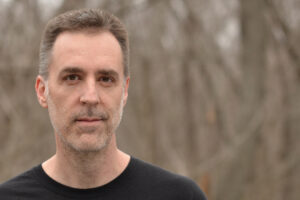 One continues to be fascinated by the surface of Romig's music. After all the preplanning, the result sounds intuitive. Romig studied with the most prominent of American serial composers, Charles Wuorinen and Milton Babbitt, and yet there is a palpable influence of the music of Morton Feldman on these recent extended pieces. And like Feldman's own long works, Spaces has a meditative quality that draws one in and makes them forget the time that's passing. As Feldman said about one of his pieces at its premiere, "It's a short eighty minutes." 
-Christian Carey