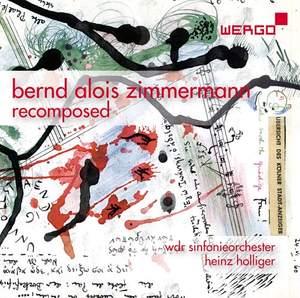 Recomposed, Volumes 1-3
Bernd Alois Zimmermann
WDR Sinfonieorchester, Heinz Holliger: conductor
Sarah Wegener: soprano; Marcus Weiss: saxophone;  Ueli Wiget: piano
Wergo 3xCD boxed set
Bernd Alois Zimmermann (1918-1970) lived in Cologne and was an important member of the postwar avant-garde. However, he retained an independent voice, and did not operate in the circles of the Cologne School. His 1960 opera Soldaten, an ambitious work in terms of theatrical devices, vocal requirements, and musical demands, is both a zenith in terms of post-tonal writing and, with its use of collage, a precursor to postmodernism. 
Everyone needs to make a living. Zimmermann did so by crafting arrangements of preexisting pieces. His orchestrations did not strictly hew to the styles of the originals, instead creating vibrant translations that not only reconsidered them but proved influential on his own compositions. Many of the arrangements were composed for radio, a medium with which Zimmermann would retain a lifelong connection. He wrote about a hundred arrangements for radio and an additional hundred scores for radio plays. Heinz Holliger leads the WDR Sinfonieorchester in performances that emphasize Zimmermann's penchant for rapid shifts of texture and dynamics – the aforementioned collage technique is built up in several of the pieces. The recording also features original compositions, some previously unrecorded.
Soprano Sarah Wegener admirably negotiates arrangements with their Zimmermann spin. Her performance of Franz Liszt's "Oh! Quand je dors" is particularly lovely, the soprano spinning long lyrical lines and declaiming the text with detail and vivid dynamics. The orchestration is Mahlerian in cast, an interesting take on a Liszt lieder. The composer's "Die Drei Zigeuner " features nimble Magyar violin solos, with Wegerner's voice blooming in arioso passages. Saxophonist Marcus Weiss provides a dynamic rendition of Sergei Rachmaninov's "Romanze," originally composed for solo piano. The orchestral interludes are thunderous, alternating with Weiss's ardent phrasing. Uli Wiget is the nimble soloist in the aphoristic, blazing Concertino for Piano and Orchestra. 
Zimmermann was interested in Brazilian music, and the first volume of Recomposed includes several compositions and arrangements with South American influences. His own "Algoana. Caprichos Brasilieros" combines folk dances with stentorian percussion and, in places, more than a hint of Rite of Spring. "A Lenda do Caboclo," a piano piece by Villa-Lobos, is given a soaring rendition, with ebullient string passages and timpani supporting the clave rhythm. Darius Milhaud and Zimmermann were on amicable terms. Two arrangements  of movements from Milhaud's "Saudades do Brasil. Suite de Danses" are included here, "Leme " and"Sorocaba," the former combining Ravelian impressionism and neo-classicism a lá middle period Stravinsky. "Sorocaba" has a lilting rhythm and overlapping winds. Equally fetching are two arrangements from Alfredo Casella's "Undici pezzi infantili."
Vernacular music comes from other sources as well, and Zimmermann demonstrates a keen ear for various styles. A polka by Bedrich Smetana is given a wry scoring. Antonin Dvořák's "Causerie," originally for solo piano, sounds as if the composer himself could have orchestrated it. A septet provides Cyril Scott's "Lotus Land" with an exotic flavor. There's even a "Blues," composed by Edmund Nick. Zimmermann creates a rendition more akin to Hollywood than St. Louis, but it is attractive nevertheless.
A standout among the original pieces is Kontraste, a six-movement suite for "an imaginary ballet." Composed in 1953, its waltzes and march must have thoroughly perplexed the composers at Darmstadt. Although the dance rhythms are faithful, much of the scoring is actually reminiscent of early Schoenberg. Also from 1953, "Symphonie in einem Satz" is at the other end of the  spectrum of Zimmermann's work, a fiery serial piece that is most compelling. A valuable addition to the programmed works is "Konzert für Orchester," a piece from 1949 set in a Bergian idiom.
WERGO Records knows how to do it right. The three-CD boxed set is accompanied by a 92-page booklet. Original compositions by Zimmermann are set alongside his orchestrations, providing interesting comparisons and contrasts. Holliger engages in a conversation with Michael Kunkel about the arrangements and original works. 
-Christian Carey