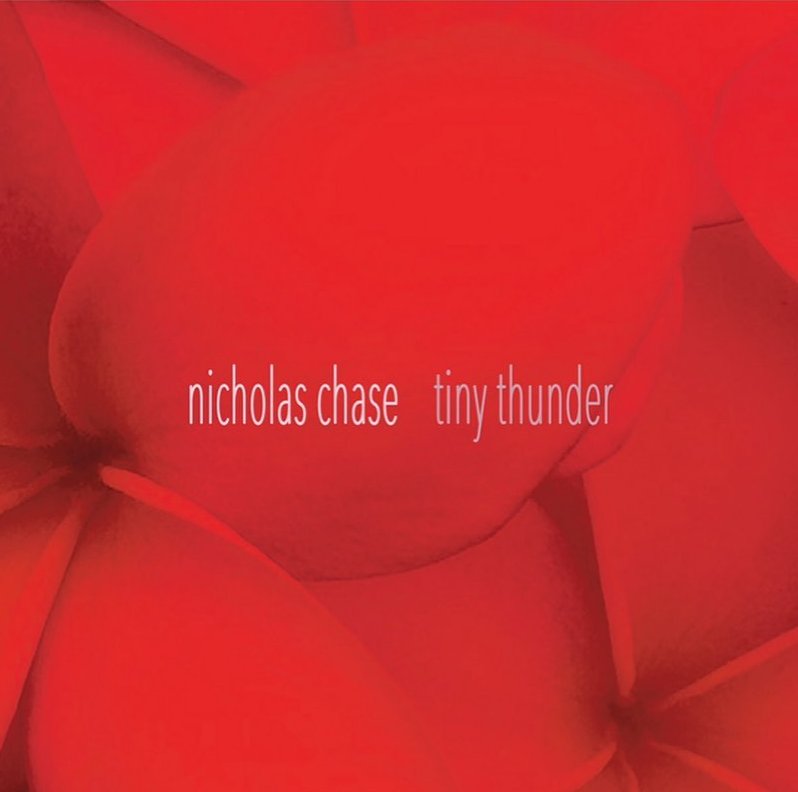 Tiny Thunder is a new CD of graceful piano music by Nicholas Chase, released February 10, 2023 by Cold Blue Music. This album includes two new works performed by pianist Bryan Pezzone. The press release for Tiny Thunder states that: "Held in motion by their internal logic, these pieces drift and weave through alluring, often serene musical landscapes."

Nicholas Chase has enjoyed a long career as a composer and performer. He has appeared in a number of concert festivals in Europe and the US. Chase has participated in the Whitney Biennial in New York and was an inaugural Composer Fellow at the international Other Minds Festival in San Francisco. At the California Institute of the Arts, Chase studied with Morton Subotnick, Bunita Marcus, Stephen L. Mosko, Mary Jane Leach and James Tenney, among others.

While carefully circumscribed within its stylistic boundaries, the piano music of Tiny Thunder is capable of a wide range of expression. Often quiet and serene, there is never any flashy technical excess in the more active stretches and the music is understated even when it turns agitated and turbulent. There is little formal structure or harmonic progression; the refined playing by Bryan Pezzone is the critical element for realizing the composer's intentions.

Zuòwàng, the first track, opens with a series of soft notes followed by silence that allow the tones to ring out. The tempo is moderate and deliberate so that the simple phrases evoke a settled feeling. Spare harmonies, consisting of two or three tones, gradually add notes from the deep bass registers to provide a reflective sensibility. High plinking notes occur every so often, as if sending a signal. There is no extended melody, just short phrases separated by moments of silence – this is intimate music inviting close listening. Bryan Pezzone's delicate touch on the keyboard is essential, maintaining a gentle and introspective quality. As the piece proceeds, more notes are added to the phrases and they occasionally break into separate lines for short stretches. There is a final return to the simple phrasing of the opening just before Zuòwàng arrives at its fading finish.

The second track on the CD is Tiny Thunder, a longer piece at almost 20 minutes duration. This piece is written for four hands and was realized in the recording by overdubbing. As with Zuòwàng, this begins with simple piano lines and short phrases in a slow, dreamy tempo. The notes are nicely sustained and brief intervals of silence allow the tones to fully ring out. A shift to the lower piano registers along with more prominent bass notes in the phrasing create a quietly powerful feel. A high melody line against the very low bass notes adds tension. When the phases move up to the middle registers, the rhythms become more agitated and culminate with light tremolos.

Delicate high notes are heard at 6:50, accompanied by solitary deep bass notes. There is an almost ominous feeling in this. As the piece proceeds, single notes heard in the upper registers are joined in harmony by deep, sustained tones below. The tension grows with the higher notes straining for optimism while being weighed down by the lower line. Soon, a fuller harmony is heard with many new notes and roiling tremolos in the phrasing.

Lush and dramatic, waves of sound are soon flowing off the keyboard. A repeating series of high notes is reminiscent of raindrops. The harmonies in the lower registers paint an image of clouds moving across a dark sky. There is a stormy feel with strong phrases and many driving notes. The piece continues on, gradually increasing in tempo and dynamic followed by a swirling, pounding texture. A final low chord rings out to finish the piece. The playing throughout is beautifully expressive without resorting to keyboard histrionics. Tiny Thunder is one long crescendo that builds from a pensive tranquility to a convincingly vigorous tempest without exceeding the expressive limits of its economical musical materials. Tiny Thunder is a polished combination of refined music and a thoughtfully sensitive performance.

Tiny Thunder is available directly from Cold Blue Music.