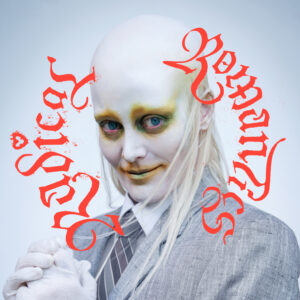 Radical Romantics
Fever Ray
Mute
It has been nearly six years since Plunge, Karin Dreijer's last album under the moniker Fever Ray. Equally well known for their band The Knife, on which they collaborate with their brother Olof Dreijer, Karin has made distinctive electronic music for over twenty years. Their latest, Radical Romantics, is a welcome return. In gestation since 2019, it is some of the finest work released by the Fever Ray project.
Another welcome return is one of collaboration. Olof helped to produce some of the recording and co-wrote four of the songs, the first collaboration between the siblings in eight years. Other co-producers and performers include Trent Reznor and Atticus Ross (Nine Inch Nails), experimental artist and producer Vessel, Portuguese DJ and producer Nídia, Johannes Berglund, Peder Mannerfelt, and Pär Grindvik's technicolor dance project Aasthma. Long-time collaborator, Martin Falck, joined Dreijer in creating an impressive visual corollary to the recording. Indeed, Radical Romantics is a project in which videos and artwork are a strong component, not the promotional devices that they so often are for other releases. 
The first four songs are a set written by Karin and Olof. "What They Call Us" started life some time ago as material for two unrealized movie soundtracks. Thrumming live drums alongside drum machine, an insistent synth riff, and electronic interjections demonstrate the number of iterations of the genesis of "What They Call Us." However, this working approach is not uncommon on Radical Romantics. The end result, like much of the rest of the album, is music chock full of multifaceted layers, as well as far flung allusions in its lyrics. Another tune the siblings co-wrote, being supported by a video, is "Kandy." It has an irrepressible "Whoo" vocal ostinato, an alto register lead vocal, and squirms with synth melodies. Tabla on "Shiver" and hand claps and a bass drum on "New Utensils" provide fulsome grooves. Both also feature modular synths that create a swarm of glissandos. Karin's vocals encompass a variety of colors and superlative control. Gone is the stridency that typified some of their work in the Knife, replaced with a supple upper range and honeyed lower register. When they want to, as on "Even it Out,' a steely edge appears.
The hit single, thus far, is "Carbon Dioxide," on which Vessel helps to craft a club track with a soaring vocal by Karin and strings by Sakhi Singh and Seb Gainsborough. "Carbon Dioxide" includes an unusual tune, the Baby Elephant melody. Like many of Radical Romantic's songs, the backstory recalls a diverse selection of inspirations and influences. Fever Ray has said they wanted the music to,  "Have the feeling of when you first fall in love …to be nice, happy, full of everything, extra everything. The Baby Elephant melody is the happiest melody of all time. The track contains wording from 1 Corinthians 13:1 because those words made a great impact when hearing them in Kieślowski's Blue film. And a line from Anne Morrow Lindbergh's, Gift from the Sea." 
Another standout is "Even it Out," on which Karin collaborates with Nine Inch Nails. Reverberant vocals create a texture over which a second line, a rousing chant, is placed. NiN supply a terse electric guitar, bending notes, and an alt-rock drum pattern. The song imagines settling scores with your child's bully, a feeling many parents have likely had (hopefully, as here, it remains a fantasy). Reznor and Ross also assist on "North," which Karin describes as "stillness after collapse." As its title suggests, there is a chilly atmosphere, with whispered vocals, a syncopated rhythmic loop, and an architecture of overlaid synths. Mining their father's record collection, Karin got to know Bob Marley's music. On "Looking for a Ghost," a line from Marley's "Satisfy My Soul" appears alongside an unlikely compatriot – a Porno for Pyros snippet – as well as words by the eminent Swedish author Barbo Lindgren.
"Tapping Fingers" is a sad song, one that Karin suggests is the saddest song they have written, about trying to communicate with your partner, listening for a morse code message in their tapping fingers, repeated over and over again as they fall asleep. Vocals in octaves, a descending chord progression with fat bass underneath, and regular synth punctuations adorn the song. The final track is seven minutes long, but makes much with a small amount of material. "Bottom of the Ocean" consists of Karin performing repeating vowels that echo with long repeated bass tones underneath. It is a suitable denouement to cool down from an album of imaginative instrumentation and excellent songwriting. Recommended.