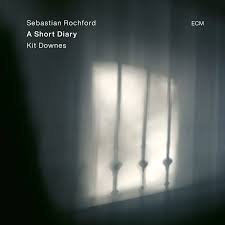 Sebastian Rochford, Kit Downes
A Short Diary
ECM Records 
"This short diary (of loss), offered as a sonic memory,
  created with love, out of need for comfort."
-Sebastian Rochford
When Sebastian Rochford's father, the Aberdeen poet Gerard Rochford (1932-2019) passed away, the drummer decided to create a recording in his memory. He composed most of the music after his father's death, and enlisted pianist Kit Downes as a collaborator. Downes is actually a musical switch-hitter; he is also an accomplished organist. "This Tune Your Ears Will Never Hear" opens the album mid-tempo with thick chords and snare in rhythmic unison, only to give way to a slower rendering of the tune, juxtaposed with enigmatic harmonies. "Communal Decisions" has a wayward, modal melody that becomes an overlapping duo, finally filled out with Debussyian harmonies. "Night of Quiet"  consists of slow-paced chords in intricate changes, parallel planing, and filigree phrase endings. "Ten of Us" has an ambling melody and chromatic chord progressions that recall Rimsky-Korsakov. Considerable development follows, with a floating texture that arpeggiates some of the preceding material and shares new melodic variations. The last section includes a chordal ostinato reinforced by Rochford that slows into an emphatic minor key cadence.
"Love You Grampa" is one of the most fetching of the collaborations here, with Rochford creating a lullaby rhythm behind the drum kit and Downes playing the composition's winsome melody with delicacy and poignant phrasing. In a shuffling rhythm and with a pentatonic melody, "Silver Light" recalls folk music. "Rochford's playing is often economical, even restrained. Yet the textures and punctuations he provides always enhance the proceedings. 
The last piece on the recording, "Even Now I Think of Her," is in a sense co-composed by Sebastian and his father, who sang the melody to his son, suggesting it for a piece. The drummer in turn shared the melody with Downes via cell phone. It is quite an intricate tune, rendered as a folk-like ballad with warmly voiced harmonies and gentle drum fills. Bringing the project full circle to Gerard Rochford is a fitting and touching conclusion to a compelling and inspired project.
-Christian Carey