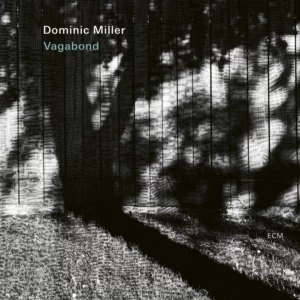 Dominic Miller
Vagabond
Dominic Miller, guitar; Jacob Karlzon, piano, keyboard; Nicolas Fiszman, bass; Ziv Ravitz, drums
ECM Records
Vagabond is guitarist Dominic Miller's third recording for ECM Records. Apart from bassist Nicolas Fiszman, Miller has assembled a new group of collaborators: keyboardist Jacob Karlzon and drummer Ziv Ravitz join him in a quartet setting. Miller composed most of Vagabond's eight originals while living in the South of France. He has suggested that nature and the small towns and buildings he passes on long walks supply him with inspiration. The guitarist's Argentinian roots may be a bit further out of the limelight, but they too are an abiding part of his composing and playing technique. 
The track "Vagines," named after a small French town, epitomizes this. Miller plays delicate melodies, sometimes doubled in octaves, that contain a hint of Francophone aesthetic. Here as elsewhere, he plays a classical guitar that is judiciously amplified. Fiszman and Ravitz deftly punctuate his phrasing. Karlzon joins with a scalar solo that embellishes the tune. On "All Change," the band is more assertive, creating a buoyant backdrop to Miller's single line solos.
Miller has likened himself to an "instrumental songwriter,"  and on "Cruel but Fair," one can readily hear the ballad's song-like construction. Chord-melody and single guitar lines are accompanied by economic comping from Karlzon. Add lyrics to this, and several others on Vagabond, and one could readily imagine them ready to sing. 
"Open Heart" is one of the highlights of Vagabond. It features a syncopated ostinato underneath a minor-key tune. The longest composition on the album, it introduces the material slowly, with Miller playing  in a solo context. The other musicians enter and develop the material in rebuttal. Karlzon's fetching solo retains the tune's diaphanous contours while extrapolating from its changes. The piece's denouement features splash cymbals that announce Miller's return and the reprise of the tune's head, with a decrescendo to close. 
"Altea" begins with sumptuous chord voicings that quickly adopt the Latin rhythms of Miller's Argentianian roots. His colleagues revel in this context,  both Fitzman and Ravitz providing syncopations in ebullient fashion. There is a tangy solo by Karlzon, and all of a sudden the tune ends with rolled chords by Miller. "Lone Waltz" closes the album with Miller playing a jazz tune in triple time to an arpeggiated accompaniment. Karlzon is at his most virtuosic here, and the rhythm section allows room for the Miller-dominated arpeggiated sections while playing with zest during the piano solos. Once again, the group performs a gradual denouement, with brief melodies from Miller, performed over the piano's arpeggios, sending the record to a quiet conclusion.
Vagabond is Miller's most versatile project yet, and has several memorable compositions. Miller gels well with this band. Although he tends to change collaborators between projects, one could readily see these musicians sticking around for a while.
-Christian Carey